At the ACC Analytics page, we're big fans of comedian Stephen Colbert. Back when Colbert had his late night show The Colbert Report on Comedy Central, he used to run a reoccurring segment called "Better Know a District." In these pieces, Colbert would give his audience the background of a different US Congressional district. They were brilliant.
So far, we've started the series with Wake Forest center Olivier Sarr, NC State wing Devon Daniels, Clemson defender Aamir Simms and Shamiel Stevenson. Today, we'll focus on Florida State big fella Mfiondu Kabengele.
Amongst the crowd
It can be tricky to get consistent minutes at the center position for Florida State. Over the years, Leonard Hamilton has always recruited depth at that position. Last season was no different.
FSU featured a trio at the pivot: shot-block menaces Christ Koumadje (10 percent block rate) and Ike Obiagu (21 percent block rate), plus redshirt freshman Mfiondu Kabengele. Koumadje or Obiagu started every game at the 5 for Florida State — while Kabengele came off the bench in 34 of 35 contests. All three players averaged between 10-16 minutes per game, too.
Along with point guard C.J. Walker, though, Obiagu decided to transfer out from FSU after his freshman season in 2017-18 — heading to Seton Hall. That's one fewer body in the paint for the Seminoles; however, it's also an opportunity for Kabengele, who some serious potential.
Find the groove
Kabengele, who stands 6-foot-9 and 235 pounds, is a power player. In his first season on the floor, though, Kabengele shot just 29.7 percent and scored only 0.54 points per possession on post-ups, per Synergy Sports. Instead, he was far more successful as a roller and cutter. (This isn't to say that Kabengele is without post-game craft; he has some skills, but too often settles for spinning shot further from the hoop.
According to Synergy, Kabengele shot 75 percent and scored 1.47 points per possession out of the pick-and-roll — good for No. 3 in the ACC, behind only Doral Moore and Marvin Bagley (minimum 20 possessions).
Here in the NCAA Tournament win over Missouri, FSU runs a little weave action into a 4-5 pick-and-roll with Phil Cofer and Kabengele. This is a beautiful big-big screen-roll on future lottery pick Michael Porter Jr.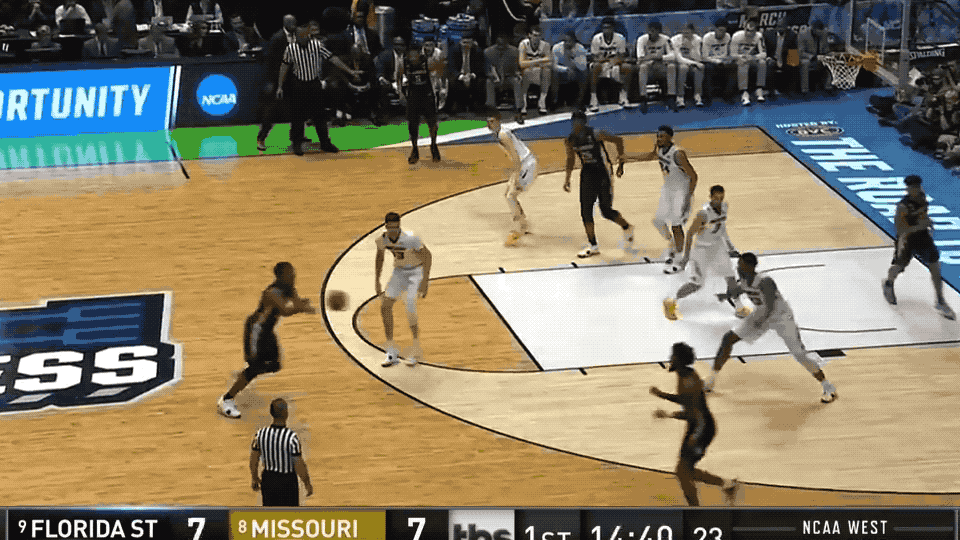 In total, Kabengele shot 66 percent and scored 1.37 points per possession on non-post-up attempts at the basket — both of which big numbers. Here against Louisville, the Cardinals try to ice the pick-and-roll with Kabengele and M.J. Walker — with Anas Mahmoud dropping. Walker strings it out, Deng Adel doesn't drop down and bump Kabengele, who is patient, and then finishes with force.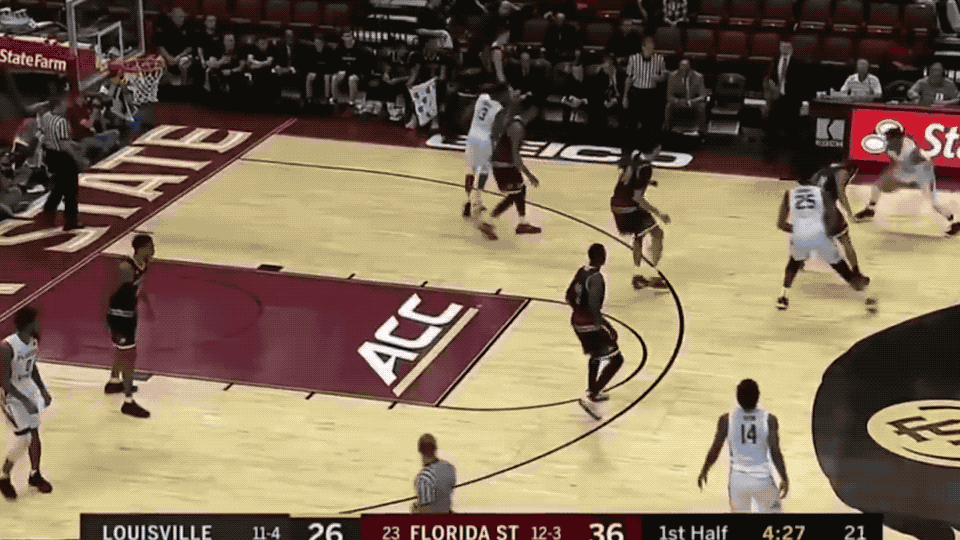 Florida State finished second in the ACC with 178 dunks in 2017-18 — only Duke had more. Kabengele, threw down 21 dunks, was one of Florida State players with at least 20 slams. (Phil Cofer, Koumadje, Terance Mann, Obigau and Kabengele)
An important fit and pairing
He should continue to pair nicely with stretch-4 Phil Cofer, who returns for a fifth season and helps unlock space around the rim for guys like Kabengele and Terance Mann. Cofer's gravity opens up channels and lanes to the hoop; when it wants, FSU can sort of invert its offense with Cofer and Mann, a wing that dominates at the rim (63.5 2P%).
Next season should also mean increased opportunities to run screen-roll with Trent Forrest and Kabengele, which could prove to be a dynamic pick-and-roll battery. By the end of last season, Forrest had jumped Walker as FSU's primary ball handler; at 6-foot-5, Forrest plays with force, and knows how to get downhill.
Florida State scored 0.98 points per possession (44.6 FG%) when Forrest was a passer out of a ball screen, per Synergy. That's a great number. It jumped, unsurprisingly, on possessions when the pass went to a basket-roller, like Kabengele: 1.32 points per possession (70 FG%).
With shooters P.J. Savoy (1.08 points per possession on spot-ups) and M.J. Walker back (1.04 points per possession on spot-ups), too, Florida State should be able to spread the floor and drive it at the rim.
Shooting, too
At this point — early in his young career — Kabengele doesn't offer up much stretch on offense. But he's also not completely lacking in this category, either. Kabengele shot 10-of-26 on three-pointers last season (38.5 3P%) — which accounts for 15 percent of his total field goal attempts from the floor. That's not nothing. He looks smooth here — spacing out and rising without hesitation from deep.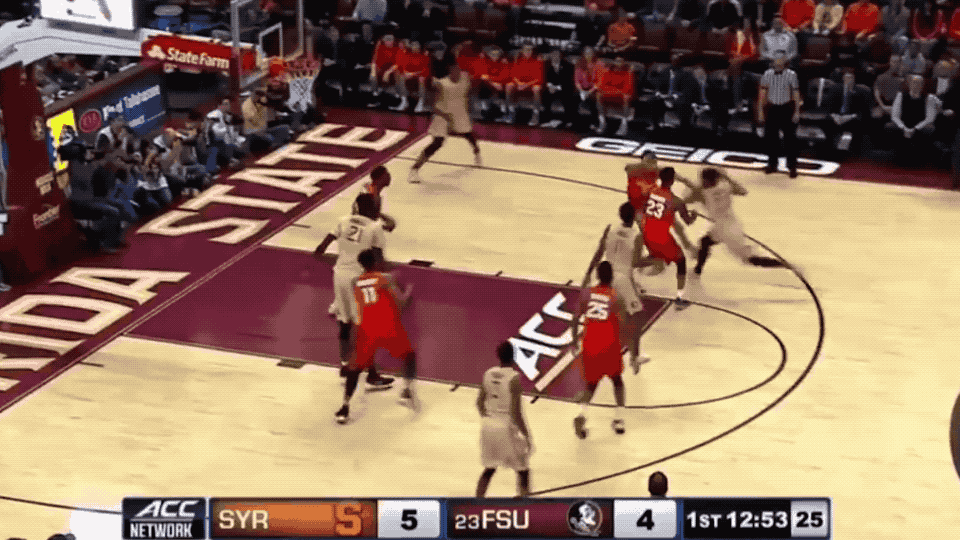 If Kabengele could somehow make another step here, wow, FSU could do some neat stuff on offense with he and Cofer. That's probably asking too much, though it's hard to watch him splash this pick-and-pop three against UNC and not wonder: what could be?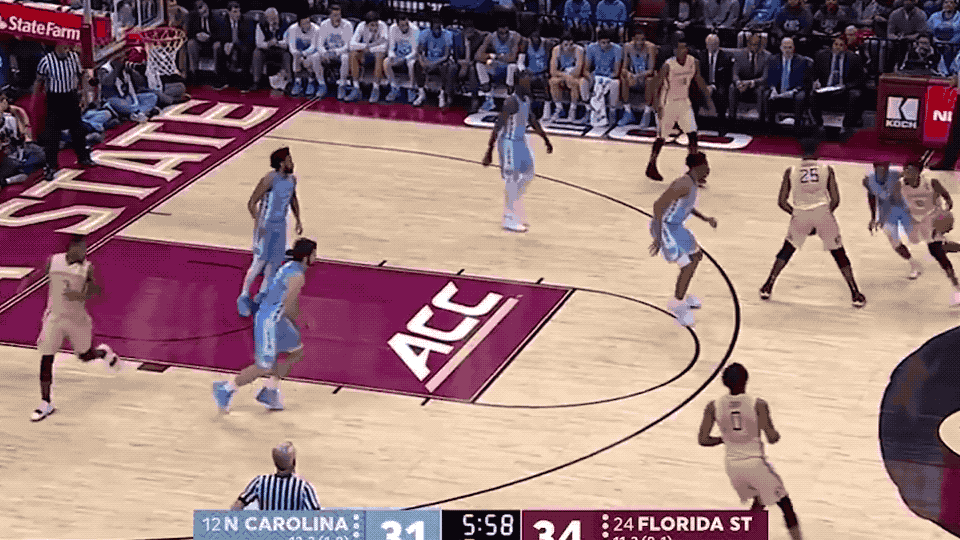 For now, he can focus more on having an impact at the rim. Kabengele posted monster offensive and defensive rebound rates of 14.4 percent and 20.1 percent, respectively, according to KenPom. (He also blocked 3.2 shots per 100 possessions.)
As one would expect of Kabengele — a guy that does most of his damage around the hoop: he draws a lot of contact, too. Kabengele drew 5.8 fouls per 40 minutes (another solid number), and shot 65.7 percent from the line. With more playing time and touches, this guy will have increased opportunities to get easy points at the rim and from the free-throw line.
Read More