I'm not sure there's any player in the ACC that knows his role better than Doral Moore. As much of a struggle as this season has been for the Demon Deacons, Moore has been a consistent contributor to Danny Manning's club on both ends of the floor.
The ACC's De'Andre Jordan (if you squint)
Doral Moore is shooting 71.8 percent on two-point attempts, which ranks eighth nationally, per KenPom. That number is high for the most obvious of reasons: most of his touches come within an arm's reach of the rim.
According to Synergy Sports, 96 percent of Doral Moore's field goal attempts have come at the basket. About 35 percent of those attempts are from post-ups; the rest come from cuts, rolls and dives to the hoop.
You could see it on display this week in the much-needed win over Florida State, when Moore scored eight points on four field goal attempts. Moore went 3-of-4 from the field, and all three buckets were dunks. His ability to finish lobs around the hoop gives Wake Forest's offense — 75th nationally in adjusted offensive efficiency — a vertical threat that few other teams have.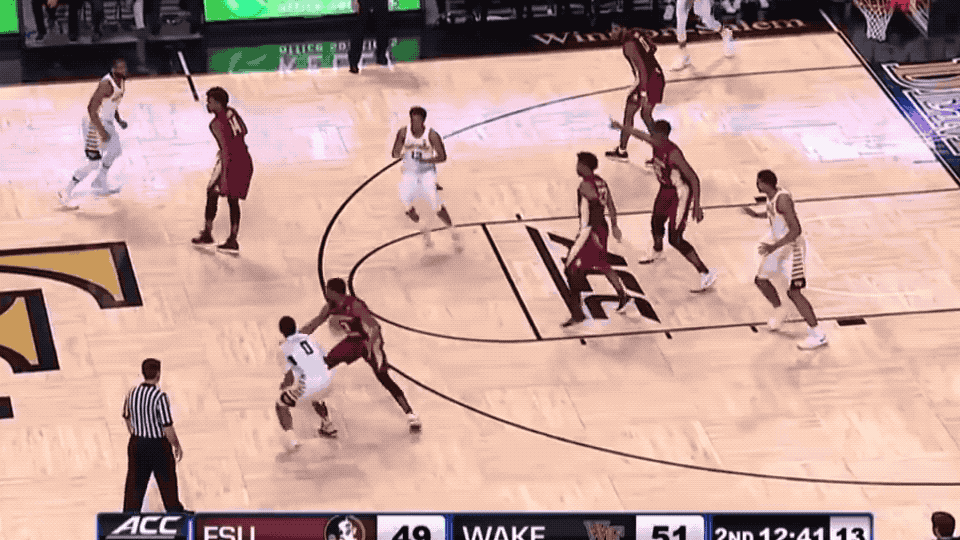 On non-post-up attempts at the basket, Moore is 68-of-84 (81 FG%), and has scored 1.67 points per possession. According to Synergy, there are 904 Division I players with at least 50 non-post-up attempts at the rim. Of that group, Moore ranks fourth nationally in efficiency on those possessions (No. 1 in the ACC, too).
Wake Forest ran this set to close the first half against Florida State — a stacked pick-and-roll with Moore, Keyshawn Woods and Bryant Crawford. Notice how Woods sets a back pick on Moore's defender — this is known as Spain action, which NC State used in its victory at UNC. That gives Moore a path to the hoop, and along with the threat of a drive-and-score from Crawford, opens Woods up for the catch-and-shoot bomb.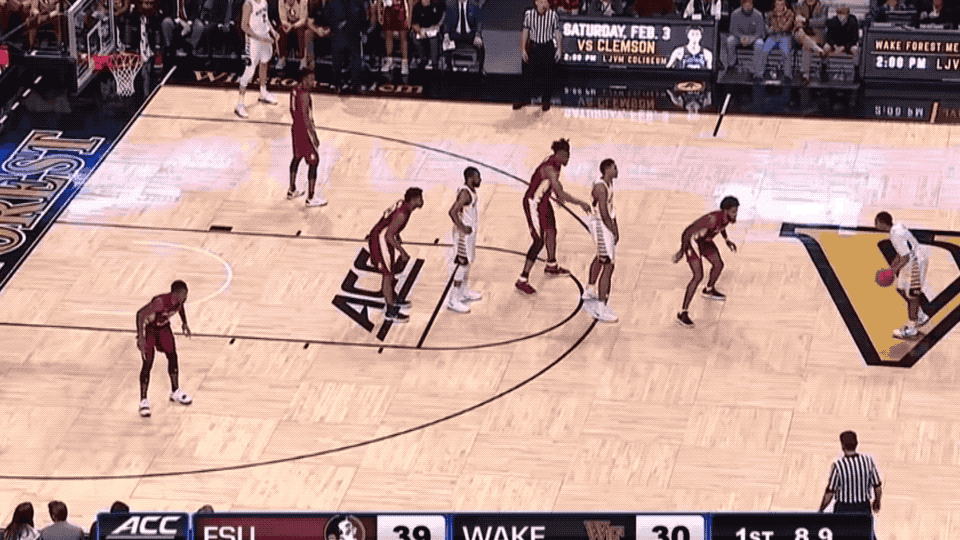 Unfortunately, the De'Andre Jordan comparison aligns with Moore's free throw shooting, too. Moore doesn't get to the line a ton (38 percent free throw rate, 5.7 FTA per 100 possessions), but he's connected on just 44.4 percent of his attempts from the charity stripe.
Moore does More, though
An interior touch for Doral Moore is one of the most efficient half-court plays in the ACC; that's already a nice contribution. However, Moore has impacted the game in more than one way. Moore has blocked 10.4 percent of opponent two-point field goal attempts while on the floor this season (60 percent of Wake's minutes), which ranks No. 25 in the nation.
Moore has been solid on the glass, too. According to KenPom, Moore ranks inside the top 30 nationally in both offensive and defensive rebounding rate. In league play, Moore has grabbed over 29 percent of the available defensive rebounds, too — tops in the ACC.
In Division I basketball, there are currently only five players averaging 10 points, two blocks, six rebounds and shooting above 60 percent from the field:
Mike Watkins, Penn State
Brandon Gilbeck, Western Illinois
Cameron Lard, Iowa State
Donta Hall, Alabama
Doral Moore, Wake Forest
According to Synergy, opponents are shooting just 33.3 percent on post-up attempts against Moore, too. That ranks fifth in the ACC (minimum of 20 possessions).
Read More
How and why Brandon Childress fits into Wake Forest's guard rotation