At the ACC Analytics page, we're big fans of comedian Stephen Colbert. Back when Colbert had his late night show The Colbert Report on Comedy Central, he used to run a reoccurring segment called "Better Know a District." In these pieces, Colbert would give his audience the background of a different US Congressional district. They were brilliant.
For our purposes, though, we'll do this with ACC basketball players — less notable players that will make a bigger impact in the 2018-19 season than previous years. The first of these will start with Wake Forest sophomore center Olivier Sarr.
French Introduction
Prior to his arrival in Winston-Salem, Olivier Sarr was an under-the-radar recruit, at least domestically. The 6-foot-11 Sarr, a former 3-star prospect, hails from France; he committed to Danny Manning's program later in the 2017 cycle, too — last April. (Not long after John Collins hired an agent and decided to remain in the NBA Draft.)
A few other notable programs offered Sarr as well: Vanderbilt, Cal and Central Florida.
Sarr first came on the scene at the at the 2014 and 2015 Adidas Next Generation events in Europe; however, his stock jumped after the 2016 FIBA U17 World Championships. At that event, Sarr averaged 13.7 minutes per game — and 4.5 blocks and 12.5 rebounds per 40 minutes.
A Shaky Start
The 2017-18 season was a bit of a disappointment for Wake Forest. The loss of Collins proved to be too much for a team that once again fumbled around defensively. Wake ranked 130th nationally in adjusted defensive efficiency, per KenPom.
According to Synergy Sports, the Demon Deacons checked in at No. 310 in terms of transition defensive efficiency: 1.10 points per possession (60.6 eFG%).
Playing behind Doral Moore and Terrence Thompson, minutes were hard to come by for Sarr (15.1 per game), who played in all but one contest as a rookie. He played 20-plus minutes just six times in 2017-18.
On the surface, the shooting numbers for Sarr aren't great. As a freshman, he shot just 38.2 percent on two-point field goals. Despite being near 7-feet tall, Sarr really struggled at the rim. Sarr connected on just 14-of-37 (37.8 FG%) attempts at the rim, per Synergy.
Like most young big guys, Sarr didn't show much in the way of playmaking, either: 11 total assists in 453 minutes last season. (1.4 assists per 100 possessions)
The bigger concern, however, is the turnovers. Now, it's no a surprise to see a young post player struggle with possession, but for a guy with a sub-16 percent usage rate, a 22 percent turnover rate is a little troubling: four turnovers per 100 possessions. (Sarr posted an individual offensive rating of just 81.3 points per 100 possessions, according to KenPom.)
Little of Column A, Little of Column B
Dating back to the 2009-10 season, there are only 10 freshmen centers in the ACC that have posted a sub 20 percent usage rate, a turnover rate above 20 rate and a player efficiency rating under 10. Olivier Sarr is one of these 10 players.
That doesn't scream: future star. However, some other names on this list are encouraging, like Marshall Plumlee and Landry Nnoko — both of whom put up solid numbers in the G League this season. It took some time, but those two guys rounded into good college players and became pros.
Trying Stuff Out: Olivier Sarr
There's obvious stuff that makes Olivier Sarr such an intriguing prospect. He's really tall, can run the floor (six dunks as a freshman) and it looks like he has some shot-blocking chops (1.9 blocks per 40 minutes).
However, Sarr caught my attention last season on a few occasions with what he showcased away from the paint. It's nothing too extreme, and it's a limited sample, but Sarr flashed some stretch-5 ability that should have Wake Forest fans excited.
Sarr attempted just 24 three-pointers as a freshman (making six), but that's 26 percent of the field goals he launched from the field. According to Synergy, nearly 44 percent of Sarr's attempts in the half-court were jump shots, too. He didn't make a ton of them, but kudos to Manning and the Wake staff for letting him experiment.
Wake Forest would utilize Sarr in the pick-and-pop game — out of double-high set with Doral Moore and a guard. The guard comes off a screen from Sarr, who spaces out, then off second screen from Moore, who dives.
In modern hoops, that's fairly basic stuff to get a big dude an open look from deep (the New Orleans Pelicans run this action with Anthony Davis and Demarcus Cousins), especially for an offense predicated on attacking ball screens. However, Wake also experimented with actions further down the playbook, which was interesting.
This is a baseline out-of-bounds (BLOB) play against NC State with Moore pinning for Sarr to curl off, catch and fire it from deep. He splashes it, too. That's not nothing, man. This looks like something run for Kevin Love back in his Minnesota days.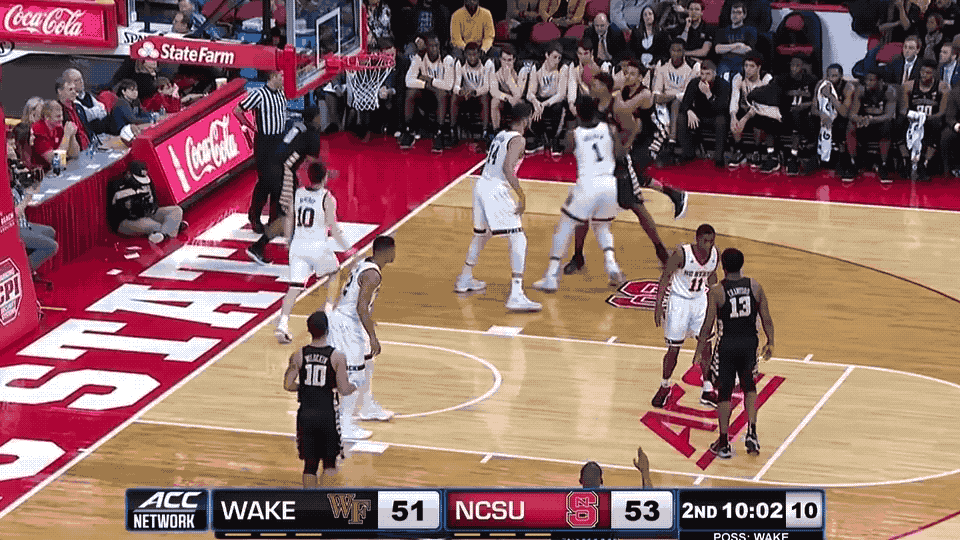 A minute later in the same game, Wake adds a small twist to its screen-roll game with Moore. As Moore dives to the rim, Sarr slips up beyond the arc for a catch-and-shoot. Again, this is something else you can see on a nightly basis in the NBA.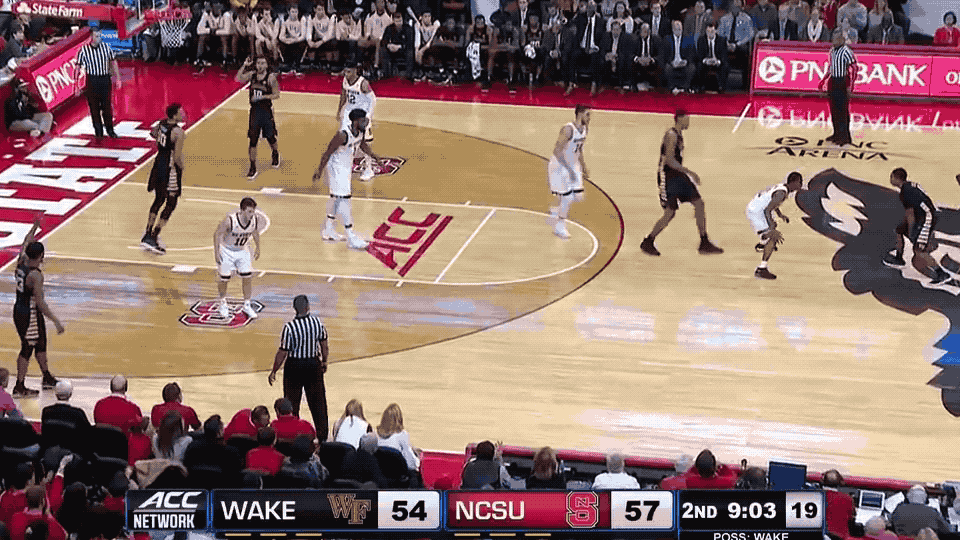 Next Season
The development of Olivier Sarr is critical for Wake Forest. The Demon Deacons just lost their three best players, including Moore, which means available minutes up front. They won 11 games last season; if Wake misses the NCAA Tournament, Manning slips to 1-of-5 in postseason dancing opportunities.
Wake Forest brings in an excellent recruiting class — No. 22 in the nation, per 247 Sports. Only one guy in that class, Christian Long, is a true post player, though. Long was a reasonably sought-after prospect, but he's rated as a fringe top-300 recruit by 247 Sports. That's an indication that he may not be ready to play leverage minutes next season.
(6-foot-8 combo forward Jaylen Hoard and Isaiah Mucius will see plenty of time as de facto power forwards, too.)
Ikeen Smart, a 6-foot-10 grad transfer from Buffalo, joined the program this offseason as well. He can provide minutes and depth, but if Wake Forest is to expect plus-production from the pivot, Sarr is the best bet.
That may be asking too much; Sarr could be a year away from truly harnessing all of his spacey offensive abilities — mixed with rebounding and shot-blocking. If that requires some bumps along the way, it's totally worth it, though.
This is a bit reductive, but in the ACC, you need players that simply just don't look like anyone else in the league. Offenses need matchups to exploit. A 7-foot floor-spacer is just that.
For Sarr, the easiest — and most recent — comparison is former NC State center Omer Yurtseven. Think back to just last season — Y7's ability to rim run and pop for triples made him a serious impact player for the Wolfpack. The pick-and-roll combination of Markell Johnson and Yurtseven was the backbone of NC State's top-20 offense.
Watch Yurtseven slip this screen with Lavar Batts — could this be Jamie Lewis or Sharone Wright Jr. and Sarr in a year or two? I don't see why not.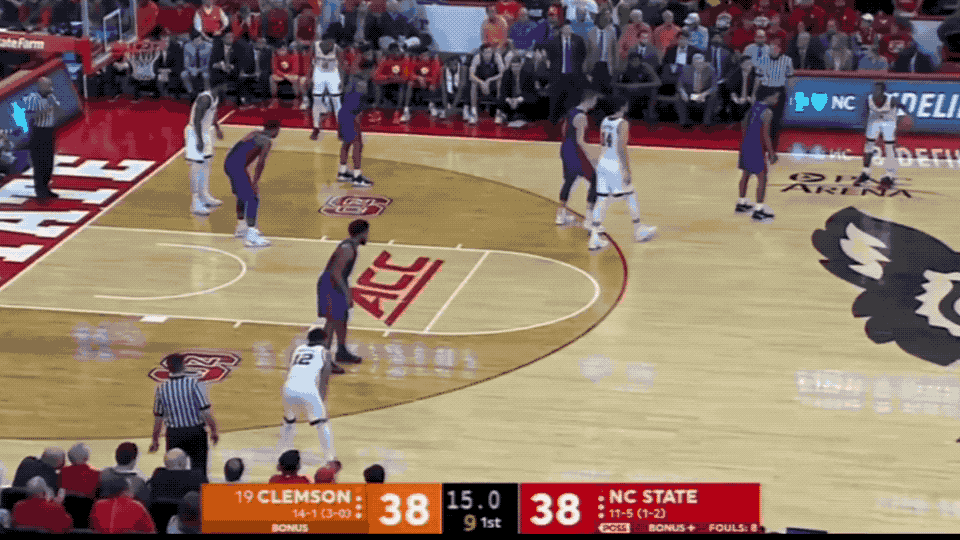 Read More
Quick Numbers: Charlotte transfer Andrien White adds shooting, scoring pop to Wake Forest lineup