At the ACC Analytics page, we're big fans of comedian Stephen Colbert. Back when Colbert had his late night show The Colbert Report on Comedy Central, he used to run a reoccurring segment called "Better Know a District." In these pieces, Colbert would give his audience the background of a different US Congressional district. They were brilliant.
So far, we've started the series with Wake Forest center Olivier Sarr, NC State wing Devon Daniels and Clemson defender Aamir Simms. Today, we'll focus on Pitt forward Shamiel Stevenson.
The Recruiting Process
When he accepted the coaching position at Pittsburgh, Jeff Capel was faced with a clear first objective: retain players. A total of nine Pitt players requested their release from the program; Capel needed to convince as many as possible to stay. (The staff also had to start building a 2019 recruiting class, too.)
Predictably, there were some departures — most notably guards Marcus Carr (Minnesota) and Parker Stewart (UT Martin). Capel, however, was able to talk most of the guys into returning, including forward Shamiel Stevenson (8.5 points per game, 11.3 rebounds per 100 possessions).
This was critical for Capel. The 2017-18 season was a lost one for Pittsburgh, but Stevenson showed a lot of offensive talent. A 6-foot-6, 230-pound bull from Toronto, Stevenson provided the Panthers with some insider power.
Finish with a paint touch
Pitt ranked ninth nationally in three-point attempt rate — nearly 48 percent of the team's field goal attempts came from beyond the arc, per KenPom. Shamiel Stevenson balanced that with rugged right-handed forays to hoop and nifty moves around the basket.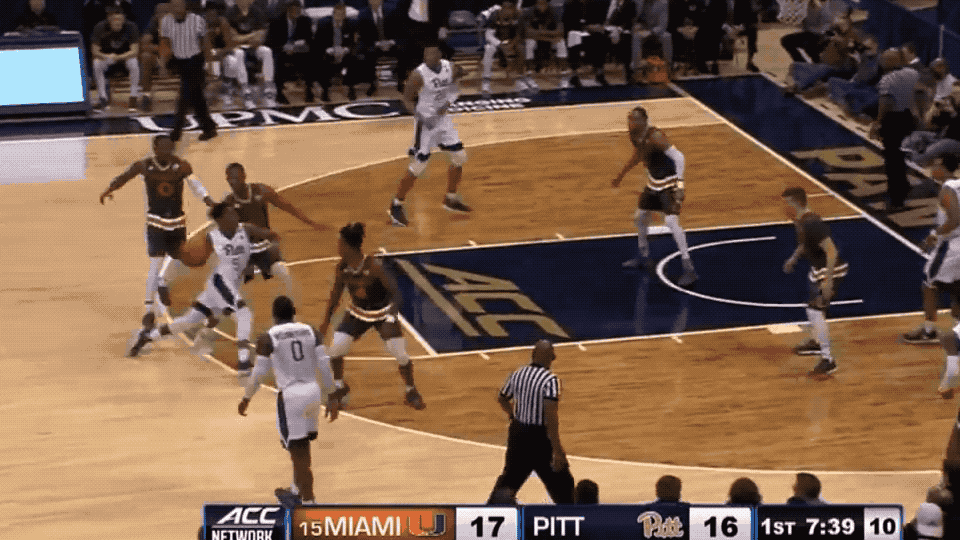 Look at that reverse-pivot move; that's advanced stuff for a freshman. Stevenson shot 55.4 percent on non-post-up attempts at the basket and scored 1.13 points per possession, per Synergy Sports. (That was good for No. 18 in the ACC amongst players with at least 100 possessions.)
With his combination of strength and agility, Stevenson should make strides as a cutter, too. Stevenson shot just under 49 percent on cuts (64 FG% on basket cuts), per Synergy. Those two numbers should both climb during his sophomore season.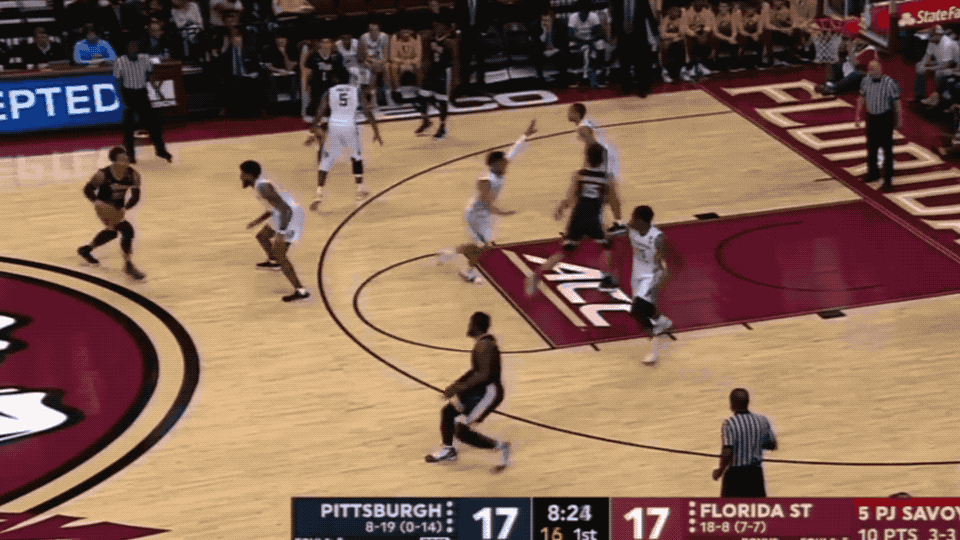 Phil Cofer is a pretty good defensive power forward, but here Stevenson cuts right in front of him with the offense elevated and the paint wide open — nice give-and-go with Jared Wilson-Frame.
The next step
In terms of an in-between game, Stevenson has room for growth, which isn't a bad thing. According to Synergy, about 72 percent of Stevenson's half-court field goal attempts came at the rim, including post-ups. Over 21 percent of his total field goal attempts were three-pointers, too.
Stevenson attempted on nine long midrange attempts during his freshman season, according to The Stepien.
This isn't a bad thing, either; it's good to take the majority of your shots in the two money areas: at the rim and beyond the arc. However, a pull-up game would work wonders for Stevenson — when defenses load up on his hard drives to the rim.
The form on this jumper is so-so, but if Stevenson can become more balanced and comfortable in these types of looks, he quickly becomes a challenge to check one-on-one.
Leave it behind
Stevenson posted an offensive rating of just 91 points per 100 possessions as a freshman, per KenPom. That's not great, and is due in large part to his turnover issues. As a rookie, Stevenson posted a massive turnover rate of nearly 26 percent.
Now, Stevenson puts the ball on the floor a lot, which leaves him susceptible to turnovers; however, that number has to come down. According to Synergy, Stevenson turned the ball over on 21.6 percent of his spot-up possessions and 25.8 percent of his transition possessions.
Don't be afraid to let if fly
Yes, Stevenson provides production and some efficiency at the rim; that should be the focus of his offensive game. It's worth noting, though: he has some range, too.
According to Synergy, Stevenson was 14-of-32 (43.8 FG%, 65.6 eFG%) on catch-and-shoot attempts in the half-court. That's obviously a small sample, but it's promising. Look for Stevenson to launch from deep with a little more regularity.
If Stevenson is able to package his drives to the hoop with a reliable three-pointer, he becomes a matchup nightmare, especially as a small-ball 4, at times.
Read More
4-star Au-Diese Toney commits to Pitt; Capel continues strong rebuild