On Tuesday this week, we released our ACC Basketball All-Analytics first team. Featured in that five-man group: Luke Maye, De'Andre Hunter, Kyle Guy, Justin Robinson and Temple Gibbs. Picking up from where that left off, here's the All-Analytics second team.
(Note: Again, freshman are excluded from these rosters. Inclusion is based off statistics compiled against college competition. Other than that, there are no real restrictions — just be good at basketball.)
Tyus Battle, Syracuse
It's not exactly bold to say no player in the ACC was asked to do more for his team last season than Battle. At Syracuse, Jim Boeheim rolled with a rotation that floated between six and seven players. Battle had to play minutes, and he had to produce. Make no mistake, he did both.
Battle logged 39 minutes per game; in ACC play, though, he averaged over 40 minutes per game. Dating back to the 2009-10 season, Battle is one of only three players to average over 40 minutes per game in conference games.
Unsurprisingly, he was a high-usage player, too: 26.2 percent usage rate, per KenPom. According to Synergy Sports, Battle used 758 total possessions (27 percent of Syracuse's total possessions). Last season, only 23 Division I players accounted for 700 or more used possessions. Of those 23, only three played for Power 5 programs: Battle, Trae Young of Oklahoma, now with the Atlanta Hawks, and Penn State's Tony Carr.
Dating back to the 2005-06 season, according to Synergy, only eight ACC players, including Battle, have recorded over 700 possessions in a single season.
| Player | Team | Season | Possessions |
| --- | --- | --- | --- |
| Tyus Battle | Syracuse | 2017-18 | 758 |
| Justin Jackson | UNC | 2016-17 | 723 |
| Grayson Allen | Duke | 2015-16 | 708 |
| Cat Barber | NC State | 2015-16 | 784 |
| TJ Warren | NC State | 2013-14 | 821 |
| Erick Green | Virginia Tech | 2012-13 | 730 |
| Nolan Smith | Duke | 2010-11 | 746 |
| Tyler Hansbrough | UNC | 2007-08 | 728 |
Battle, who splashed 77 three-pointers (55 eFG% off the catch) and averaged 19.2 points per game, did a lot of heavy lifting in isolation, too. According to Synergy, over 19 percent of Battle's possessions came in isolation: 0.88 points per possession (42 eFG%), good for 17th in the nation (minimum of 100 possessions).
Despite the high usage and ball-handling responsibilities, Battle is a relatively low-turnover player, too: 3.7 per 100 possessions. With more help in the backcourt this season, hopefully Battle can get off the ball a little more and work on his spot-up attack.
Ky Bowman, Boston College
Speaking of high-usage perimeter stars, say hello to Mr. Bowman! Last season in the ACC, 21 players averaged 14 or more points per game (minimum 20 games) — led by Duke's Marvin Bagley. Of that group, only nine return, including Bowman. All nine of those players posted usage rates north of 20 percent, too, per Sports Reference.
| Player | Team | Points | Usage Rate | PPP |
| --- | --- | --- | --- | --- |
| Tyus Battle | Syracuse | 19.2 | 28.1% | 0.93 |
| Ky Bowman | Boston College | 17.6 | 25.6% | 0.91 |
| Luke Maye | North Carolin | 16.9 | 25.0% | 0.98 |
| Marcquise Reed | Clemson | 15.8 | 24.5% | 0.96 |
| Temple Gibbs | Notre Dame | 15.3 | 20.9% | 1.01 |
| Oshae Brissett | Syracuse | 14.9 | 23.7% | 0.88 |
| Frank Howard | Syracuse | 14.4 | 25.4% | 0.78 |
| Kyle Guy | Virginia | 14.1 | 26.1% | 0.98 |
| Justin Robinson | Virginia Tech | 14.0 | 24.0% | 0.98 |
With Jerome Robinson in the NBA, the table is set for Bowman. It's his show to run now, alone. One of the top pick-and-roll scorers in the ACC a season ago — 163 points, 42 eFG% — Bowman will get to attack off ball screens whenever he wants.
The concerns will arise when — without J-Rob — defenses throw the gauntlet at Bowman. Jordan Chatman is an excellent spot-up shooter who helps space the floor, but opponents will be able to trap and hard hedge on ball screens this season, which will force the ball out of Bowman's hands. Bowman can create — nearly five assists per 40 minutes — but teams will consider it a win to force anyone else on the roster to beat them.
Boston College will need to someone else to step up as a facilitator or secondary creator. Bowman is an excellent, high-volume spot-up player — 1.17 points per possession (57.6 eFG%). However, it will be interesting to see how those shots are created this season — a lot of that action came from Robinson.
Marcquise Reed, Clemson
The theme for the second team appears to be guards who like to score off high ball screens. In this regard, Reed is similar to Battle and Bowman. Also like Battle and Bowman, Reed tested the NBA Draft waters before electing to return to school for another season.
During his two-year playing career for the Tigers, Reed has been a microwave scorer — instant offense. After coming off the bench in the 2016-17 season, Reed was elevated to the starting lineup where he played nearly 35 minutes per game and put together 11 performances of 20+ points.
In the half court, Reed looks to get loose for his jump shot. Reed shot 43.9 percent (50 eFG%) out of the pick-and-roll last season, per Synergy; he also ranked sixth in the ACC in terms of off-dribble jumper efficiency: one point per possession (49.7 eFG%).
Reed had no fear letting it fly from deep more a season ago; over 44 percent of his field goal attempts were three-pointers. However, he got to the line less 6.9 free throw attempts per 100 possessions, — down from 8.8 the year prio. While at Clemson, Reed has a true shooting rate of 56.5 percent, which is pretty darn good. A few more trips to the line, though, and that could be on the rise as well. (He's an excellent free throw shooter: 87.1 FT% at Clemson.)
Clemson features another excellent guard in its backcourt: Shelton Mitchell. This is big for Reed, not only because it doesn't allow opponents to load up on him, but also because it allows him to easily get into his spot-up game. According to Synergy, Reed scored 1.1 points per possession (53.3 eFG%) on spot-ups last season.
The fifth-year guard has some playmaking verve, too. Reed dished out 5.6 assists per 100 possessions last season, assisting on nearly 20 percent of his teammates' field goals while on the floor.
Phil Cofer, Florida State
This guy may be my favorite player development success story in the ACC. I've written about it plenty before, but Cofer's evolution from post player with limited range to a bouncy three-point shooter is worth celebrating.
During his first three seasons at FSU (nearly 1,300 minutes), Cofer attempted just 32 three-pointers. That was less than 12 percent of his total field goal attempts in that stretch. Now, let's compare that to this past season: 48-of-128 three-point attempts (37.5 3P%). In the 2017-18 season, 37 percent of Cofer's attempts came from beyond the arc.
According to Synergy, Cofer scored 1.19 points per possession (59.4 eFG%) on catch-and-shoot attempts last season. That's a monster number.
That transformation had a major impact on his overall efficiency — 57.5 percent true shooting — and, by extension, Florida State's offense. No longer having to exclusively back his way down for buckets, Cofer's turnover rate dropped big, too: 9.7 percent (16 percent during his first three seasons).
Cofer emerged as one of the ACC's top floor-spacing bigs — up there with Luke Maye — but his interior efficiency held strong, too. Cofer shot 55.3 percent from inside the arc, including 54.2 percent on post-ups and 56.8 percent on other attempts at the basket (30 dunks), per Synergy.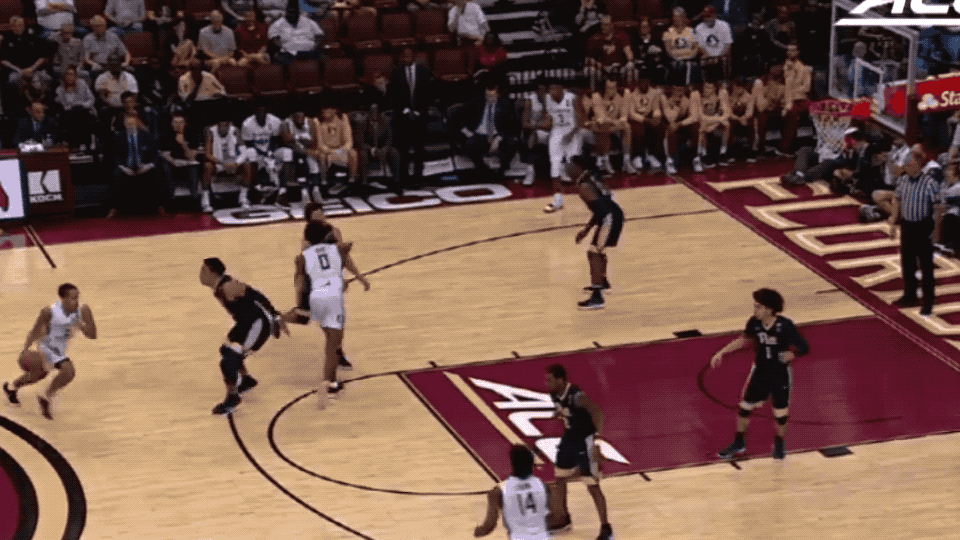 Terance Mann, Florida State
With Cofer spacing out, FSU could truly invert its offense by allowing Mann, a wing, to flourish in the paint. Mann, who had 32 dunks last season, shot 85-of-123 (69.1 FG%) in the half court at the rim — 1.47 points per possession, per Synergy. This ranked 21st nationally in terms of efficiency on these types of non-post-up finishes at the hoop.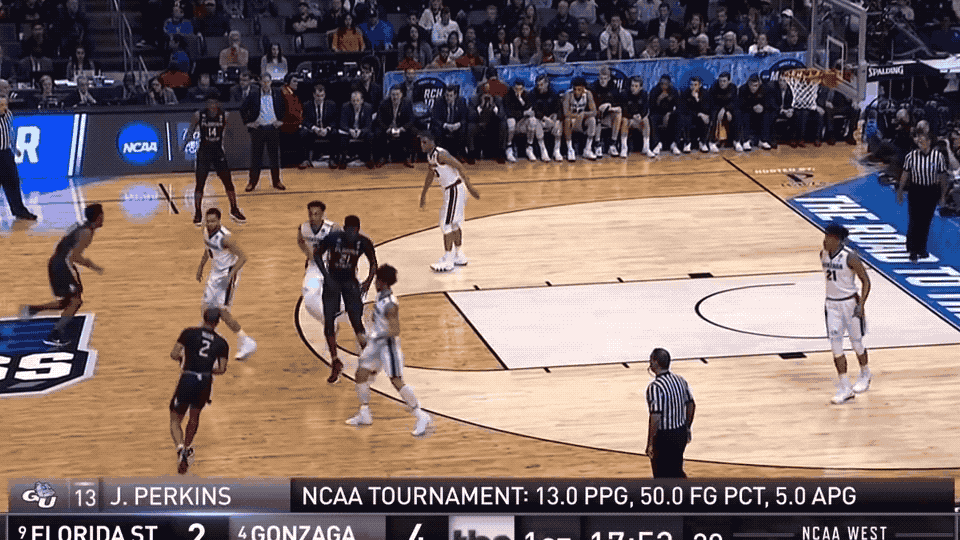 Two top-five picks in the 2018 NBA Draft — Deandre Ayton and Marvin Bagley — finished only mere percentage points ahead of Man.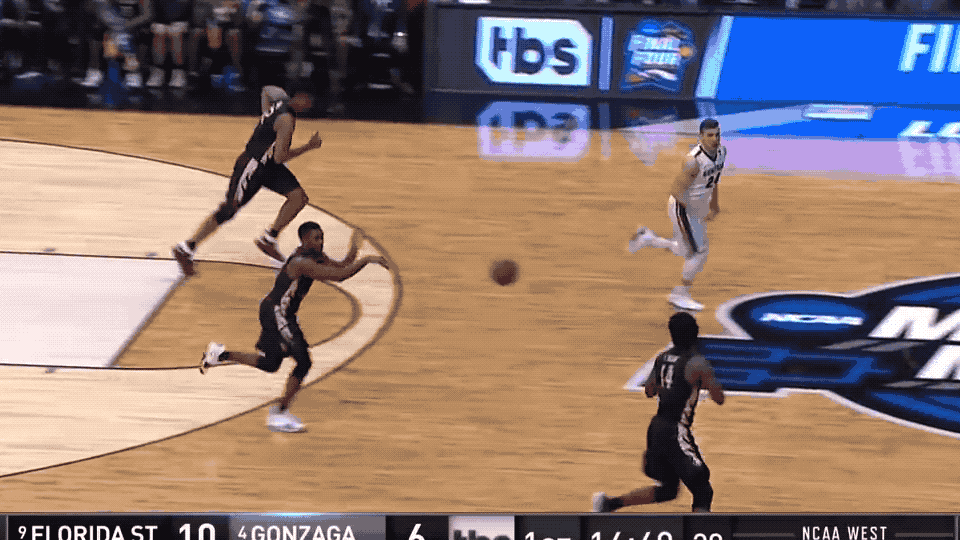 Mann can fill a couple other roles, too. He's a decent passer (16.6 percent assist rate) and he helps on the boards as well — 10.3 rebounds per 100 possessions.
Outside of the paint, though, Mann hasn't shown a ton, in terms of scoring. He's just 24-of-88 on three-point attempts during his career at FSU; last season, he shot 37.3 percent on three-point attempts away from the basket.
However at ACC Operation Basketball, he told me he isn't too worried about showing NBA personnel that he now has a jump shot. His focus is on this season in Tallahassee.
Ty Jerome, Virginia
Yes, we're including a sixth person to the second team! I am drunk with power — sue me! I don't care; these are my rules!
Jerome is tall for a point guard but, on defense, he won't overwhelm opponents with length or leaping ability. That doesn't mean he isn't a menace on that end of the floor, though. Jerome displayed his aptitude for defense this summer at the CP3 Elite Guard Camp, and while spearheading UVA's No. 1 defense a season ago.
In the 2017-18 season, Jerome ranked inside the top 55 nationally with a steal rate of 3.5 percent — 3.5 steals per 100 possessions. Jerome can switch and guard multiple positions without fouling (three fouls per 40 minutes). It's this type of maneuver that allows Virginia's late-block defense to do damage.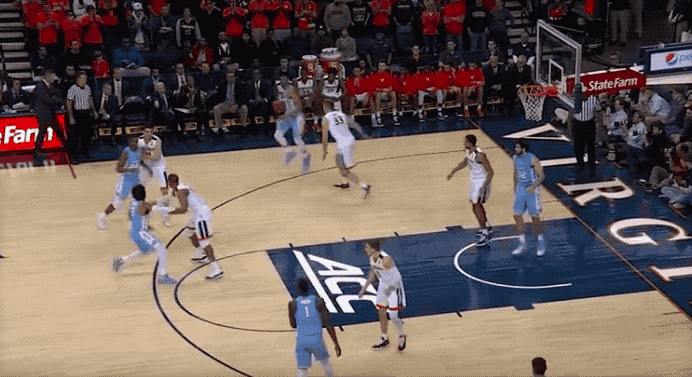 On the other end of the floor, Jerome is an efficient catalyst of Virginia's offense. He cut way down on his turnover last season (3.4 per 100 possessions), ran team's motion attack (25.5 percent assist rate) and hit shot from long range (9.7 3PA per 100 possessions, 37.9 3P%).
Jerome could have another gear as a spot-up player, too; he scored 0.93 points per possession (38.5 eFG%) on spot-ups last season. That's good, not great. If De'Andre Hunter and Kyle Guy continue to expand their games of playmakers, though, perhaps Jerome could see more juicy looks from deep.
Toughest Omissions
Read More on ACC Basketball
Breakout Candidate Trent Forrest on FSU's Elite Eight run: "That was a big step for me"