On Tuesday night in Cameron Indoor Stadium, Duke defeated Michigan State, 78-69. Halfway through the contest, though, the two teams were knotted at 35. It was a well-played affair on both sides, but the game was decided over a two-minute stretch near the halfway mark of the second half, when Duke flexed their muscles and blew the doors off the gym. This massive shift, which essentially determined the outcome, was ignited not only by an uptick in defensive ball pressure, but also a spread offense that began to click.
Michigan State tied the game at 48 when Cassius Winston connected on a layup. On the next possession down the floor, Duke started an 11-o run that would effectively end the game with over 10 minutes to play. Frank Jackson assisted Grayson Allen on an and-one layup with 13:36 remaining. During this run in the second half, and in the action that preceeded it, Duke started to get everything they wanted on offense.
Earlier this week, we wrote on how dangerous the Blue Devils could be on offense with Luke Kennard as the team's nominal power forward, and Jefferson is their lone true post player. When Duke's in this type of offense — as opposed to playing with some combination of Jefferson and Chase Jeter or Antonio Vrankovic on the court — push defenses to their breaking point. They have to defend Kennard, a prolific shooter, out to the arc; now there's too much territory for them to cover. Duke can space the court with four players who can shoot or put it on the floor, and Jefferson functions as the optimal rim-running screener.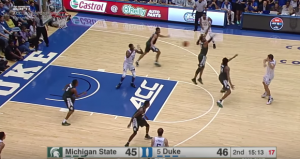 On this possession, Duke has four players above the three point line; Michigan State, who you'll note has no player with more than one foot in the lane, attempted to switch on this Allen-Jefferson screen and roll. The switch was botched, and the help defenders are so far away, they couldn't get to the diving Jefferson in time. Jefferson made the layup, following a great pocket pass from Allen, but botched the free throw. Regardless, it's easy to see how tricky this can be to stop. There's a reason Duke leads the nation in adjusted offense efficiency, according to Ken Pomeroy — scoring more than 1.21 points per possession.
Now comes the next part, which occurred during the middle of their scoring burst. On this play, Frank Jackson has the ball with the floor spread. Look at how many players Duke has extended out from the basket. No one is within 15 feet of the rim.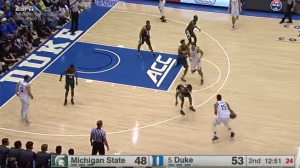 Chase Jeter approached Jackson to his right to run pick-and-roll. Jackson, however, had other ideas. Jackson faked right, got his defender leaning in that direction, and then crossed back left. With the paint wide open, there's no chance to stop an explosive leaper like the freshman from Utah. That's easy money.
Once an offense has a defense thinking, "Crap, we've gotta rotate harder," secondary action can flow easily from that.
Here Jackson and Jefferson (sounds like a slightly above average law firm) run a simple pick-and-roll at the top of the key. The Spartan covering Allen in the strong side corner is Matt McQuaid, who gets put into a pickle. (You'll notice Allen at the bottom left corner of this frame.)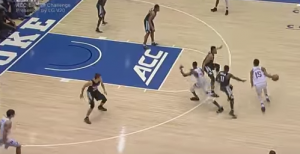 Michigan State's pick-and-roll coverage, which is stretched thin, isn't great; McQuaid has to slide down from the wing to bump Jefferson's roll, which frees up Allen for a clean catch-and-shoot 3-pointer. The junior made a season high five three-balls Tuesday night, by the way.
Duke had the full arsenal working for stretches of time. Jefferson has become a high post hub on offense, and he's used a more than just a screener: a lot of their sets start with the ball being entered to the veteran in a horns or UCLA-type look. After the guard UCLA cuts down to the corner, Jefferson will face up, and from there he has options. One of the main things Duke wants to do here is get into their dribble handoff (DHO) game, which they ran with precision against MSU.
Allen and Kennard are the frequent targets of this action. Kennard didn't have his jumper going (1-for-7 from beyond the arc), but the DHOs were working, and freeing up Blue Devils all over the court. Sometimes, Duke will run Allen or Kennard off a down screen and then into the DHO, which is tough to curtail. This is as close to an NBA offense that you'll find on the college circuit.
Allen can rise up and shoot, which he does here, or he can attack, which he also did Tuesday in Cameron, too.
Duke obviously misses Jayson Tatum, Harry Giles and Marques Bolden; they currently have three NBA lottery picks sitting out their bench. However, when their starting five plays offense like they did in the second half against Michigan State, including a 24-point outburst during the first 10 minutes of that frame, Duke is really good, and more than capable of holding the fort down until the calvary arrives.