At the ACC Analytics page, we're big fans of comedian Stephen Colbert. Back when Colbert had his late night show The Colbert Report on Comedy Central, he used to run a reoccurring segment called "Better Know a District." In these pieces, Colbert would give his audience the background of a different US Congressional district. They were brilliant.
So far, we've covered Wake Forest center Olivier Sarr, NC State wing Devon Daniels, Clemson defender Aamir Simms, Pitt combo forward Shamiel Stevenson, Florida State big fella Mfiondu Kabengele, Wake's breakout candidate Chaundee Brown and Louisville's Jordan Nwora.
Today, we'll hit Steffon Mitchell, a rebounding menace of Boston College.
Do what's asked
You don't need to be a basketball scholar to figure out the hierarchy of Boston College's offense the last two seasons. That ship has been powered by one of the better backcourts in college basketball: recent lottery pick Jerome Robinson and point guard Ky Bowman.
In 2017-18, both Robinson (36 minutes) and Bowman (38.2 minutes) posted usage rates above 25 percent, according to KenPom. Those two guys alone accounted for 1,366 of Boston College's 2,831 possessions (48.3 percent), per Synergy Sports.
There's nothing wrong with that; good offensive players should control the attack. However, its success is also contingent upon the other players accepting their roles. As a freshman, Steffon Mitchell was more than happy to embrace his position: play hard, screen and rebound like crazy.
Mitchell was one of only four ACC players to play at least 1,000 minutes, and post an offensive rebound rate above 10 percent — joining Marvin Bagley, Luke Maye and Paschal Chukwu. For the season, Mitchell averaged 14.2 rebounds per 100 possessions (2.9 offensive rebounds per game).
According to KenPom, Mitchell rank inside the top 200 nationally in offensive rebound rate. With more possessions, he has the potential to average a double-double.
Quick offense
Most of the time, Mitchell's work on the offensive glass was used to reset the possession — get the ball back in the hands of either Bowman or Robinson. On some occasions, though, the 6-foot-8 forward, who plays with physicality, used those boards to generate his own offense.
According to Synergy, Mitchell shot 66.7 percent (18-of-27 FGA) on put-back attempts after an offense rebound: 1.2 points per possession.
Stretch potential
Steffon Mitchell's role in the offense was limited in 2017-18; he posted a usage rate of just 11.3 percent, per Sports Reference, which is tiny. That's almost certain to jump this season with Robinson now a Los Angeles Clipper.
There was one four-game stretch in the middle of last season, though, when Mitchell posted double-digit points in each game, including wins over Wake Forest and Florida State (12.8 points, 57.9 2P%). Mitchell got up a career-high 13 field goal attempts in that win against the Demon Deacons.
Over this stretch, Mitchell showed some stretch, too, which seems notable for Boston College: 14 of his 33 field goal attempts (42.4 percent) came from beyond the arc: 5-of-14 (35.7 3P%).
More of this, please
For the season, Mitchell posted an effective shooting rate of just 40.3 percent off the catch, per Synergy. But the fact that he got up 2.4 three-point attempts per game is encouraging. Could this open the door for some pick-and-pop action with Bowman?
Regardless, Mitchell's bread will get buttered at the basket — primarily on put-backs, but basket cuts should feature in here, too.
In a very limited sample, Mitchell shot 60 percent (6-of-10 FGA) as a roll man in the pick-and-roll. In total, he shot 55.4 percent on non-post-up attempts at the hoop, per Synergy.
This is far from crisp pick-and-roll and help-side defense from Wake Forest (big shock, I know), but this is wonderful pick-and-pop action for Mitchell, who smokes Olivier Sarr on a club-footed closeout.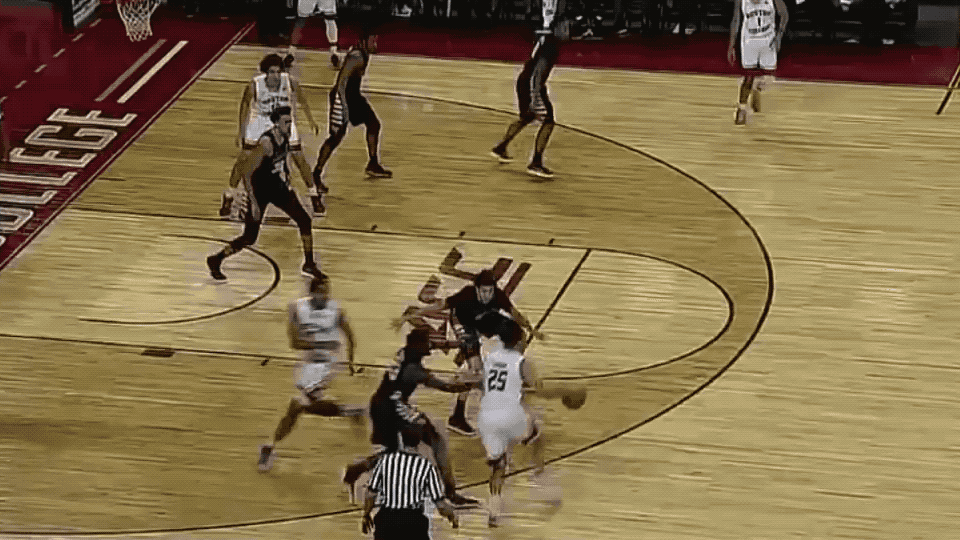 Defensive upside
Defense has been an issue for Boston College basketball for well over a decade now. The last time an Eagles squad finished inside the top 50 of KenPom's adjusted defensive efficiency rankings was the 2004-05 season.
For BC to make another small jump in 2018-19 (No. 128 last season, up from No. 163 in 2016-17), Mitchell has to star on that end of the floor. As a freshman, Mitchell showed some switch potential, which Boston College could explore more with next season.
Read More
Why Ky Bowman will lead the ACC in scoring and usage rate in 2018-19