There was obviously a great deal of draft hype surrounding the New Orleans Pelicans after the team won the draft lottery. That event paved the way for Zion Williamson to head south to Louisiana — in a move that will alter the course of NBA history.
Williamson, however, wasn't the only piece that New Orleans, unofficially, added back on June 20. The Pelicans selected three players in the first round: Zion, Jaxson Hayes and Nickeil Alexander-Walker — the latter of which made their summer league debuts in a win over the Chicago Bulls on Monday night.
Before go back over Alexander-Walker's dynamic performance out in Vegas, let's quickly retrace how New Orleans arrived at this point.
Rewind the steps
It's pretty wild when you draw out the string of events that have subsequently taken place since the night of May 14. The Lakers land the No. 4 pick that night, which in turn becomes the foundation of its monster trade offer to acquire Anthony Davis; the arrival of AD in Los Angeles, of course, weeks later, forced the Clippers to flip the long-term future of the franchise to the Oklahoma City Thunder in order to trade for Paul George as the catalyst for signing mega free agent and known fun guy Kawhi Leonard.
In the deal that eventually delivered Davis to LeBron James and the Lakers, the Pelicans netted the No. 4 pick in the draft — along with a trove of other assets, including former Duke star Brandon Ingram.
The Atlanta Hawks made it known that they were set on drafting Virginia stud De'Andre Hunter prior to the draft; that's why the Hawks were so eager to flip their No. 8 pick and the No. 17 pick (via Brooklyn in the Allen Crabbe salary dump trade, which played a role in the Nets signing both Kevin Durant and Kyrie Irving) in exchange to move up to No. 4 for Hunter. Atlanta also traded the 35th overall selection to New Orleans, too, which became Marcos Louzada Silva.
(Trading up like this in the draft is usually bad business and costly asset management, but Atlanta got its guy.)
On draft night, New Orleans went to bat with three top-17 picks. Zion was the no-brainer at No. 1; Jaxson Hayes, a lob machine with defensive upside, went off the board at No. 8; and with the 17th selection, the Pelicans dipped back into the ACC: Nickeil Alexander-Walker, a favorite of ours at the ACC Analytics page.
Ramp it up
The Davis trade wasn't finalized until over the weekend — late Saturday night. Hence why it wasn't until Monday that Alexander-Walker and Hayes made their Summer League debuts. Both guys put together big games; however, for our purposes, let's focus in on NAW, who stuffed the stat sheet in his Vegas arrival: 23 points (9-of-16 FGA), eight assists, three steals and two blocks.
Fast start, let it fly
During his two seasons at Virginia Tech, Nickeil Alexander-Walker was a solid 3-point shooter. He shot 38.3 percent from distance on a little more than 4.5 3-point attempts per game; according to The Stepien, Alexander-Walker shot 40 percent on NBA-range attempts this season.
Right from the jump Monday night, NAW was aggressive — looking to hit from deep.
Nickeil the best player on the floor in the 1Q. Came out of the gates firing with a movement 3 off a BLOB, forced a TO getting over a screen staying attached and then had a dime left-handed small window entry to Hayes for a dunk. Already at ~3 left only passes.

— Cole Zwicker (@colezwicker) July 9, 2019
He finished the game going 3-of-6 on 3-point attempts; all three of his hits from distance came off the catch, too, including this rhythm look. (I love the little compact elevator door screen action from New Orleans on this BLOB play.)
Alexander-Walker posted an effective shooting rate of 63 percent on no-dribble spot-up jumpers last season, according to Synergy Sports. While he had to play on ball far more as a sophomore, which broadened his horizons as a prospect, NAW still proved effective spotting up.
It's fair to critique NAW's relocation skills and movement shooting abilities; however, it's not like he doesn't have that in his game. There's room for growth here, though.
It's still a little rigid and plodding, but some relocation ability from NAW. pic.twitter.com/H7Qz2ulOwl

— Brian Geisinger (@bgeis_bird) June 4, 2019
Lefty Passes
Even before the midseason injury to point guard Justin Robinson, Alexander-Walker spent far more time as a pick-and-roll engine his sophomore year. Those efforts, of course, ramped up after Robinson went down — along with the Hokies playing through NAW and Kerry Blackshear Jr. at the elbows and high post.
On these possessions, it was impossible not to notice Alexander-Walker's use/reliance of his left hand to pass.
Donning an NBA uniform for the first time — albeit a Summer League one — Alexander-Walker was into his old bag of tricks again. Early on, he rifled multiple lasers with his left hand — with Hayes as the beneficiary.
Some of these passing windows may not present themselves in an actual regular season NBA game against actual NBA-level defenders and wingspans. That's a totally different level of competition than what you'll find out in Vegas, and it's not like the Chicago Bulls brought the greatest Summer League roster, either.
However, it's further proof that NAW has the vision and height combination to be a daring playmaker in the NBA. He may never rise beyond secondary creator, especially if he plays long term with Zion, who should have the ball plenty, but that's still a nice weapon to feature.
Finesse the lob
While NAW is fond of slinging pocket passes on the bounce or skip passes on a line, he has pretty good touch, too. He's capable of throwing a catchable lob. That should work well with Hayes and Zion (no duh).
This set came with some good action from the Pelicans after a timeout — on the first possession of the third quarter for New Orleans. Hayes sets a (half-hearted) pindown and quickly flows into a back screen from guard Jalen Adams, looking for the over-the-top lob from NAW.
It's a quick-hitter that the Houston Rockets like to run for Clint Capela, too, with James Harden orchestrating from up high and Chris Paul screening on the back side.
Purple Hayes via NAW
The highlight of the night came from Hayes, though, who threw down what's likely the greatest dunk in Summer League history. (Apologies to Mychal Mulder, this couldn't have been much fun to "live" through.)
After watching this with glee and laughter, like, five times, I noticed the design and origin of the play, too. It's another BLOB look from the Pelicans, right into an empty-side pick-and-roll with NAW, who again uses that lefty pocket pass of his to hit Hayes in stride for the boom.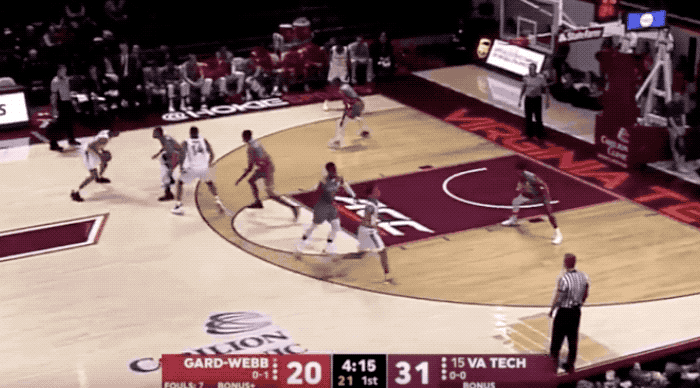 It will be interesting to see how NAW's pick-and-roll playmaking and decision-making evolve. Does his left-handed craftiness give him an advantage, or is that usage dependance-based — a compensation for an offensive shortcoming.
NAW's left hand cross court/skip passes are his own pros of playmaking.
But it would be better if it could be done flexibly with the right hand like this. Shorten PnR (still he's not comfort at turn the cornet into paint) then pass-out off of right hand. pic.twitter.com/hjb1m2RcAD

— Skyfall (@polarfall) July 9, 2019
And again: he doesn't look quite as comfortable.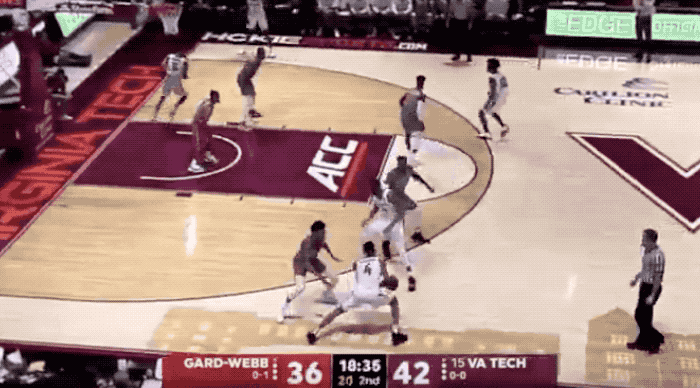 Defense to Offense
Part of the appeal for Nickeil Alexander-Walker as a prospect is his two-way game. In terms of stocks (steal plus blocks), Alexander-Walker was rather solid for a wing. Along with Zion Williamson, NAW was one of four ACC players last season with a block rate of two percent and a steal rate of three percent.
At the combine this year, he measured in with a wingspan just shy of 6-foot-10, too, one of the best numbers for a guard. Out in Vegas, NAW got after it: three steals in 28 minutes of action.
As a sophomore this season at Virginia Tech, Alexander-Walker averaged 2.2 steals per 40 minutes — up from 1.3 as a freshman. He finished the year with a 3.4 percent steal rate, which ranked 68th nationally, per KenPom.
Under head coach Alvin Gentry, the Pelicans play fast — like really, really fast. In the 2017-18 season, New Orleans tied with Golden State as the fastest offenses in the NBA. That year, New Orleans averaged 13.6 seconds per offensive possession, according to Mike Beuoy's data. After an opponent made shot, the Pelicans averaged 15.8 seconds per offensive possession that season — tops in the NBA by nearly a full second.
Well, watch how quickly NAW and Hayes go from defense to offense after the pull-up bucket by Coby White.
From end to end, that took all of five seconds — note the shot clock.
Here's a similar possession from earlier in the game. After another White score, Alexander-Walker pushes the ball; however, without a rim-runner diving to the hoop, NAW keeps this time for the transition score.
Defensive Profile
It's quite rare to find a defensive stopper in the NBA. Teams spend great amounts of resources looking to find, cultivate and develop these types of defenders. It's just not that easy.
Alexander-Walker doesn't light up as a stopper; however, he projects to being a good defender, one that can play within a system, guard multiple positions and wreck the occasional dose of havoc with a steal, deflection or block.
This is a wonderful help effort from NAW — rotating over from the weak-side corner and contesting the shot. What he does after that — weaving coast-to-coast with another lefty transition finish — is just the icing on the cake.
According to Synergy, Alexander-Walker scored 1.29 points per possession (79.8 eFG%) in transition last season.
1-on-1 with Coby White
One of the more enjoyable aspects of this Summer League outing was that it pitted NAW against Coby White, a former ACC rival. White has experienced some good moments while breaking into the NBA out in Vegas, even though his 3-point game hasn't quite gotten online. (While he's capable of contorting around the basket in nifty ways to score, White has issues finishing through contract.) Defensively, he's shown some nice flashes, too.
White finished with team-highs in points (25) and usage rate (36.8 percent). On the final possession before halftime, though, NAW matched up one-on-one with White and got the better. This is solid lateral work from Alexander-Walker as he stays with the speedy and slippery White through a change of direction.
Later in the game, NAW had the opportunity to go at White with the floor spread. Alexander-Walker doesn't have a super explosive first step; he usually needs a ball screen or some created advantage to get going to the basket.
But on this possession, he jabs right and drives left. Around the middle of the lane, White is in good defensive position — between NAW and the basket, with his arms raised vertically. However, Alexander-Walker uses some clever footwork and a long right-footed stride in the final dimension of the floor to create enough separation for the finish.
Read More on Nickeil Alexander-Walker and VT Basketball
Offseason Power Rankings: Hokies in for a rebuild in the 2019-20 season