No. 15 Virginia fell on the road Tuesday night to No. 18 West Virginia. It was one of the most exciting games of the young college basketball season — thanks in part to a shooting display from Kyle Guy.
The sophomore went scoreless in the first half, missing his first six attempts from the floor. However, ever the gunner, Guy was undeterred. Guy summoned his inner Jamal Crawford, and went nuts from beyond the arc in the second half.
Against the No. 11 defense in the nation, per KenPom, Guy connected on six triples in the second half; all six of the makes occurred over a 10-minute stretch. Ultimately, the play of Jevon Carter — in his eighth season at WVU, I'm fairly certain — was too much for the Cavaliers.
This contest, however, was proof that it takes little for Guy to catch fire. Virginia even used a cool wrinkle to get Guy open, too. Let's check it out.
The Numbers
As we all know, Kyle Guy is one of the best shooters in college basketball. Virginia is only nine games into its 2017-18 schedule, and Guy has demonstrated zero fear with being the team's top offensive option (28 percent usage rate). According to Synergy Sports, Guy is shooting 46.7 percent (63.3 effective field goal percentage) and scoring 1.26 points per possession on spot-up attempts. That ranks No. 6 in the ACC amongst players with at least 30 possessions.
All six of the three-pointers Guy hit came off an assist against West Virginia, which comes as little surprise. Guy is a decent pick-and-roll player, but he's an NBA prospect because he can bomb off the catch.
The 6-foot-3 guard is shooting 44.3 percent on catch-and-shoot attempts this season, per Synergy — 1.97 points per possession. Guy has scored 73 points on catch-and-shoots so far this season — the most in the ACC.
Guy is one of the nation's best shooters coming off screes, too. In the first 43 games of his college career, Guy has scored 154 points on 156 off-screen possessions (50-of-120, 41.7 percent).
| Season | FG-FGA | FG% | eFG% | PPP | % of Possessions |
| --- | --- | --- | --- | --- | --- |
| 2016-17 | 36-90 | 40% | 50% | 0.99 | 42.2% |
| 2017-18 | 14-30 | 41.7% | 52.1% | 0.98 | 40% |
The Action
Kyle Guy can usually be seen flying off pindown and flare screens for Virginia's half court offense. However, take a look at how Virginia frees up Guy using a variation of a very popular tactic.
Trailing West Virginia by six in the second half, Virginia opens up in a box set, with Devon Hall dribbling the ball high. Guy is located at the elbow; he starts the action by pretending like he wants to set a garden-variety down screen for Ty Jerome — watch him raise his arm to signify this. This is the sort of generic action that can be used to start a play. That isn't what Virginia wants to do, though.
Instead of screening for Jerome, Guy zips to his right, and runs his defender — James Bolden — through a sideways elevator door screen from Isaiah Wilkins and Mamadi Diakite, who combine to do a fantastic job closing the door.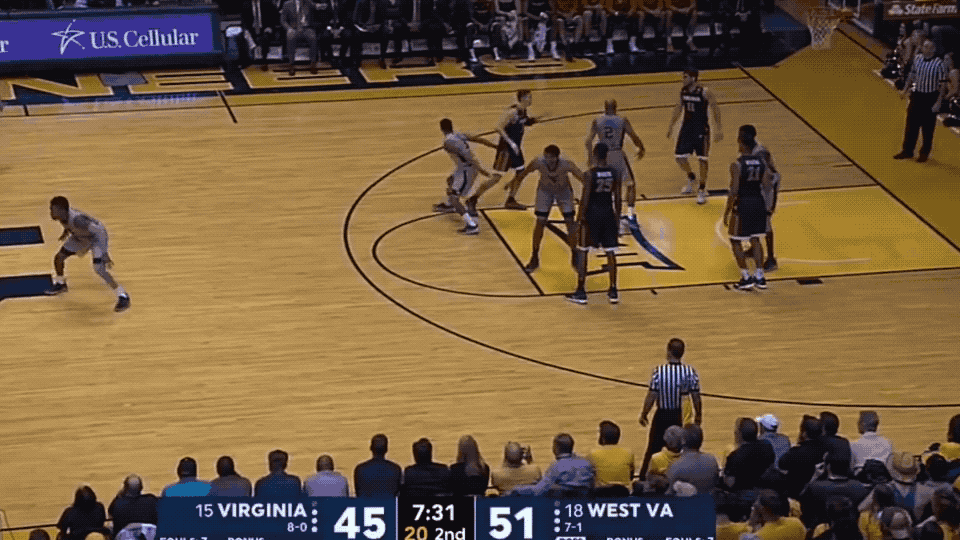 The timing of this play is gorgeous; look at how much space Guy has to shoot as defenders from Wilkins and Diakite scramble out to meekly contest.
A few possessions later, UVA runs the same screen action, but with a small twist. This time, the Mountaineers try to switch the 6-foot-8 Wesley Harris on Guy, before he takes the elevator up. Again, Guy acts like he plans to down screen for Jerome and sprints to his right. However, instead of running through the elevator doors, Guy reads Harris' tight coverage, goes under both screens and flares to the corner.
Harris tries to go over the top of Guy's path and split the screen. Wilkins and Diakite make sure that doesn't happen, though.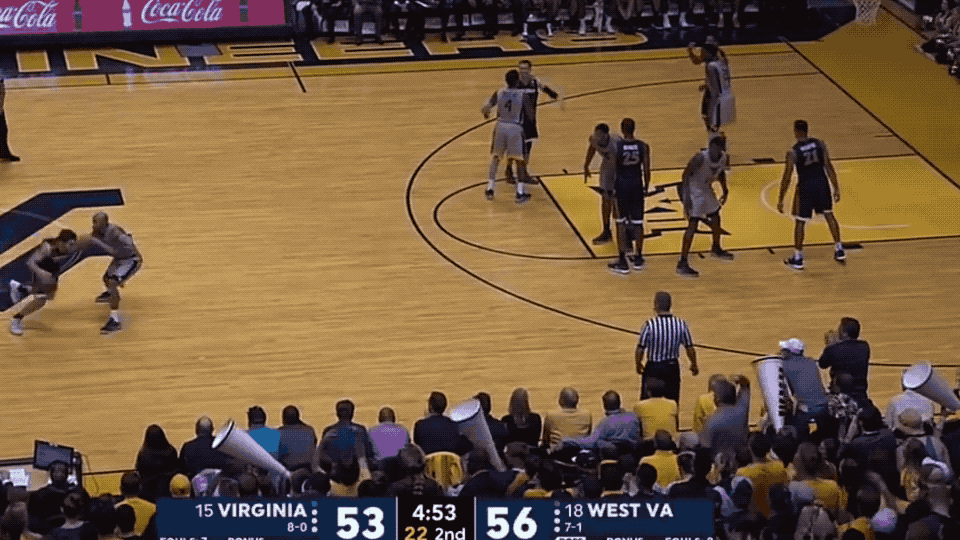 Last season, Duke's Luke Kennard functioned as the ACC's most dangerous off-ball player. Kennard is in the NBA now, which means Kyle Guy wears that crown this year. His combination of long-range accuracy, hyper-quick release and smarts moving without the ball make him a tough cover for any team, including a powerful defense like WVU.
Read More
Ever-improving Mamadi Diakite adds an edge to Virginia's frontcourt