Tuesday night could go down as one of the most pivotal moments in modern NBA history. The NBA's draft lottery is invariably a momentous occasion. It has a profound impact on the overall arc of one of the globe's most popular sports-entertainment products. This year, though, with Zion Williamson at the forefront, the stakes were as high as they have ever been.
The 2019 draft class has plenty of potential, overall, but it's extremely top-heavy — at least at this stage. Ignore the comical Russell Westbrook-Ja Morant comparisons; right now, we can only project one obvious foundational star in this pool of players: Zion. This vacuum of talent raised the stakes even higher this year.
So if you're wondering why New Orleans Pelicans coach Alvin Gentry was so hyped when his team hit the jackpot (despite not having great odds), it's important to understand three things. Zion is absurdly good at basketball; he's going to be great in the NBA, and the drop-off from Williamson to Morant, RJ Barrett, Darius Garland, Jarrett Culver — all of whom are great prospects, by the way — is significant. (There's a reason why teams after New Orleans should consider trading back.)
Top 4 picks in the 2019 NBA draft: 1. Pelicans 2. Grizzlies 3. Knicks 4. Lakers. New Orleans has opportunity to draft Zion Williamson.

— Shams Charania (@ShamsCharania) May 15, 2019
For the Pelicans, there's no decision to make; the draft is more than a month away, but it's clear-cut who the top pick will be. If, as an NBA franchise, you're lucky enough to land a player like Zion through the draft (#TheProcess), everything changes for you in the better. You've been gifted an incredible team-building canvas to work from; there's pressure to get it right, no doubt, but the advantages that come with this new responsibility are amazing. (The marketing and sales benefits of Zion are rather notable, too.)
With that in mind, we can take a look at some of the ways Zion Williamson will fit into what the Pelicans are building in New Orleans.
What to do now with The Brow?
The franchise trajectory of the New Orleans Pelicans was hit with a meteor the night of the lottery — except this meteor is different. Instead of bringing chaos and destruction, this hypothetical space rock brings rainbows and sunshine and millions upon millions of dollars in fan interest and revenue.
As of Tuesday morning, the biggest objective on the agenda for David Griffin, the franchise's executive vice president of basketball operations, was to figure out what to do with disgruntled superstar Anthony Davis, another No. 1 pick of the recent past. However, that paradigm has been altered, significantly.
Davis, 25, is a magnificent player. He also wants out from the franchise, after derailing the team's 2018-19 season with trade demands and a clunky dismissal from the rotation.
Trading Davis this offseason may still be the top priority for the Pelicans, but it's not just a collection of assets that the team will seek in return. Whatever the team gets back for AD — young players, draft picks, etc. — becomes the foundational tools to build around Zion and star point guard Jrue Holiday. This is a situation that close to 80 percent of NBA franchises wish they could have.
The Small Market "Contend Now" Paradox
In the not-too-distant past, some smaller market franchises have tried to microwave a playoff team around their young stars. The thought process is simple: "We want to build a title-contender as quickly as possible. If we're winning, Young Superstar X won't leave for a bigger market in free agency." This is what happened the first go-round with LeBron James in Cleveland. And, ironically, it's part of what created a schism between Davis and New Orleans.
Of course, there's still the possibility that Davis could change his mind, and elect to continue his career in New Orleans. (By the way, this is absolutely something he should consider.) He's still under contract for at least the 2019-20 season, and eligible for the league's "super-max" extension.
If Davis remains in New Orleans, yes, that means the Pelicans intend to Win Now, which is something Zion can certainly help with. He's a winning basketball player. Put him in an NBA gym tonight, and Williamson would have a positive impact.
However, Davis functions as the best trade chip in the NBA, and Griffin is a skilled executive, backed by an ownership that hired him to the franchise in the first place. With Davis — a top-10 player in the world approaching his prime — the Pelicans can ask for the house in possible trade deals. We want everything.
Potential trade packages from teams like the Boston Celtics or Los Angeles Lakers can offer another key step in team building. After landing a future star, like Zion, in the draft, franchises usually have to push through another rebuilding year to accrue additional future pieces — trade away veteran players for assets, tank for another high pick, ponder the future.
New Orleans has already unlocked the hard part; they will draft Zion. And now with a potential AD deal on the horizon, the Pelicans have the ability to kickstart a comprehensive rebuild around a generational talent that's yet to turn 19.
Quick Thoughts on Zion Williamson + AD
While it seems highly unlikely that Davis will stick in New Orleans, he's still currently an employee of the Pelicans. Zion Williamson is not yet even a member of the Pels; however, there's a zero percent chance that he isn't on this roster in five short weeks. In the scenario that those two play together — something we could also see this summer with Team USA Basketball — in New Orleans: what could that look like?
Concerns over Williamson's 3-point shot were tad overblown; he connected on 40 percent of his 3-pointers over the final 21 games of the season. That said, there's a lot of work to still do there (that set shot of his needs a revitalization), and he's certainly not the stretch-4 type of player (Nicolas Mirotic, to be specific) that fits like a glove next to Davis at the 5.
With Davis at center, though, it's relatively easy to fit basically any player around him. The Brow can shoot, handle, protect the rim and play with absurd quickness and bounce. For whatever it's worth, that sounds a lot like Zion, too.
Over the last two seasons, lineups with Davis and Julius Randle or DeMarcus Cousins have found success. Both of those pairings posted positive net ratings and scored close to 1.1 points per possession while on the floor together.
Zion may not offer much stretch (yet) to a half-court offense, but he can do basically everything else. Williamson offers game-changing ability with his skills after a dive or slip into space.
These kinds of maneuvers fit snuggly into the pace and space of the modern NBA. Zion is so freaking quick and powerful. It's easy to forget just how fast he can move with or without the ball. He loves this little jump-cut move.
Of course, Williamson is wildly unselfish on the floor, too. And he know about one of basketball's key principles: the ball moves faster than the man.
Defense: Oh my, the upside
The Pelicans were really bad defensively this season — No. 23 in defensive efficiency — but don't read too much into those numbers. Davis played just 56 games, Holiday missed 15 games and the team was actively not trying to win basketball contests for the final few months of the season.
At times two seasons ago, though, New Orleans had moments of defensive brilliance. The 2017-18 Pelicans ranked 11th in the league in defensive efficiency, per Cleaning The Glass. And in the 2018 playoffs, Holiday and Davis combined to trap Damian Lillard into oblivion.
Tuesday's lottery result means New Orleans has the opportunity to add Williamson — the top defensive prospect in this year's draft — to a roster that includes Davis and Holiday, who have been named to a combined four NBA All-Defensive First Team rosters.
This exchange from Zion Williamson: wow. Helps on the baseline drive, grabs the defensive rebound, hit-ahead pass to Barrett, and gets yet another finish at the rim after trailing the play. pic.twitter.com/Ah0dM8NKD3

— Brian Geisinger (@bgeis_bird) December 9, 2018
Again, it seems like Davis has both feet out of the door, but even if he leaves, Williamson and Holiday are two dynamite defenders. Zion has the ability to switch across four positions, although he may have some issues against twitchier, smaller point guards early on.
then he goes and does this, though pic.twitter.com/e3dOLnAI8j

— Brian Geisinger (@bgeis_bird) January 29, 2019
He's a ridiculously good help defender, capable of blowing up passing lanes and pick-and-roll actions on the back side of a defense.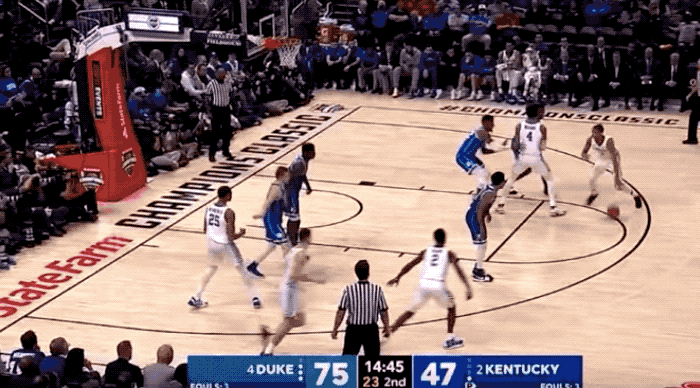 Williamson has the basketball I.Q. and defensive instincts to disrupt and make outstanding reads from the weak side.
Some of his riskier habits on defense — lunging for steals, leaping for blocks — will be corrected in the NBA. However, there's no denying his game-changing abilities on that end of the floor. NBA teams covet two-way playmakers; that's exactly what Zion brings to the table.
Along with fellow draft prospects Matisse Thybulle and Chuma Okeke, Williamson was one of three Division I players this season with a block rate of five percent and a steal rate of three percent. Zion has the opportunity to make an All-Defensive team roster at some point in his career, too.
The Go-Go Pelicans
If you haven't paid attention Alvin Gentry likes to play fast — like really, really fast. He brought that style of play to New Orleans, and it's easy to see how Zion will fit in an uptempo system — we literally just saw it at Duke.
In the 2017-18 season, the Pelicans were tied with the Golden State Warriors as the fastest offense in the NBA. That year, New Orleans averaged 13.6 seconds per offensive possession, according to Mike Beuoy's data. After an opponent made shot, the Pelicans averaged 15.8 seconds per offensive possession that season — tops in the NBA by nearly a full second.
These things are quite apples to apples, but the 2018-19 Duke Blue Devils averaged 15.5 seconds per offensive possession and ranked 20th nationally in adjusted tempo, per KenPom. Duke pressured the ball defensively, gambling for steal and looking to cause chaos and turnovers. The Blue Devils finished the season ranked fifth nationally in steal rate, which includes Zion (2.8 steals per 40 minutes) missing nearly six full games: 12.4 percent.
Williamson was also one of the most dominant transition players in major college basketball, according to Synergy Sports: 1.36 points per possession. Zion shot 83.6 percent in transition, per Synergy, which ranked No. 1 nationally, just ahead of Gonzaga's Brandon Clarke, another lottery talent. Playing fast won't be an issue for a ridiculous outlier athlete like Zion.
Williamson also showed the ability to make incredible open-court passes, which forced tempo and led to easy finishes. Transition opportunities led by Williamson will routinely punish NBA foes.
Two-Man Game: Jrue and Zion
If you haven't paid much attention to New Orleans basketball, you may not have seen much Jrue Holiday. Well, he's very good at basketball; in fact, he's one of the best two-way perimeter players in the world. He's like a 6-foot-4 Kawhi Leonard, running around, bandana flapping up and down, causing destruction wherever he goes.
The possibilities between Holiday and Zion Williamson are endless. On defense, the two can work as switch partners against some (most) opponents. And offensively, it will be delicious to see how the two link up in all kinds of nifty two-man combinations.
I've likened Zion to Giannis Antetokounmpo on several occasions now; Williamson doesn't have the length of the Greak Freak, obviously, but he can operate like a thicker version of the same offensive player.
While at Duke, Zion didn't get to run too many pick-and-roll possessions; according to Synergy, he shot 13-of-16 (81.3 FG%) out of the action this season. He also shot 83.3 percent out of handoff looks, too. Surround this dude with NBA-level 3-point shooting, and he can carve up defenses working in tandem with Holiday, or simply work in isolation.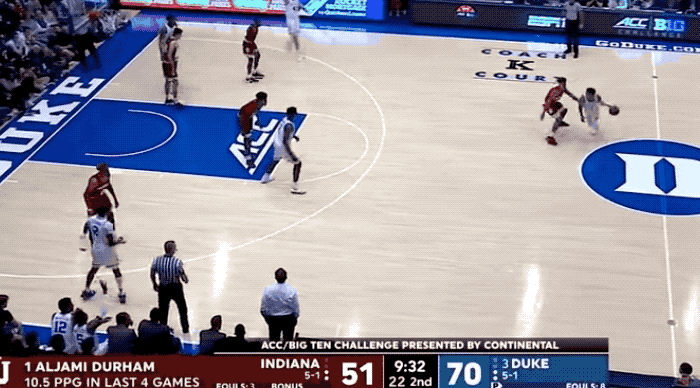 In the pros, Zion will have the ability to operate both sides of the pick-and-roll and dribble handoff actions, similar to Giannis, picking on mismatches and attacking gaps in coverages.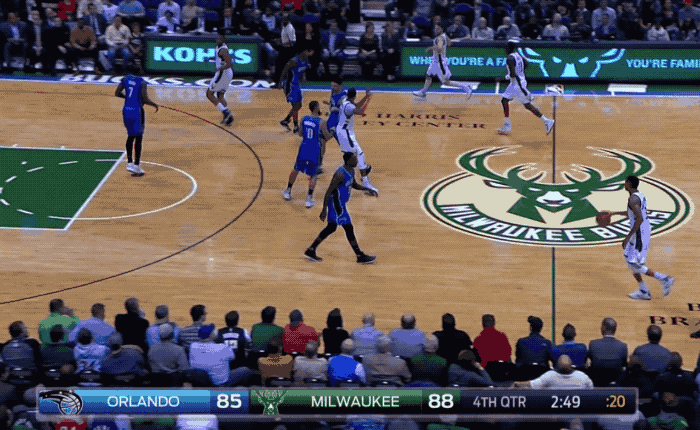 Most teams won't be able to switch those actions with Holiday and Williamson. Put a smaller guard on Zion, and he's headed to the block. Once Williamson dips that shoulder and turns his body, the defender is toast.
He's also an exceptional offensive rebounder (12 percent offensive rebound rate), which works as another counter to punish switch-happy NBA defensive schemes.
The Road Ahead
It's probably a little unfair to heap all of these expectations on one player; this is…a lot, for anyone. But this is a special prospect that's about to hit the grandest of hoops-related stages. As a basketball community, we should be excited. And if you care at all about hoops, then Zion Williamson should matter to you. The future is here. Get used to it.
Read More on Zion Williamson and the Draft
The numbers behind Zion, and why he projects as a generational NBA talent