Marvin Bagley is Duke's supernova freshman forward. His advanced play this early in his career has gained an abundance of national attention. Bagley may be the most talented player in college basketball; however, his teammate Wendell Carter is pretty darn good, too.
There are currently 20 Division I players averaging 12 points, eight rebounds and shooting 60-plus percent from the floor. That list includes both Bagley and Carter. UNLV is the only other team with a pair of teammates hitting those benchmarks.
An efficient usage of paint
Carter has nice chemistry with around the hoop with Bagley; those two have flashed some chops with some gorgeous big-to-big passes. The 6-foot-9 Carter is scoring 1.65 points per possession on cuts (76.2 percent shooting) this season, which ranks No. 4 in the nation, per Synergy. On basket cuts specifically: Carter is 13-of-16 (81.3 percent).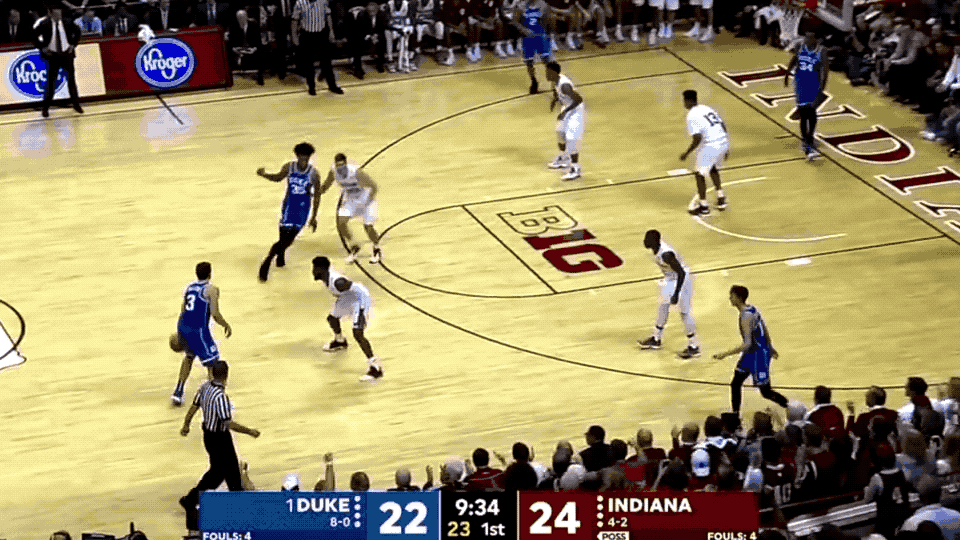 In total, on non-post-up attempts at the basket, Carter is shooting 66.7 percent and scoring 1.42 points per possession, according to Synergy Sports.
According to KenPom, Carter has grabbed 14 percent of the available offensive rebounds while on the floor this season — a slightly better rate than Bagley. That becomes instant offense for Duke: Carter is shooting 60 percent on put-back following an offense rebound (No. 12 in the ACC), per Synergy.
Doing the little things
Like most young big men, Wendell Carter has struggled in pick-and-roll coverage, but that's not all on him. Carter doesn't always get level with the screen; teams have can create mismatches with Carter lost in space.
That, however, isn't always his fault, though. Duke also plays two freshmen guards heavy minutes, too: Trevon Duval and Gary Trent. Duval and Trent are future pros, too; they will learn better how to guard against ball screens.
Carter can make plays on defense — as evidenced by his 7.7 block rate (1.9 blocks per game) and a defensive rebounding rate that borders on 24 percent. He ranks inside the top 140 players nationally in defensive rebounding rate, per KenPom, It's more than just that, though.
After the win over South Dakota last Saturday, I chatted with an NBA scout that spoke highly of Carter's footwork defensively, especially along the baseline. Carter does an excellent job in terms of his positioning, and utilizes the baseline perfectly as a de facto extra help defender.
Read More
Inside The Playbook: Marvin Bagley, Grayson Allen dance in the middle of the floor