Back in June, six ACC players went in the first round of the 2018 NBA Draft, including lottery picks Marvin Bagley, Wendell Carter and Jerome Robinson. Sacramento's selection of Bagley with the No. 2 pick gave the Duke Blue Devils a top-3 pick in five straight drafts.
This came a year after a record 10 ACC players went in the first round of the 2017 NBA Draft — led by Celtics wunderkind Jayson Tatum.
It's 11 months into the future, but looking ahead: the ACC could be in line to do something special in 2019, too. The first four picks in the 2019 draft — or perhaps four of the first five picks — could absolutely hail from the league.
At the top of the list
The top two players in the 2018 class, according to 247Sports, and the top two wings are both Durham denizens — for the next nine months, at least: RJ Barrett and Cameron Reddish.
Last month, I went into detail on why Barrett projects as an incredibly productive offensive and transition player. Barrett will want to flash the ability to be a primary ball handler, which could be tricky next to Reddish and Tre Jones, the No. 1 point guard in the 2018 class.
In his brief stint with the Canadian national team this summer, Barrett struggled shooting from distance, which will be another point of emphasis. If Barrett projects into a high-usage pick-and-roll machine in the NBA, a jumper and handles will be critical.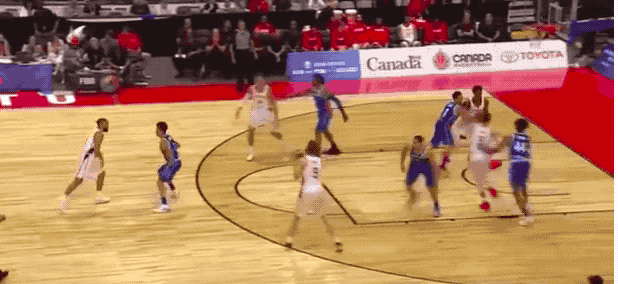 (Word out of Durham this summer: Barrett has been excellent, and this comes after he spent time in California with super trainer Drew Hanlen.)
Reddish looks the part of a modern NBA wing: an effortless scorer, with an endless wingspan (7-foot-1). Like Barrett, Reddish can play-make off the dribble — into jumpers — or look to create.
Joining Reddish and Barrett in this trio of talent — another Tobacco Road product: North Carolina's Nassir Little.
(Also my 2019 draft guy since looking ahead immediately after the prior draft is so in vogue is Nassir 🐐 Little)

— Cole Zwicker (@colezwicker) June 22, 2018
Little, who was named the MVP of both the McDonald's All-American Game and Jordan Brand Classic, is another prospect that looks like the future of basketball. With a 7-foot-1 wingspan and a nose for the rim, Little could be a face-up demon; if he adds a jumper, and can stretch it to the three-point line, then he has the ability and frame to be a monster closeout-beater.
Add in his defensive capabilities, and this is the makings of a high-level prospect — built for the positionless, switchy future of the NBA.
Swing Piece
It's pretty amazing that the consensus top-three picks, right now, will all play basketball within mere minutes of one another next season.
However, there may not be a more hyped prospect in the 2018 class than 6-foot-7 dunk-machine Zion Williamson. That's not even a bold take; we've been watching videos on our phones and computers for years of Williamson trying to break rims in South Carolina.
This season will be critical for Williamson, who Dukes list at 285 pounds on its website. At that size, it seems impossible for Williamson to possess a 40-inch vertical, too.
There's plenty for Williamson to prove on the offensive end. Can he shoot? How much stretch does he add to the frontcourt? Williamson has power, but his he a timely cutter? How mobile is he away from the ball? What's his vision like — can he pass?
I'd argue, though: it's what Williamson showcases on the defensive end that will be more valuable for his draft stock and future forecast. If Duke moves away from the zone with its wing-heavy roster, how many positions can Williamson hang with? It's critical that he demonstrate the ability to switch, and hang with multiple positions.
Right now, there's plenty of variance with Williamson's draft projection. Some mock drafts feature him as a top-five selection; other project the forward as a later-lottery selection. Regardless, he's inside the lottery for basically any mock you can cue up.
Best of the rest
De'Andre Hunter, Virginia: If you keep tabs on the ACC Analytics page, there's a good chance you know how bullish I am on Hunter, who has all the makings of an impact NBA forward. At 6-foot-7 with a wingspan north of seven feet, Hunter, who can defend all five positions in college, can be a two-way menace for Virginia. If he shows out this season — in a more featured role on offense — and does his thing defensively, he becomes a high-lottery pick, possibly. Hunter showed some stretch last season, but can he improve his jumper on a higher volume of attempts?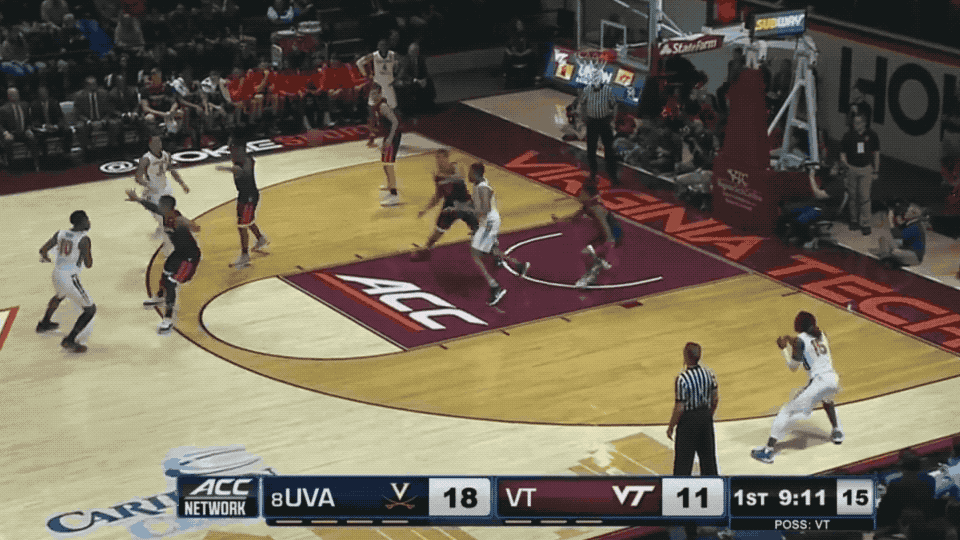 Jaylen Hoard, Wake Forest: Another multi-positional wing with a wingspan hovering around seven feet (are you noticing a trend here?). Hoard, who hails from France, will certainly get his fair share of slashing touches in Danny Manning's offense, which has to replace Bryant Crawford, Keyshawn Woods and Doral Moore. There isn't a lot of shooting around Hoard — at least not on paper. But perhaps sophomore center Olivier Sarr, who gained 40 pounds this offseason, can achieve early ACC unicorn status as a stretch-5, which would pair nicely with Hoard.
Tre Jones, Duke: The 6-foot-2 Jones may lack the size/length that NBA teams covet in the lottery; however, if he's as good as advertised, or anything like his older brother, then he's likely a first round pick, too. Jones will have the ball in his hands plenty this season at Duke; if he can effectively run the show, surrounded by a handful of players that will command the ball, too, then Jones can sell himself to NBA teams as a productive show-runner. Priorities for Jones: his ability to shoot off the dribble, efficient shooting off the catch and ball screen defense.
Tyus Battle, Syracuse: The ACC's ironman, Battle decided to return to school for his junior season, after flirting with remaining in the draft. That decision came after a so-so showing at the combine in Chicago. Battle is a big physical wing that's a little miscast at Syracuse as a primary ball handler — working in tandem with Frank Howard. With Jalen Carey in town now, hopefully Battle can move off the ball, and get back to his spot-up game — while working more as a secondary creator. Can Battle translate to a 3-and-D wing on the next level? Perhaps, although even parts of that equation are murky: Battle has plenty of athletic gifts, but he will spend 95 percent of his college career guarding in zone.
Coby White, North Carolina: Last but not least: White is a 6-foot-5 combo guard how knows how to get buckets. If he can prove himself to be a shot-generator, and showcase handles and quickness from the backcourt, maybe there's a chance he seriously throws his name into the 2019 draft. White seems more likely to move to the NBA ranks in 2020, though.
Read More
RJ Barrett enters college basketball as the most talented player in America