Now that No. 2 Virginia and No. 4 Duke cleared midweek conference match-ups with No. 18 Clemson and Wake Forest, respectively. That sets the stage for what should be a wildly exciting Saturday afternoon game in Durham: UVA at Duke.
We can diagram this game a million different ways; it will certainly be an interesting contrast of styles: Duke's uptempo offense, No. 2 in offensive efficiency, against Virginia's defense, No. 1 in defensive efficiency.
However, one of the intricacies of note will be how Virginia defends Duke's post-up stars: Marvin Bagley and Wendell Carter.
Double Trouble
At this point, we all know about Virginia's Pack Line defense. But let's focus on one of its key tenets: big-to-big double teams. The Cavaliers lockdown the paint by using both post players to automatically double post touches — assuming the opposing offensive player poses a threat to score.
The results are really good, too — it works. Opponents are shooting just 41 percent on two-point attempts this season, which ranks fifth nationally, per KenPom. It's the third time in the last five seasons the Cavs have ranked inside the top 10 of this metric.
According to Synergy Sports, Virginia has limited opponents to 31.1 percent shooting on post-up field goal attempts — scoring just 0.42 points per possession, No. 1 in the nation. They have forced a turnover on nearly 34 percent of these possessions, too.
On non-post-up attempts at the basket, opponents are shooting just 47.1 percent and scoring 0.97 points per possession against Virginia (No. 11 in the nation), per Synergy. This is Clemson's Elijah Thomas — a powerful paint scorer — being reduced to rubble.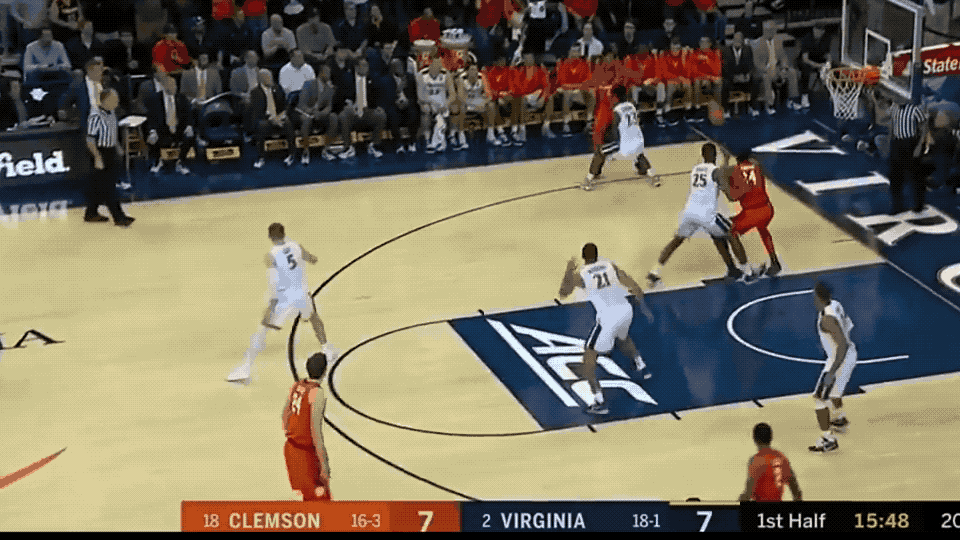 Simply put: that's incredible production, and I will harken back to this nonstop while beating the Isaiah Wilkins as ACC Defensive Player of the Year drum. However, there's no frontline in America quite like Bagley and Carter — none.
Michigan State can get close with the combination Miles Bridges and Jaren Jackson, but that's just not really the same thing. Bagley and Carter have a combination a length, rebounding prowess and shooting that makes them nearly impossible to defend. There's a reason why both of these dues are projected as top-12 pick in this year's draft.
Back to this weekend — iff and when Virginia choses to go this route: Will the big-to-big double teams work against those two guys, who both happen to be skilled and willing passers, too?
A B2B Business
Earlier this season, Duke ripped off a comeback victory on the road at Indiana. In that game, the Hoosiers were instructed to routinely double Bagley and Carter. The strategy had some success; Bagley and Carter both had turnover rates above 15 percent. Bagley also forced up some bad shots.
All of that said, Duke scored 44 points in the paint; Carter and Bagley scored 41 points (on 24 FGA) and grabbed 22 rebounds. Both players had double-doubles, and Bagley dished out three assists, too. This is Blake Griffin-level short roll passing magic.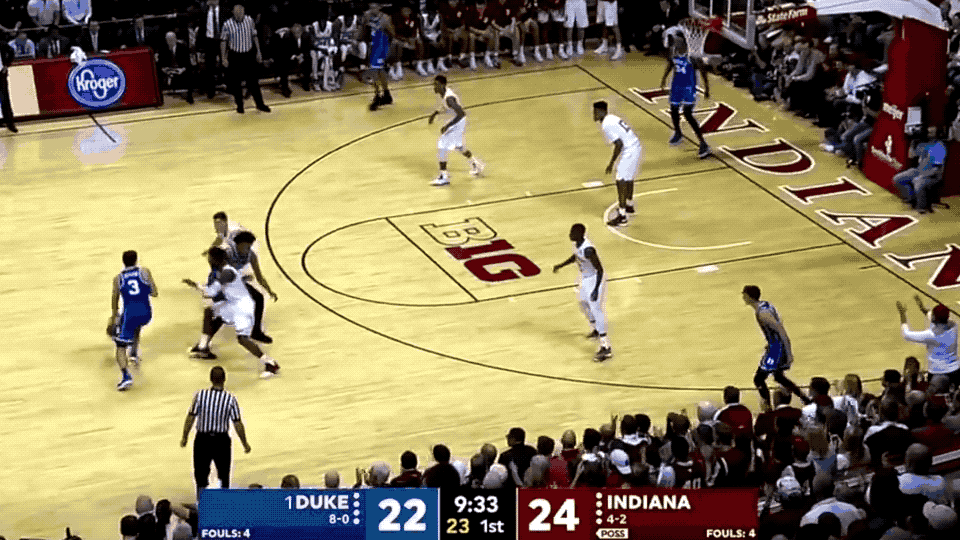 Nearly 12 percent of Duke's possessions this season are of the post-up variety — 208 total, the most in the ACC. Bagley and Carter account for 82 percent of those possessions, per Synergy. Duke has scored 0.87 points per possession on post-ups — on 49.6 percent shooting — this season, which ranks fourth in the ACC.
Carter doesn't get the assist here, but he registers a hockey assist — passing out of the post to Allen, who hits Bagley over the top. This type of defense becomes even more problematic now because Gary Trent has found his shooting stroke from beyond the arc. Look how open he is on the weak-side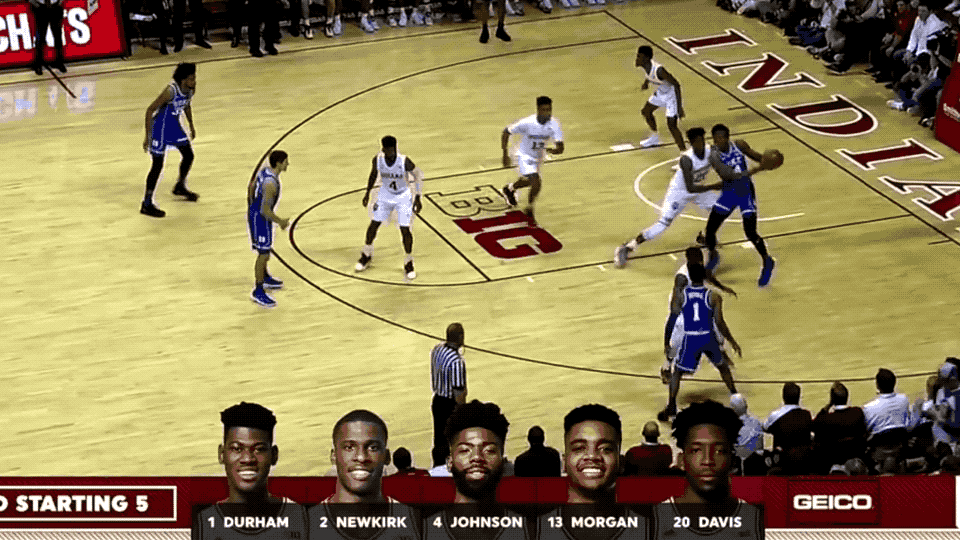 Bagley has shot 52.4 percent on post-ups and scored 0.98 points per possession — No. 4 in the ACC. Carter has connected on 50 percent of his post-ups, too — good for eighth in the league. Let one of these dudes have time on the block, and they will destroy you.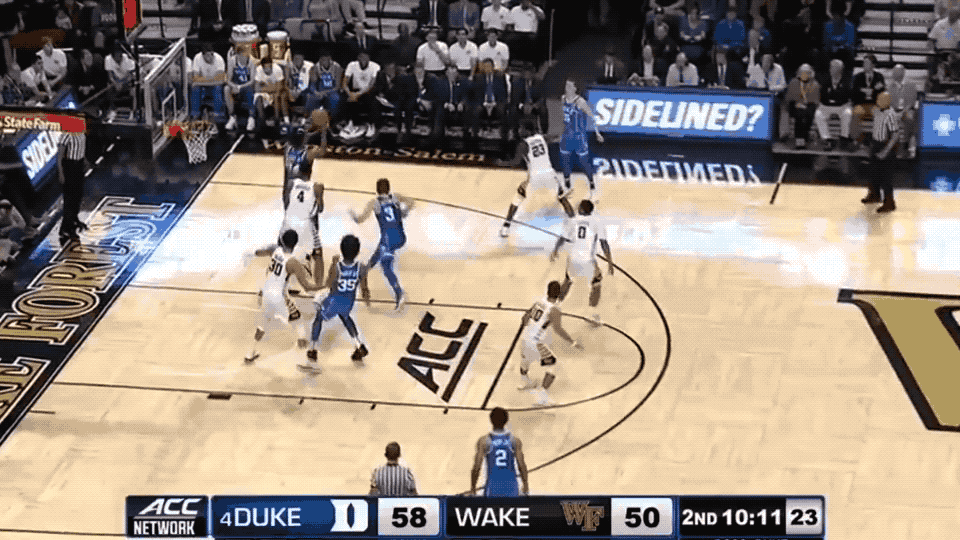 Of note for UVA, though: Carter has turned the ball over on 26 percent of his post-up possession; that's an opportunity for an aggressive post defense — perhaps the Cavaliers can for a turnover before a shot attempt. Because even if Duke misses, the Blue Devils can just play volleyball on the offensive glass.
In the nitty gritty
When Marvin Bagley gets the ball in the post, he's usually going up with it. However, he passes some, too. According to Synergy, when Bagley has passed to a cutter out of the post, Duke has scored 1.5 points per possession.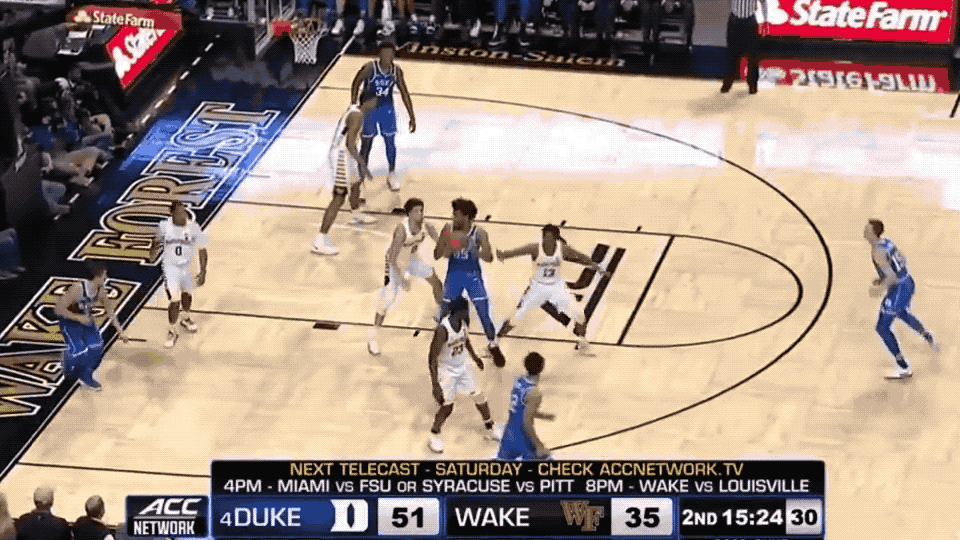 It's a similar scenario for Carter. The Blue Devils have shot 51.6 percent and scored 1.22 points per possession (1.4 on cuts) when Carter passes out of the post, per Synergy.
As good as Bagley and Carter are, double teams have given them some troubles this season. According to Synergy, Bagley has scored 0.64 points per possession — 43.8 percent shooting, 28 percent turnover rate — against double teams. When he's passed out of the double team, Duke has scored 0.91 points per possession, per Synergy.
For Carter: Duke has scored 1.12 points per possession when Carter passes out of the double team.
This Weeknd
I assume we will see plenty of double teams on Bagley and Carter this Saturday. You simply can't let those two dudes go one-on-one and cave in your defense. That becomes tough for all of the stated reasons, especially if Grayson Allen and Gary Trent are hitting shots.
One thing Virginia could do if it wanted to double Bagley and Carter at times: make sure the help comes from whomever guards Trevon Duval, and be ready to rotate. That obviously comes with risks: Duval is a superb player, but his shot, especially from the perimeter, is shaky.
Regardless, this will be a fascinating chess match within an already hyped-up game. I can't wait.
Read More
The Zoning Act of Duke Basketball: Duke utilizes more zone defense than ever before