The arrival of the NCAA Tournament signals a variety of things; one of those being the last chance a lot of NBA prospects get to strut their stuff in organized games — before the draft combine, workouts and summer league events. Maybe it's silly to put too much value in the performance of highly-skilled athletes in one of sports' most random, chaotic events.
Regardless, here's a look a five ACC players that have something to play for existentially as their teams enter March Madness. These are five of those most intriguing NBA Draft prospects the ACC has to offer
Trevon Duval, Duke
It's been a strange season for Trevon Duval at Duke. The 6-foot-3 point guard landed in Durham as a top-10 recruit, and started strong; his performance against Michigan State — 17 points, 10 assists and six steals — was electric.
Duval has remained an explosive playmaker, too. However, his lack of a jump shot, and the disappearance of his confidence at times, has smoked his abilities in the half-court.
While his three-pointer has improved modestly over the course of the season (35.3 percent in ACC play), teams essentially don't cover him out to the arc — choosing instead to pack to paint against Marvin Bagley and Wendell Carter.
The ball looks heavy when Duval shoots it — like he's trying to hoist a medicine ball to the rim. It just doesn't seem natural. According to Synergy Sports, Duval has scored just 0.81 points per possession (41.5 eFG%) on spot-ups. This ranks 41st out of 44 ACC player with at least 100 spot-up possessions.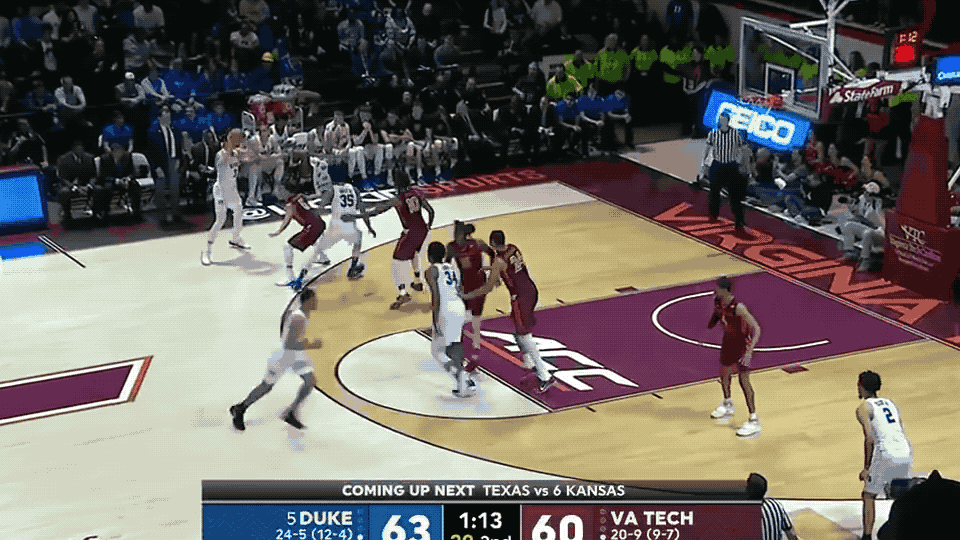 That level of production has been a killer on Duval's draft stock, especially with Trae Young and Colin Sexton lighting up the scene as the top two point guard prospects.
Trevon Duval is a freaky athlete for a point guard, and at times he's causes havoc in the backcourt for opponents. He hunts steals (three percent steal rate) to the point that you can comfortably label him a gambler, although there's less risk with Duke playing zone now.
Similar to Harry Giles last season, though, Duval offers value late in the first round. Some GM could think, "This guy was a projected lottery pick before the season; I see the concerns with the jumper, but he's still the same athlete. It's a possible steal if I get him at pick No. 27."
Theo Pinson, North Carolina
Ah, yes. The ubiquitous Theo Pinson: where would North Carolina be without this human rubberband?
Apologies to De'Andre Hunter, (pours some out), Isaiah Wilkins and Devon Hall, but there isn't a more versatile defender in the ACC than Pinson. A wiry 6-foot-6 athlete with a 6-foot-11 wingspan and an endless motor, Pinson posted block and steal rates above two percent, per KenPom.
Heck, he's been fearless in his now three individual match-ups with Marvin Freaking Bagley.
On offense, Pinson is as unselfish of a player as you will find in college basketball. Usually operating out of the high post, Pinson is always looking for cutters, guys flaring for three-pointers. It's in his basketball DNA to want to turn good shots into great shots; in a way, it reminds me of how Andre Iguodala and Shaun Livingston function off the bench for Golden State — pass, cut, move.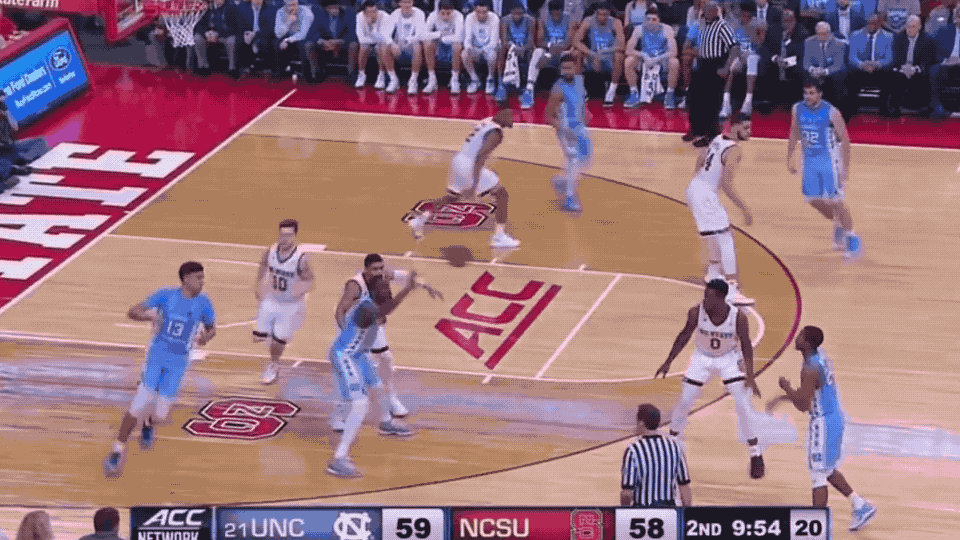 Shooting will always be a question/concern regarding Pinson; however, he does so much other good stuff, that if surrounded by shooters, Pinson can still make plays in the NBA. Pinson, for whatever it's worth, has worked himself into being a great free throw shooter — 82 percent this season on 128 attempts. This means there's still a glimmer of hope that Pinson could figure out a corner three, which would be a game-changer for the UNC wing.
Omer Yurtseven, NC State
At times in his freshman season, Omer Yurtseven simply didn't look ready for the speed and physicality of the ACC. After getting feedback at the NBA Draft Combine, Yurtseven decided to return for his sophomore campaign. His improvement is obvious, and some draftniks even value Y7 as a late first round selection.
NBA teams put a premium on spacing — doting the arc with as many perimeter threats as possible; floor balance can get pinched with two or more non-shooters. This is Yurtseven's avenue to an NBA career: playing as a stretch-5, Brook Lopez style.
In the spread pick-and-roll attack of Kevin Keatts, Yurtseven excelled. He already does pretty well timing up his screens, changing angles if necessary. The results are even better, though. As a roller this season, Yursteven shot 54.2 percent, and scored 1.2 points per possession.
On pick-and-pops, Yurtseven scored one point per possession on 51.2 percent effective shooting, according to Synergy. The 44 points Yurtseven scored out of the pick-and-pop were tops in the ACC — more than Luke Maye, Kerry Blackshear and Wendell Carter.
Watch him find the open spot in the defense when Clemson ices this side pick-and-roll with Lavar Batts.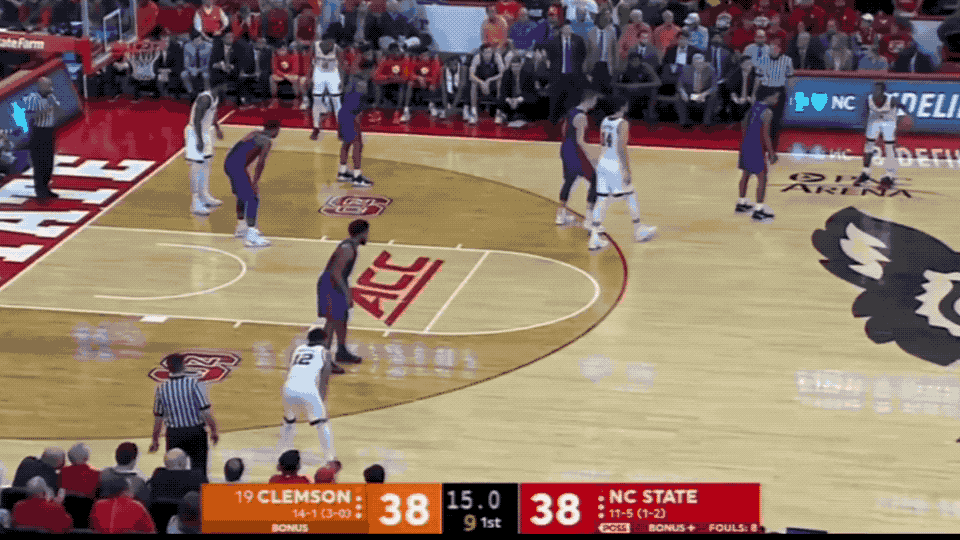 There were grumblings over Yurtseven's rebounding up in Brooklyn, but he grabbed 12.8 percent of available offensive rebounds while on the floor (No. 58 in Division I), and 19.7 percent of defensive boards. Both are solid. In ACC play, he ranked inside to the 12 in both categories.
Yurtseven's 7.8 percent block rate isn't off-the-charts good, but it's a huge improvement over last season — 3.8 percent. The 7-footer has good timing and is frisky enough in rim defense to warrant serious consideration from NBA clubs.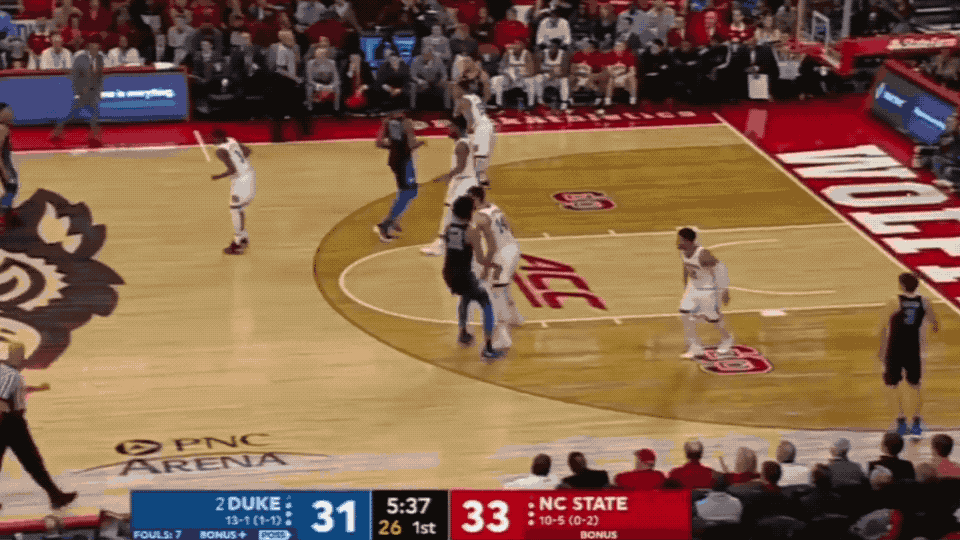 Devon Hall, Virginia
The thought of Devon Hall as a fringy NBA prospect a year ago would've seemed fanciful. However, few could foresee Hall morphing into one of the most productive two-way wings in college basketball.
Hall is a Swiss Army knife for Tony Bennett's squad, which just became more important with the injury to De'Andre Hunter; a fiery, assignment-driven defender that's ruthlessly efficient when it comes to shooting the ball. For the season, Hall posted a sizzling true shooting number of 61.3 percent — good for No. 159 in the nation.
Virginia's offense is a whirring gear of moving parts; as one wing comes off a pindown, the other flares to the corner. Hall can handle both halves of this equation. As a shooter coming off screens this season, Hall scored 1.36 points per possession (70.5 eFG%) — good for second in the nation.
In a league where shooting becomes more important on a daily basis, you don't think teams will be interested to know that Hall ranked 48th nationally and first in the ACC (minimum 100 attempts) on catch-and-shoot efficiency, per Synergy: 1.43 points per possession (71.6 eFG%).
Adding to the shooting: Hall can defend the 1-4 in college, which he blends with solid passing on the offensive end. Hall ranked second on UVA in assist rate (20 percent), and rarely turns the rock over (11.2 percent).
I think it's worth noting, too: the success of Malcolm Brogdon in the NBA is going to help future Cavaliers get looks. I frequently watch the Milwaukee Bucks of League Pass, and I don't think there's been one game when the announcers — visiting, home or national — don't mention how ready for the NBA Brogdon was on day one.
Phil Cofer, Florida State
After attempting just 32 three-pointers in his first three seasons at FSU, Phil Cofer transformed his game prior to his senior season. Cofer launched 114 triples this season (39.5 3P%), which makes him one of just three ACC forwards to attempt at least 110 shots from beyond the arc.
According to Synergy, Cofer scored just 0.79 points per possession on spot-ups in 2016-17; that number jumped to 1.11 (59 eFG%) this season.
Cofer shot 55 percent on non-post-up attempts at the rim, which is good, not great. He hasn't been much of a shot-blocker since his sophomore season, too.
However, after working himself into great shape, that shooting touch to compliment his 6-foot-8 frame means he has some professional appeal to his game. Could an extended run for the Seminoles help the cause?
Read More
9 ACC teams in the NCAA Tournament: Dates, times and opponents