It may seem rich for a team with the type of offensive firepower that Duke possesses to worry about scoring the basketball. How could offense be an issue for a team that features multiple future lottery picks, and ranks second nationally in offensive efficiency, per KenPom?
At the same point, we can all probably agree that the scale in which we grade Duke basketball along differs from most other programs, right? Fair or foul, the expectations are invariably championship or bust.
Trevon Duval arrived in Durham as a top-10 recruit and the No. 2 point guard in the 2017 class. Duval is an unselfish player, and he leads Duke in assist rate — 28.6 percent, No. 106 in the nation. He is also a serious athlete; there's no question Duval can play above the rim.
The 6-foot-3 rookie point guard is a bit of a gambler defensively (this is putting things mildly), but his steal rate of 2.6 percent ranks 11th in the ACC during conference play. Those steals can lead to easy buckets for Duke and ignite the team's powerful transition offense. The Blue Devils rank 30th nationally in transition offense, according to Synergy Sports.
However, when things bog down in the half-court, Trevon Duval — one of the top guard prospects in America — can turn into a liability.
Virginia Tech feasted on this opportunity in the win back on Monday. It's not just Duval, though; when Javin DeLaurier was on the floor, the Hokies left him alone, too. It was a cold-shooting night for Duke, but part of the offensive woes came from having to play 4-on-5, at times.
Slump the brakes
For the season, Trevon Duval is 23-of-84 (27.4 3P%) from beyond the arc. That's improved to 34 percent on threes in ACC play, which is great to see; however, teams still aren't really guarding Duval when he's 24 feet from the basket. This is where the problems exists: Even if Duval makes the occasional three-ball, opponents are willing to concede that in an effort to lock everything else down.
According to Sports Reference, Duval is one of only two ACC players shooting under 30 percent on three-pointers on at least 75 attempts this season. Marvin Bagley and Wendell Carter both want to play around the basket, which can crowd the paint on some possessions. If you have a non-shooter on the floor, that allows opposing wings to dig down just a pinch more — making things even more congested.
On catch-and-shoot attempts in the half-court, Duval is shooting just 24.6 percent (36.9 eFG%) and has scored just 0.74 points per possession, according to Synergy Sports. There are 58 players in the ACC this season that have recorded at least 50 catch-and-shoot attempts, per Synergy; Duval ranks dead last in that group in terms of efficiency.
And on spot-up possessions, Duval has scored just 0.83 points per possession — on 34 percent shooting.
A Monday night in Blacksburg
It may be recency bias, but in the loss at Virginia Tech on Monday night, the Hokies sagged off Trevon Duval and Javin DeLaurier more boldly than any other Duke opponent this season. In terms of offensive rating and effective field goal shooting, this was a bottom-five game for the Blue Devils in 2017-18.
In this first clip, Duke runs a side pick-and-roll with Grayson Allen and Wendell Carter out of a 1-4 set. After Duval enter the ball to the wing, keep an eye on what his defender, Chris Clarke, does. Clarke completely ignores Duval drift to the weak side; instead, he camps in the middle of the lay as an extra defender, and forces a steal on what should be an easy slam for Carter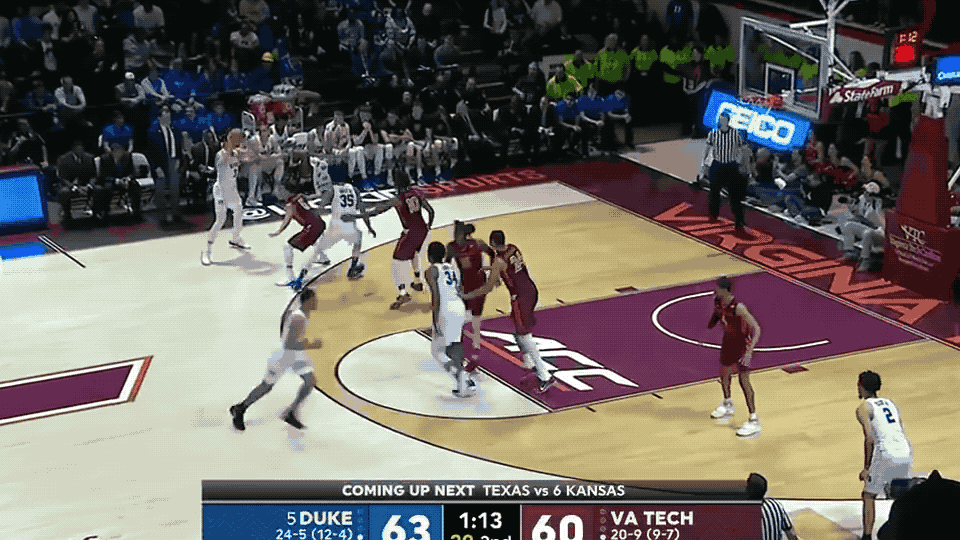 Earlier in the second half, with Duval on the bench, Duke ran a horns set for Grayson Allen — a frequent action the Blue Devils run to get Allen a three-point opportunity. It works, too. Marvin Bagley chips Justin Robinson, and Clarke sags, which creates an open shot for Allen.
However, check out Justin Bibbs — who was fantastic defensively in this game — on the weak-side of the floor. Bibbs is assigned to Javin DeLaurier, but with the 6-foot-10 sophomore spaced out to the arc, Bibbs remains in the line, which could congest any secondary action from Duke. Let's say that shot isn't there for Allen; well, then there's also less of a lane to the hoop for Bagley on a roll.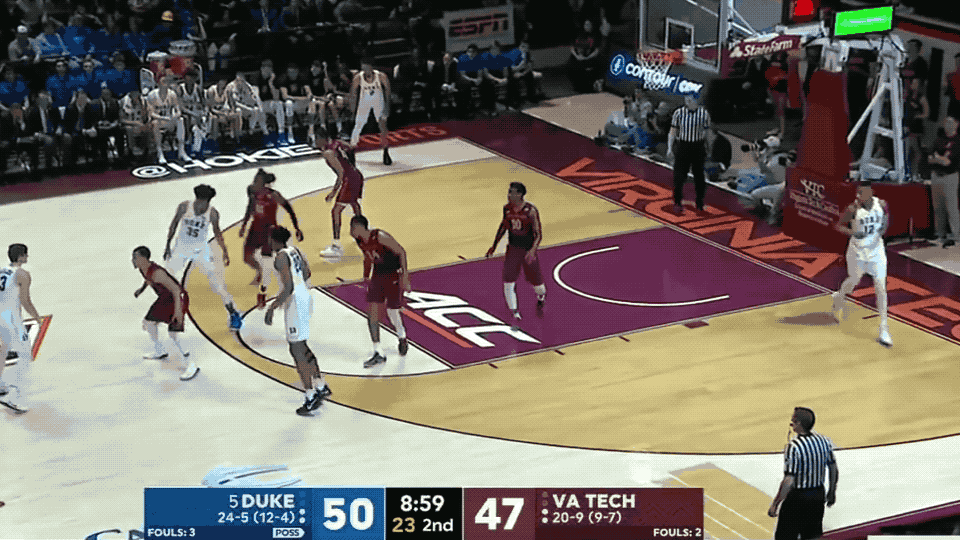 What if…
Now, let's glance at what went right during one of Duke's best offensive possessions over the final 20 minutes. With Allen, Gary Trent and Alex O'Connell in as the perimeter trio, Duke has basically maxed its shooting and spacing. Those three guys are camped beyond the arc as the gorgeous high-low action comes from Marques Bolden and Bagley.
Look at all of the real estate Bagley has in the paint prior to the catch. Heck, he even has time to catch, power dribble, pivot and score. If Duval is stationed to the far wing, instead of Trent, I'm not sure Nickeil Alexander-Walker allows that pass.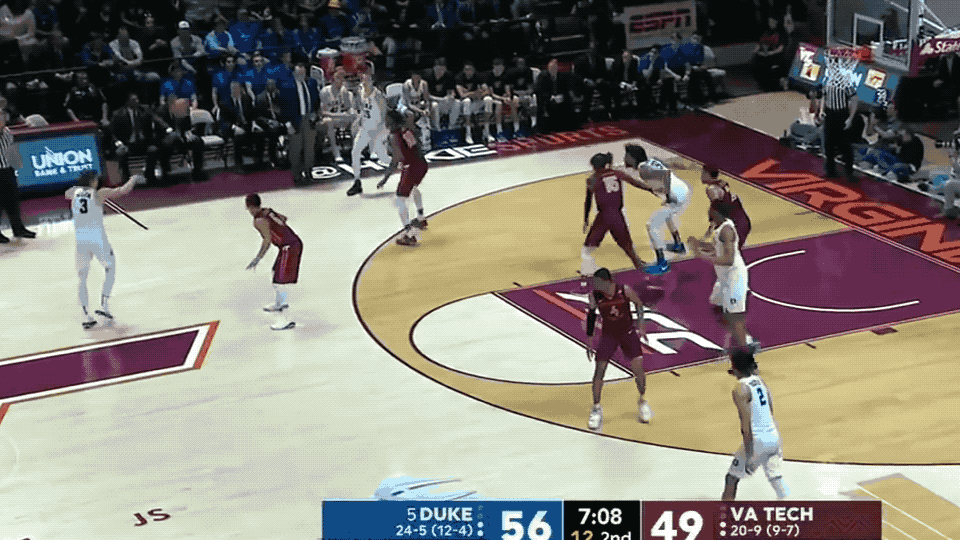 Going Forward
It will be interesting to see if teams start to copy the bravado of Buzz Williams. Opponents have played off Duval this season, but none perhaps as brazenly as the Hokies. If that happens, can Duval — who is in the 99th percentile in terms of talent in college basketball — take advantage?
Duke also has ways to counter this stuff, too. The Blue Devils aren't without options, that's for sure. It may be worth checking out how the Oklahoma City Thunder of the NBA utilized defensive stopper Andre Roberson — a complete non-shooter — on offense before his injury.
When teams sagged off Roberson on the weak-side, the NBA All-Defensive team wing would ghost cut along the baseline, looking for alley-oops or offensive rebound opportunities.
DeLaurier is an industrious rebounder, with an offensive rebound rate of 16.1 percent; he's also shot 61 percent on put-back attempts after a rebounder, per Synergy. When teams turn a blind eye, DeLaurier has the quicks and hops to capitalize.
Another way to counter this type of defensive attention: Take that player that's not being marked, and use him or her as a screener. This makes it complicated for teams to switch or help and recover.
In this pick-and-roll with Russell Westbrook, check out how far James Harden is trailing Roberson on this play as he smashes Eric Gordon with a screen. Harden can't get back to Roberson in time, there's too much space, to prevent a high-percentage look at the basket. It'd be neat to see if Duke would be willing to try some guard-guard pick-and-rolls/pops.
Honestly, something this simple could work. Or maybe Duke doesn't need to get creative. This is already one of the most efficient half-court offenses in America, especially against zone. When Allen and Trent hit threes, and Bagley and Carter dominate the paint, not much else matters.
6 weeks to immortality, and then the rest of your life
The hope is that Trevon Duval finishes this season strong, and Duke makes a run in the NCAA Tournament; then Duval gets drafted in the first round, and makes a wheelbarrow full of money over the course of a 12-year NBA career.
Plenty of mock drafts — like to one at Basketball Insiders and the Sporting News — still value Duval as a top-25 prospect. That's outside the lottery, but still in the first round, which is great — that's where the guaranteed money is located. However, ESPN's Jonathan Givony projected Duval as a second-round pick in his most recent mock.
In a league where a premium is put on shooting, Duval will have to make some serious strides. He's certainly not lacking in talent; let's see what Trevon Duval can do.
Read More
Chris Clarke sinks Duke, but the Blue Devils still have something cooking on defense