Turnover was relatively high for Virginia basketball this offseason; transfers, the graduation of London Perrantes and the departure of Austin Nichols — it all adds up.
There are, however, a lot of reasons for optimism in Charlottesville, though. Kyle Guy and Ty Jerome are explosive playmakers and scorers out of the backcourt.
Jack Salt can hold down the interior; and redshirt freshmen De'Andre Hunter and Jay Huff offer intrigue and lofty expectations.
Holding the whole operation together, though, will be the ACC's ultimate glue guy: Isaiah Wilkins.
Isaiah Wilkins: A ubiquitous talent
Over the last five seasons of ACC basketball — dating back to the 2012-13 season — only seven players have averaged at least one steal, one block, one assist and shot above 50 percent from the floor.
Four players in the league accomplished that feat last season, including Isaiah Wilkins.
| Player | Team | Season |
| --- | --- | --- |
| Mason Plumlee | Duke | 2012-13 |
| Daniel Miller | Georgia Tech | 2013-14 |
| Brice Johnson | UNC | 2015-16 |
| Bonzie Colson | Notre Dame | 2016-17 |
| Ben Lammers | Georgia Tech | 2016-17 |
| Jonathan Isaac | FSU | 2016-17 |
| Isaiah Wilkins | UVA | 2016-17 |
Defenders that can wreck possessions with blocks and steals have the ability to greatly influence the outcome of a game. Wilkins manages to blend those two.
Isaiah Wilkins was one of just six ACC players in the 2016-17 season to post a steal rate above two percent and a block rate north of five percent. This marked the second straight season that Wilkins has hit those benchmarks.
In the three seasons that Wilkins has suited up for the Cavaliers, UVA has never finished outside of the top 10 in terms of defensive efficiency, per KenPom. The 2016-17 Cavs ranked second nationally: 87.9 points per 100 possessions.
Wilkins offers so much on the defensive end. Combined with the fact that he's not a net-negative on offense, and you have an incredibly valuable player.
Defensive Fit
Wilkins, who was the only player in the ACC to play 800-plus minutes and post a defensive rating below 90 last season, is the perfect defender for Tony Bennett's scheme. The 6-foot-7 senior spends most of his time guarding opposing fours and fives, but he can switch and effectively guard whatever position is needed.
On this one possession against Florida State last season — The Dwayne Bacon Game — watch how many different guys Wilkins defends.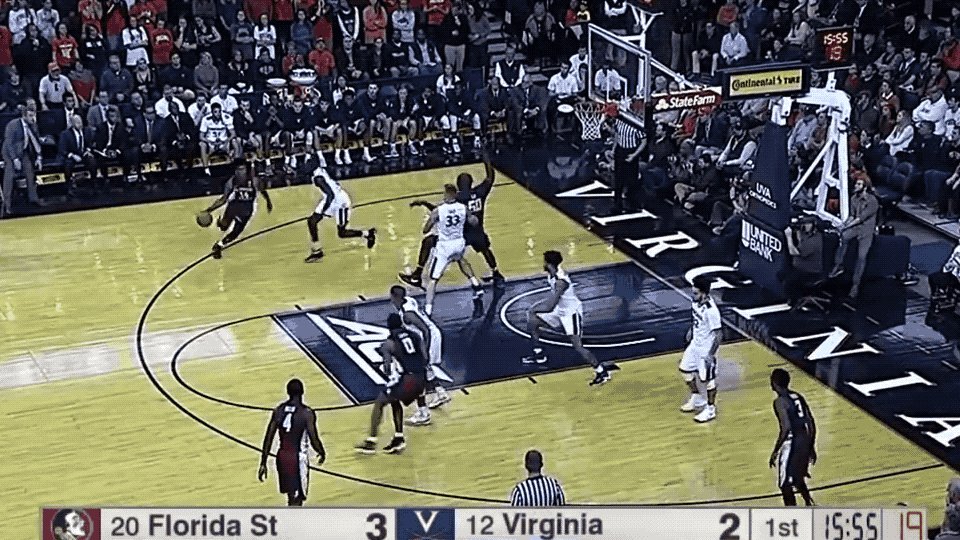 Initially, Wilkins is playing help defense in the middle of the lane; he helps curtail a drive from Terance Mann. Next, recovers to defend Phil Cofer in the post. When Cofer rises to run screen-roll game with Trent Forrest, Wilkins switches temporarily and slides with Forrest for several dribbles. Finally, he recovers to mark 7-footer Michael Ojo — after Salt switched to Cofer.
Hardware on the horizon?
Wilkins finished second to Georgia Tech's Lammers in the race for ACC Defensive Player of the Year. Lammers — an anchor for the Yellow Jackets stingy defense — was a worthy choice. However, if Wilkins had managed to claim the award, it would've made three straight seasons with a Cavaliers as the league's DPOY.
Darion Atkins took home the award in 2015; a year later, future NBA Rookie of the Year, Malcolm Brogdon won it, too.
Wilkins may have saved his best for last, though. If that's the case, there's a good chance that trophy will return to Charlottesville.
Read More
Virginia basketball recruiting: Quinerly at the top of the list