Last month, the ACC Analytics page published a story on the increased use of zone defense by Duke basketball.
Since then, the zone has become an even larger part of Duke's defensive profile; as Mike Krzyzewski mentioned after the win over Virginia Tech, the zone will be "pretty much the primary defense."
A few days later, in the road win over Clemson, the zone flummoxed a top-50 offense in Clemson. The 66-57 loss was Clemson's second worst shooting game of the season — an effective rate of 38.5 percent. This trails just the January loss to Virginia, when the Tigers managed to score only 36 points. Clemson went just 5-of-20 from beyond the arc, and attempted only 12 free throws.
Defensive Snapshot: Duke Basketball
In the half-court, Duke has now defended 35 percent of its possessions while in a zone (third most in the ACC), per Synergy Sports. As Coach K would have it, expect that number to rise over the next two months. It's worked.
According to Synergy, Duke has allowed under 0.81 points per possession and 36.8 percent shooting (43.4 eFG%) while in its zone. The Blue Devils rank 42nd in the nation, and fifth in the ACC, in defensive efficiency on zone possessions.
This is better than the team's man-to-man defense: 0.84 points per possession and 40.1 percent shooting (46 eFG%).
Core Strengths
With Marvin Bagley and Wendell Carter, Duke generally has a size and power advantage every time it steps on the floor. In fact: According to KenPom, Duke basketball is the third tallest team in the nation this season, in terms of average height.
Bagley and Carter are exceptional rebounders, and Carter is actually a pretty clever and strong post defender. On post-up possessions defended by Carter, opponents have scored just 0.41 points per possession on 24.3 percent shooting, per Synergy — No. 15 in the nation, tops in the ACC.
However, those two young bigs — like a lot of other young bigs — struggle in ball screen defense. As far back as December, Duke has had issues in its pick-and-roll coverages — remember the Boston College game? Now, this isn't all on Carter and Bagley; Duke's guard need to do better fighting over the top of screens, too.
This changes when Duke sits in the zone. Help defenders are everywhere, and those rim-run lanes to the hoop are concealed. The Blue Devils have so much size and length, passing lanes are chopped in half, and the baseline turns into a no-go zone.
Does the zone have a blind spot?
Yes, and it's a cliched one, too. As everyone knows: zone defenses are susceptible to offensive rebounds.
Even with Bagley and Carter, Duke has not been a great defensive rebounding team, though. The Blue Devils rank No. 212 in the nation in defensive rebound rate, per KenPom. UNC ate them up on the glass, especially in the second half in Chapel Hill.
If the zone is a part of the future for Duke in 2018, the team's wings need to team rebound better.
Spotty Service
A zone defense has more than one liability. Unless a zone is rotating on a string, and closing out with reckless abandon, there will be open spots of offensive real estate.
There's of course the middle of the lane, where teams will flash a player to the free throw line. Giving up a slightly contested 16-footer isn't the worst thing in the world; however, players that can get into the teeth of the defense, can make plays for others.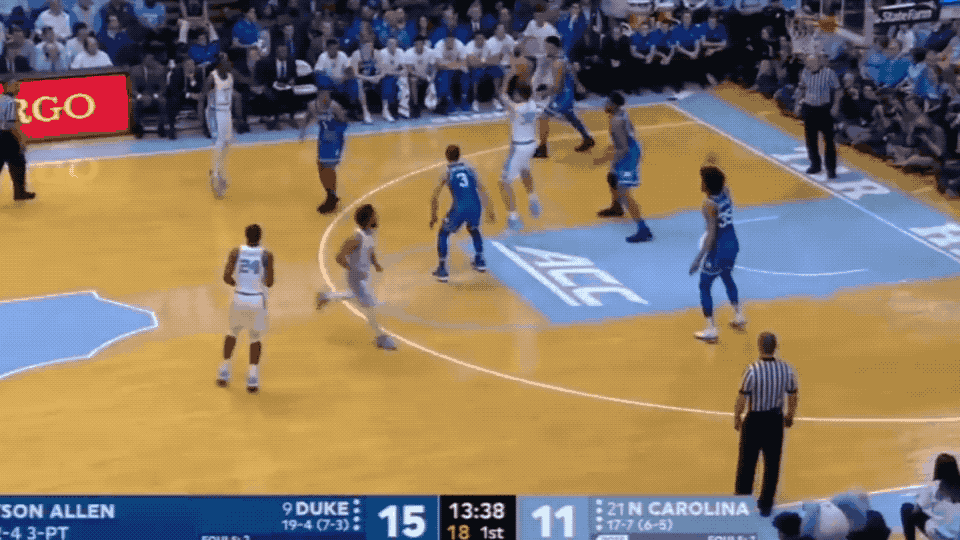 Duke didn't play zone exclusively against North Carolina, but in that game: the Heels went 7-of-19 (36.8 3P%).
Full-time, with decent benefits
So far, Duke's zone has done pretty well against spot-up opportunities. Since going to it full-time the last two games, opponents are just 7-of-25 (28 3P%) on spot-up three-point opportunities, per Synergy. That didn't come against slouches, either — Virginia Tech (5-of-16) and Clemson (2-of-9) are two quality perimeter shooting teams. The Hokies actually rank second in the nation in effective shooting rate, per KenPom.
Communication is key here; for a defense to be in sync, there must be constant chatter. I was at the Virginia Tech game last week, and thought the Blue Devils did well talking with one another. (For whatever it's worth, reserve big man Antonio Vrankovic did an excellent job here.)
Duke played a lot of zone in its tightly-contested affair against Virginia — the No. 2 zone offense in the league (1.06 points per possession). The Blue Devils lost, but the Cavaliers went just 2-of-12 (16.7 3P%) on spot-up triples.
Can Duke basketball win a title with a zone?
Yes, of course they can. However, it's worth mentioning that very few teams have won NCAA Championships while playing 33 percent or more of its half-court possessions in zone. The Carmelo Anthony-led Syracuse team of 2003 is probably the first that comes to mind. There's some additional data to check out, though.
Dating back to the 2008-09 season, Synergy Sports tracks the number of half-court defensive possessions spent in man-to-man and zone. Here's how things stack up for the last nine NCAA champions:
| Team | Season | Percent of zone possessions (half-court) |
| --- | --- | --- |
| North Carolina | 2008-09 | 1.1% |
| Duke | 2009-10 | 3.6% |
| UConn | 2010-11 | 3.6% |
| Kentucky | 2011-12 | 2.6% |
| Louisville* | 2012-13 | 40.2%* |
| UConn | 2013-14 | 2.8% |
| Duke | 2014-15 | 14.3% |
| Villanova | 2015-16 | 18% |
| North Carolina | 2015-17 | 3.7% |
This goes back just a decade, but title teams have predominately played man-to-man — by a wide margin. Louisville is the only other team to play more than 20 percent of its half-court possessions in zone. The Cardinals, however, come with two asterisks. One, the NCAA's Infractions Appeals Committee just ruled that the program must vacate its 2013 title. (*shrugs*)
Two, Louisville played a lot of full-court under Rick Pitino, which dropped into a zone defense. Also, those Louisville teams played a lot of what's called match-up zone defense — a defense that starts in zone, but can then break into man-to-man concepts.
Regardless, just because it hasn't happened before in the recent past, doesn't mean it can't happen now. There's little correlation here. Duke basketball has the talent and offensive firepower; if the zone — or any other kind of defense — can help them get stops, then they have a shot of adding a sixth banner to the rafters of Cameron.
Read More