With the 2019 NBA Draft set for Thursday this week (June 20), we're rolling out a new, quick-hitter series that will focus on the plethora of ACC prospects heading into the event. For each player, we'll keep it simple: one number to know, a signature highlight, the projected draft range, an attribute to know and one quick thought on how they project to the next level.
At this point, we've covered prospects from four ACC programs, which includes a variety of future first round picks: Duke, North Carolina, Florida State and Virginia Tech.
Oshae Brissett, F
Per 40 Minutes: 15.1 points, 9.1 rebounds, 2.2 assists, 1.2 steals, 1.0 blocks
4.0 3PA (27 3P%, 39.8 eFG% on catch-and-shoots), 5.4 FTA (66 FT%)
54.7 FG% (16 dunks)
23.3 percent usage rate, 43.3 eFG%
Number(s) To Know: 
3.4 percent block rate
7.5 percent offensive rebound rate
Highlight: 
Projected Range: 
End of the second round or undrafted, 55-undrafted
Attribute To Know: 
Long, rangy, adds some versatility
Quick Thoughts: 
Brissett is an interesting player. After earning a last-second combine invite, the Canadian wing played well in Chicago. After that, he elected to keep his name in the 2019 NBA Draft pool. Brissett is long and likes to rebound, plus his can fill up a stat sheet. He's a jack of many trades but a master of none. While he played in a very drab offense at Syracuse, Brissett really struggled finding efficient offense. According to Synergy Sports, he scored just 0.65 points per possession (33.1 eFG%) on spot-ups this season — second worst in the ACC among players with 100 possessions. (Jaylen Hoard: 0.61 points per possession)
Brissett has decent stocks number, although playing in the zone can artificially boast some of those numbers. And he also just spent the last two seasons playing in that zone; how will he translate to a man-to-man approach?
Tyus Battle, G
Per 40 Minutes: 18.9 points, 3.6 rebounds, 2.8 assists, 1.3 steals, 0.3 blocks
4.5 3PA (32.1 3P%, 48.4 eFG% on catch-and-shoots), 6.0 FTA (76.3 FT%)
65.5 FG% at the rim (13 dunks)
24.3 percent usage rate, 47.9 eFG%
Number To Know: 
192 2PA away from the rim, according to Bart Torvik (37.5 FG%), which accounted for 44 percent of his FGA last season — too much from the midrange
Highlight: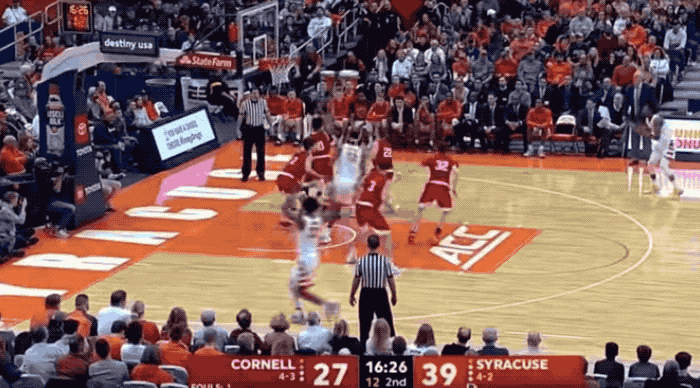 Projected Range: 
Attribute To Know: 
Good frame, some shot-creation characteristics
Quick Thoughts: 
This season was tough for Battle who dealt with injuries, a lack of secondary talent/help and a role that he's miscast for. Over the past two seasons, Battle was pushed to become the team's offensive engine; however, in Syracuse's bland offense, Battle took way too many pull-up 2-pointers (mostly useless in the NBA), and flashed little craft as a playmaker. Considering how much he had the ball, a sub-15 percent assist rate over the last two seasons in super low.
Battle was invited to the 2018 combine, but missed out on an invite in 2019. Can he get back to the type of player he was as a freshman, when 56 percent of his FGA were 3-pointers, and nearly 62 percent of his 3-pointers were assisted? The shot has to be there for Battle to somehow carve out a roster spot. (Also: on his 3-point looks, he has a tendency to bring the ball too low before loading up to shot.)
Read More on Oshae Brissett and Syracuse
With Battle and Brissett gone, Syracuse looks to Hughes for offense