Prior to the start of the 2017 NBA Playoffs, Mike Prada wrote at SB Nation about Giannis Antetokounmpo's ability to play both sides of the pick-and-roll on the same possession. Antetokounmpo has a (Greek) freakish skill set that allows him to handle the ball, draw gravity on dives to the rim and finish with the best of them — if not better — at the hoop.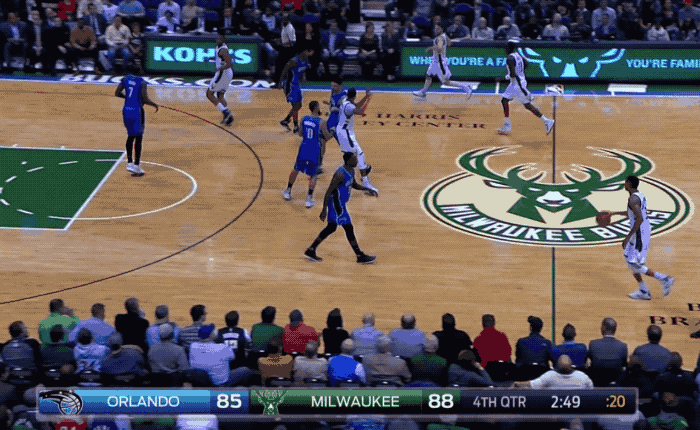 Over at Duke, Zion Williamson isn't the primary ball handler; that responsibility falls to Tre Jones, an excellent freshman point guard. Plus, R.J. Barrett gets plenty of run as Duke's alpha guard, too. However, Williamson — who can really pass (4.8 assists per 100 possessions) and handle — operates as a creator for the Blue Devils as well. It's why, if you want to play the comparison game, Giannis and Blake Griffin can both work as super-advanced facsimiles to what you're seeing Zion do in the college game.
A lot of that playmaking comes in transition, where Williamson manages to blend efficiency with the power of a runaway freight train — or jeep (whatever): 1.48 points per possession (88 eFG%), according to Synergy Sports. But there are several half-court looks, too, when Williamson functions as the powerful fulcrum of Duke's offense.
Zion hit the ground running in his dominant opening-night performance against Kentucky, but since then, Duke has worked to involve him in a few different ways. For this exercise, let's look specifically out how Duke can play some two-man games with the likes of Williamson, Barrett and Cam Reddish.
Roll or Pop — it doesn't matter
Early in his career, R.J. Barrett has managed to toggle the high-usage/high-efficiency line pretty well. In Saturday's win over Yale, though, Barrett may have had his best game (30 points on 19 FGA) running ball-screen offense in the half court.
The pick-and-roll isn't exactly a primary feature of Duke's offense, like it is at, say, NC State, Virginia Tech or Miami. Perhaps — for this season, at least — it should garner more usage, though. The Blue Devils feature the likely top two pick in next summer's NBA Draft; why not spread the floor, and let Barrett and Williamson go to work?
Late in the first half against Yale, Duke has its two primary low-usage floor spacers — Jack White and Alex O'Connell in opposite corners — while Tre Jones is on the court, too. With all three of those guys stretched out beyond the arc, Barrett and Williamson dance.
Miye Oni gets over the top of Zion's screen for Barrett, while Jordan Bruner drops. Barrett is contained; however, Williamson is wide open on the pop. Williamson sizes up Bruner and goes to work. This is the kind of damage Duke can do with Zion as the de facto 5-man. He has space and time to read the defense and make his move.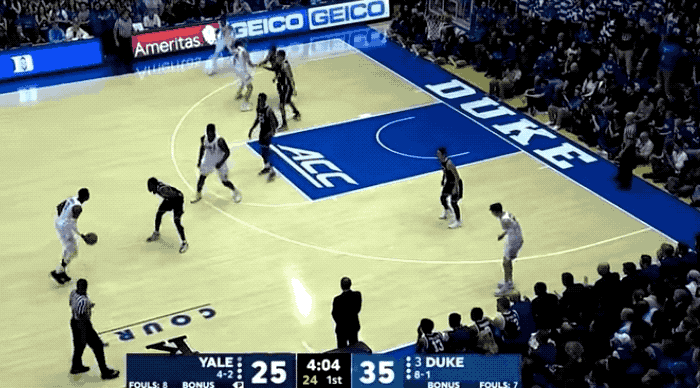 For the season, Williamson is 2-of-2 on pick-and-pop field goal attempts — both of which came after drives to the basket, per Synergy.
This is something I'd like to see Duke try even more as the season goes along. If a guard is matched up with Barrett, the opponent can't switch and have the wing check Williamson. Zion will bulldoze that dude. More traditional coverages will create advantage or expose gaps/channels to the rim. That's ripe for Duke to exploit.
Plus, if teams load up to trap or switch, Williamson can use his cat-like quickness to slip screens for easy rim finishes. Barrett and Reddish have the height and passing touch to survey defenses and make the right reads.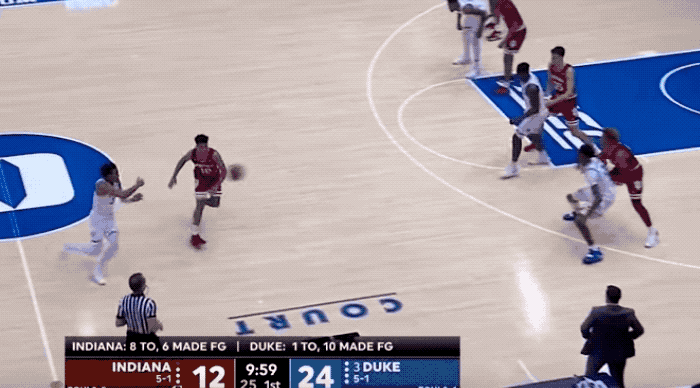 Over The Top
Walk back with me for one second, yeah? About a minute of game time before that Barrett-Zion pick-and-pop bucket, Duke ran something similar, but with Williamson on the bench. Javin DeLaurier is in as the dive man; Jones, White and O'Connell remain.
As DeLaurier screens for Barrett, Oni goes under the pick while Bruner drops — mindful of Barrett's ability to straight-line drive to the hoop with pace. However, with Oni going under the pick, Barrett makes him pay with a pull-up three-ball.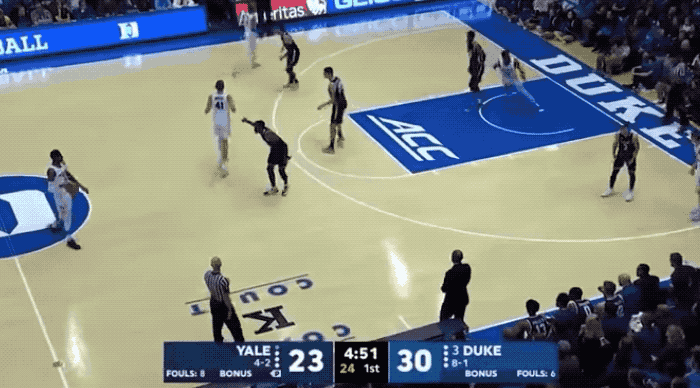 Over the last four games, Barrett has heated up from deep, including some nice catch-and-shoot finishes against Hartford. Since Duke returned from Maui, Barrett has splashed 47.6 percent of his threes (10-of-21 3PA). Barrett is now up to 37.3 percent from downtown this season on a healthy number of attempts — 7.6 per 40 minutes, 59 total.
There have been some learning pains early on for Barrett as a pick-and-roll gunner; on the season, he's shot just 28.6 percent (0.59 points per possession, 35.7 eFG%) out of the action, per Synergy. However, he's 3-of-6 on dribble jumper attempts — 1.33 points per possession — from the pick-and-roll.
According to Synergy, Barrett also has an effective shooting clip of 54.2 percent on off-dribble jump shots in the half court — 1.08 points per possession.
You know his drive game will be there; however, if Barrett can continue to splash shots like this, defenses will have few, if any, good answers.
OK, now flip it
Now, let's get back to Zion. This dude does a lot of stuff that makes him special. This, however, may be where he excels in ways that differ even from his most advanced peers. It's a challenge to initiate good pick-and-roll offense, and get to the basket. For Williamson to be great at attacking off the bounce — with handles and counters to whatever defenders throw out — while weighing close to 300 pounds is sort of absurd.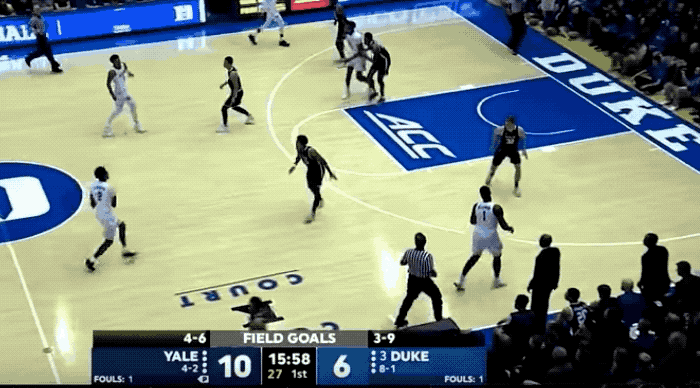 Reddish is such a dangerous shooter that he functions as an excellent screener, too. Defenders must respect his shot off a potential pop. Williamson has a behind-the-back dribble he likes to utilize on the break, and he has a pretty wicked Eurostep move, too. As Cole Zwicker from The Stepien notes (follow him, his colleagues and this site if you don't already), this move from Williamson — covering ground with power and speed — is so special.
Zion jump cuts like a damn running back. The agility is every bit as rare/impressive as the vertical pop. pic.twitter.com/STrQjVfj3C

— Cole Zwicker (@colezwicker) December 8, 2018
Back in the Indiana game, Duke did something similar. Barrett doesn't really set much of a screen here but, for the most part, it still works. Williamson is able to get right, gather the loose ball, spin back left and draw a foul (8.7 FTA per 40 minutes).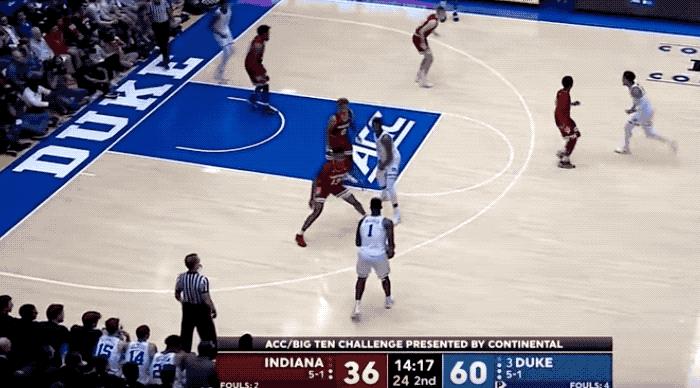 Also from the win over IU: Duke went 4-5 pick-and-roll with Williamson handling and Marques Bolden as the screener. It worked against the Hoosiers, and Duke brought it back out in the first half against Yale. It looks like this 4-5 action will be a part of the playbook going forward, and why not with Williamson?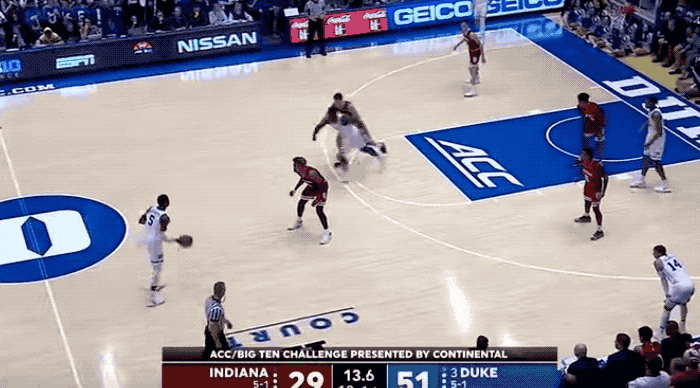 According to Synergy, Williamson has shot 83.3 percent as the ball handler in pick-and-roll this season — 1.67 points per possession. Every bucket he's had out of the screen-roll game this season has come at the rim, where he shooting 76 percent from this season.
Read More on Duke Basketball
Glue Guy: Jack White adds crucial elements to Duke's rotation