"But in the middle we stay calm, we just drop bombs." When you have some free time, I recommend shuffling through old OutKast lyrics; the references alone make this a fun exercise. It's also jarring to see just how prophetic some of the rhymes proved to be. Now, while it may — may — be a bit of a stretch to apply rap lyrics from 20 years ago to Duke basketball in the present day, remember this: I don't care. Just go with me and my stupid introduction on this.
Zion Williamson has dominated for the Blue Devils, doing just ridiculous things on the basketball floor; Canadian hoops prodigy R.J. Barrett (34.9 percent usage rate, per KenPom) has used the most possessions. Around those two, though, Cam Reddish has been super sharp.
The 6-foot-8 Reddish is silky smooth and has just absolutely bombed away from deep. Through the first two games for Duke, Reddish is 10-of-21 on three-point attempts (47.6 3P%). He's found open catch-and-shoot looks in transition — the best time/place to hunt efficient looks from beyond the arc — attacked off the weak side in Duke's half-court offense.
It's not that he's gone unnoticed; if you're watching these games, he's hard to miss. And it should be impossible for a future lottery pick averaging 23.5 points on 61.3 percent true shooting to go under-appreciated, but with Zion-Mania in full flight, that's kinda what's happening at Duke with Reddish.
Let's rewind the tape, take a look at some of the numbers and focus on why Reddish is such an excellent complement to Williamson and Barrett.
Transition Phase
After a quick 2-0 start to the season, Duke has the No. 1 offense in America, according to KenPom. The Blue Devils, powered by Williamson's interior dominance, have excelled in the half court: 1.13 points per possession (57.6 eFG%), according to Synergy Sports — No. 11 in the nation. Duke has blitzed teams in transition, too: 1.22 points per possession (69.1 eFG%) — with Cam Reddish as a major factor.
Tre Jones is an excellent passer (seriously, he's awesome) and knows how to push pace; he also knows to look for Reddish on the break. Early in the Kentucky game, Jones found Reddish for two transition three-pointers, including one after a made basket.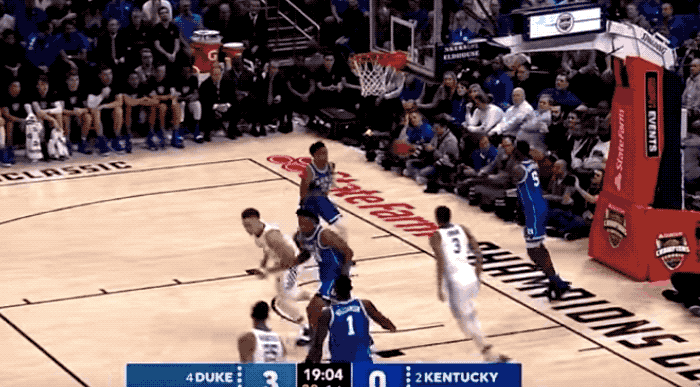 Three minutes later, the Wildcats fail to locate Reddish in transition and, boy, is that a mistake. Jones, who has assisted on six of Reddish's 10 three-pointers this season, knows to find the rangy wing when the defense is in scramble mode. According to Synergy, Reddish has scored 1.63 points per possession in transition this season (81.3 eFG%). (In total, nine of Reddish's triples have been assisted on.)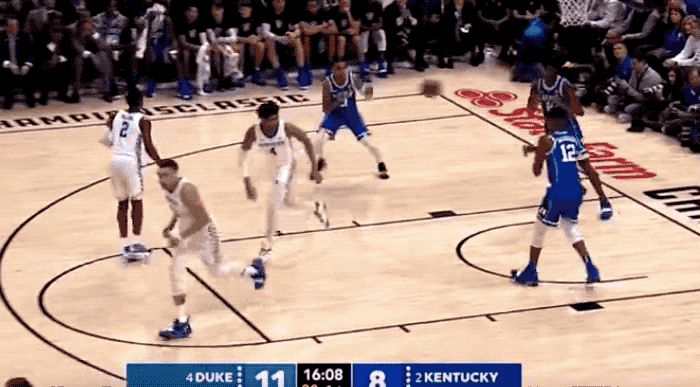 While Nick Richards is a step too late, this kind of panicked closeout is something Reddish can look to attack more as the season goes along.
Half-Court Design
Duke wants to produce catch-and-shoot looks from Reddish in the half court. One of Duke's preferred methods of creating those open looks is simple screen-the-screener action. If you watched Duke last season, it's something they did frequently to get sharpshooter Gary Trent Jr. going from deep.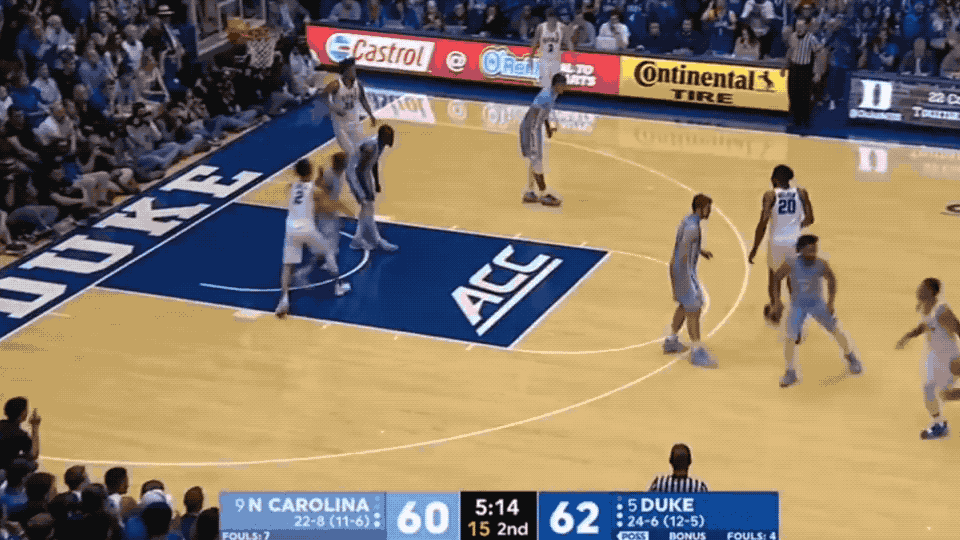 Back to this season: As Duke pulled away from Army in the second half, Reddish got open for look out of this set. He sets a baseline flex screen for Williamson (in the place of Marvin Bagley), who is available for a post touch (5-of-5 FGA on post-ups); just inside the top of the key, Jack White waits. With the defense's eyes on Williamson, and Barrett spaced to the weak side, Reddish shoots up and pops of White's screen. Look familiar?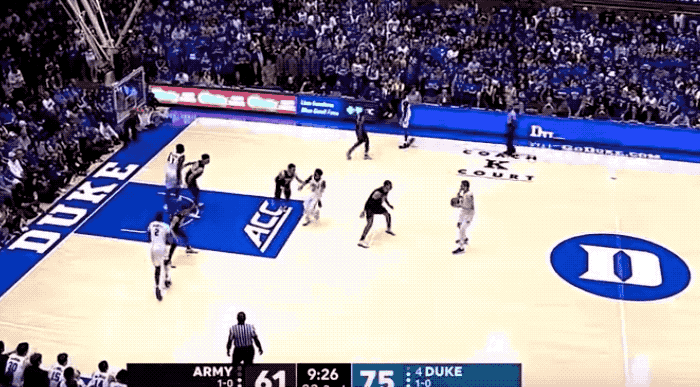 This brings up an area of improvement from Reddish: speed and explosion coming off screens. He gets an open look here and buries it, but the process is a little clunky. He still does a nice job getting his feet set and squared. That may not mean a ton this season at Duke, but this will factor into his offensive profile in the NBA.
When it comes to baseline-out-of-bounds plays, Duke is an opportunistic bunch. The Blue Devils target the corners and the rim with a series of quick-hitting actions. Army's defense makes this one a little too easy; Reddish is left wide open in the corner, and Jones doesn't miss him.
However, second-side defenders are put in a bind in this situation: Help against Zion at the rim, or leave Reddish open in the corner? Either way, the math isn't in their favor.
Solution: Found
One of the concerns with this Duke team heading into the season was half-court shooting. With Trent and Grayson Allen now in the NBA, how would this squad space the floor without any proven shooters? Well, with Reddish splashing missiles from range, that's far less of an issue than previously imagined.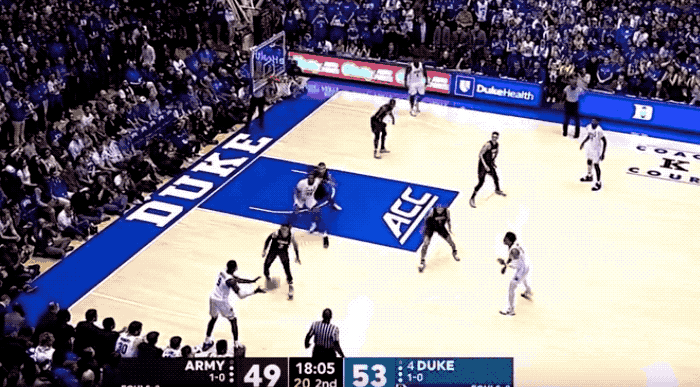 Plus, it doesn't hurt that Barrett gets up shots from deep (9.8 3PA per 40 minutes), Jones shoots with confidence and White and Alex O'Connell function as floor-spacers, too.
On The Corner
Speaking of the corner, Reddish has displayed a skill set from the weak side of the floor that projects nicely to the next level; it's also what makes him such a nice fit next to the other one-and-done stars. Reddish has a fairly smooth release and serious range on his jumper. He doesn't need much time to light up a defense from deep. And in the college game, few wing defenders are really going to be able to challenge his airspace.
In an NBA that puts a premium on floor spacing, offenses need secondary options on pick-and-roll looks who can punish defenses for tagging rolling big men, and get to the rim once a little advantage has been created.
According to Synergy, Reddish is 5-of-13 on catch-and-shoot attempts (57.7 eFG%, 1.15 points per possession) in the half court this season. Williamson draws a crowd here, but look at the range — this is an absolute bomb from Reddish.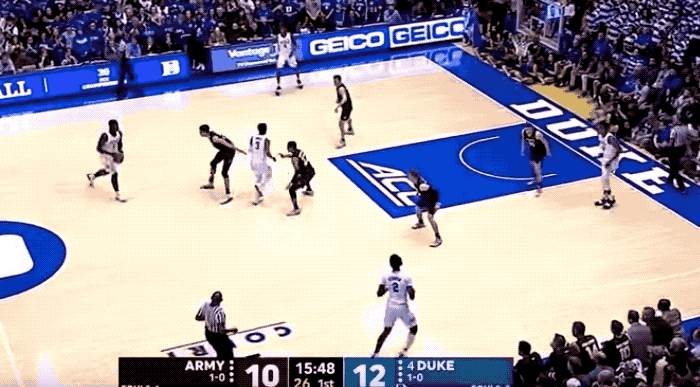 Reddish may have it in him to evolve into this generation's Tracy McGrady — an offensive hub that scores out of isolation or the pick-and-roll. However, this kind of production makes him look like an ideal second banana; someone that can play off his teammates and put up points with few touches and little time of possession. (While watching Reddish play on offense, specifically, my head goes to Paul George in Oklahoma City, next to Russell Westbrook, one of seven players in the NBA averaging 20+ points per game on less than 60 touches per game.)
Helping Others
Reddish can force a closeout and attack off the dribble; as we've discussed in this spaced, though, he's a capable and willing passer. On this possession, Reddish draws plenty of attention, and pitches back to Jones for an open three.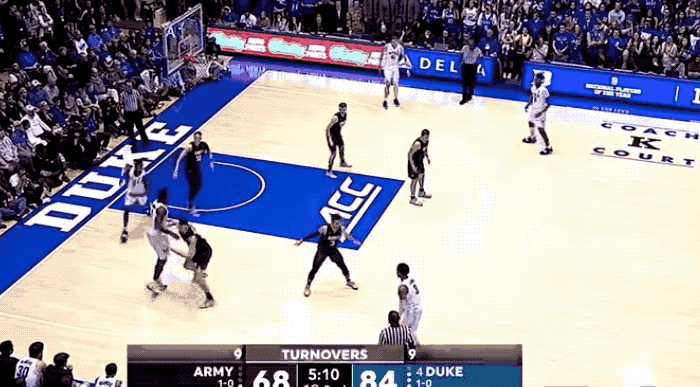 In the exhibition games, Reddish flashed the ability to attack baseline — going left — and play with his head up — looking opposite corner for open shooters. That continues to be nice wrinkle to his game.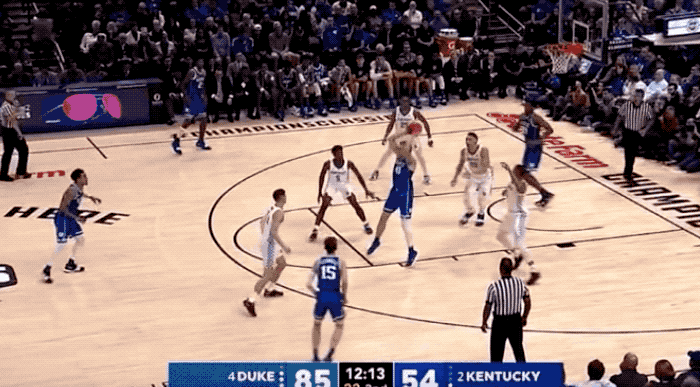 Reddish has dished out six assists in 55 minutes of action so far this season — or 5.4 per 100 possessions, according to Sports Reference.
Work In Progress: Attack/Pull-up Game
The basketball will be dominated this season in Durham by Barrett and Jones; those two will touch it and dribble it the most. Williamson will function as the fulcrum of the offense plenty, too — grab-and-goes that turn into fast-break points, post offense in the half court and isolation drives. This makes Reddish's spot-up game such an asset; however, he can certainly play with the ball in his hands, too.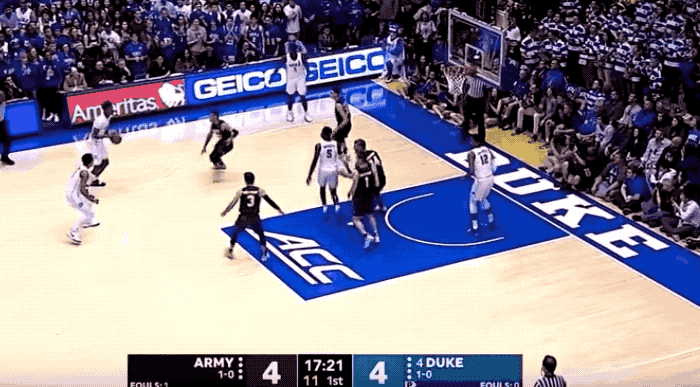 It's the in-between game of Reddish that needs some polish. His shot selection can waver at times as he slinks into so-so pull-up jumpers. Reddish is just 5-of-14 (35.7 2P%) on attempts inside the arc to start the season. He's also missed all of his off-dribble two-point jump shot attempts in the half court, per Synergy.
Reddish's explosiveness is a bit of a question mark, too. Without some advantage already created for him, can he blow by defenders and finish at the rim? So far, he's 0-3 on field goal attempts on drives to the basket from spot-up possessions.
That said, he's still shown some ability to use his strength and length to finish through and over contact. Obviously, Reddish is at a serious size advantage here, but this is nice balance while on the move.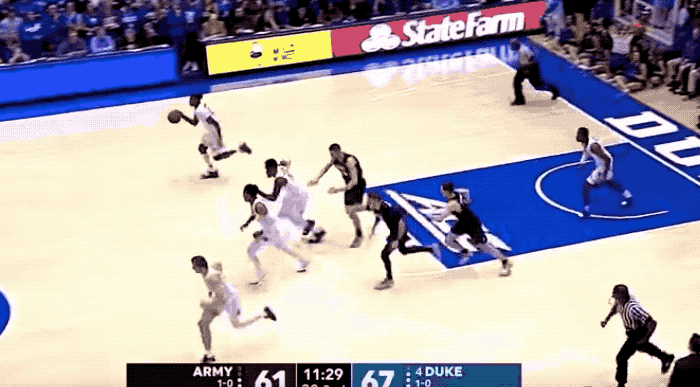 Reddish has long strides, which help make up for a first step that isn't the quickest. Reddish can't quite turn the corner against Quade Green, but he's able to use his length and create enough separation for the finish.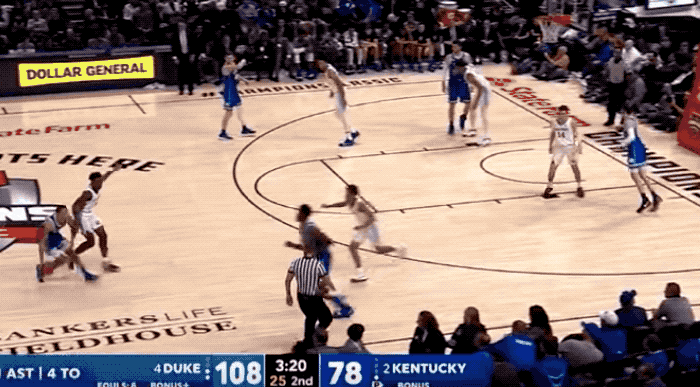 Going Forward
There's so much to like with Cam Reddish from an offensive skill set. The more I watch him play, the more I like his game. In terms of size and wingspan, he's a freak — ready to fill the wing for an NBA team right now. But his offensive profile is simple, smooth and repeatable; this is a guy that should be able to get points efficiently on a nightly basis.
When he's ripping nets from outside the arc, everything else opens up; his slash-and-kick acrobatics can take center stage. Reddish's ability to see the floor and make simple reads may seem basic, but it's impressive and helps facilitate side-to-side offense.
Read More on Duke Basketball