There's no doubt that this Duke basketball team will go as far as its four stars take it: Zion Williamson, R.J. Barrett, Cam Reddish and Tre Jones. Those are obviously Duke's four best players; Mike Krzyzewski said as much before the season started, and all four are future first round NBA draft picks.
However, this team is more than just those four players. Since the Duke's exhibition tour in Canada, which came with Jones and Reddish on the sidelines, it's been interesting to see how the returning players — Jack White, Marques Bolden, Alex O'Connell and Javin DeLaurier — fit with the four rookies.
All four of those veteran players offer something different, which is a boon for Coach K; he can mix and match as he chooses. Bolden provides rim protection (4.6 blocks per 40 minutes) and some post offense (78.6 FG% at the rim, 12 dunks). DeLaurier brings length to Duke's defense (3.3 blocks and 1.9 steals per 40 minutes) and on the offensive glass (13 percent offensive rebound rate). AOC is an excellent three-point shooter: 28-of-58 from beyond the arc for his career (48.3 3P%).
White, however, does a little bit of everything, and it's an excellent blend to put next to the freshman quartet. The 6-foot-7 Australian can guard multiple positions (he works at times as a switch partner with Zion) and doesn't need the ball to help the offense as a floor-spacer.
Elmer Would Be Proud
After the win over Indiana, Coach K was asked about the value White adds to this Duke roster, and why he's such a productive role player:
He's playing great. He's such a glue guy. His two threes in the first half kind of gave us separation. But he's doing everything right — playing defense, rebounding, doesn't need the ball for a long time. But he's done that in every game, so he's going to play a lot.
According to data from the fabulous Chris Bunn (go follow him if you don't already) over at Duke Forum, Duke is +123 with White on the floor this season (185 minutes). White has played a little over 19 minutes with Williamson, Barrett, Reddish and Jones. In that time, Duke is +11. (It certainly wouldn't surprise to see minutes with that group increase significantly as the season progresses.)
Let's take a quick look at a few more numbers, too.
Minimize Mistakes
During White's first two seasons at Duke, he played in just 220 minutes — attempting only 31 field goals (10.4 percent usage rate). In those minutes, White turned the ball over 11 times. That may not seem like much, but according to KenPom, White posted turnover rates north of 25 percent in both his freshman and sophomore seasons.
That's dropped considerably this season, though. On offense, White is a low-mistake player. When he receives a pass, the decision tree is simple: shoot or keep the ball moving. In 185 minutes this season, White has just two turnovers and a turnover rate of 5.6 percent — a top-50 number nationally, per KenPom.
As a team, Duke, has a turnover rate of just 15 percent — No. 19 in the nation. Jones, Barrett and Williamson all turnover rates under 15 percent, too. All of that is good stuff.
Range Finder
Now it's one thing to not turn the ball over; however, it's another to be able to do something with the ball when you have it, too. White looks to be a really nice spacing agent for Duke's offense — in both transition and the half court.
After going just 3-of-14 on three-point attempts (21.4 3P%) his first two seasons, White is already 11-of-29 (37.9 3P%) from distance as a junior. Nearly 81 percent of White's field goal attempts this season (36) have been of the three-point variety.
He's playing a really simple game and hitting big shots when open. In the half-court offense, White spaces out to the corner, which opens the middle of the floor up for Williamson and Barrett. At the point guard position, Jones is already an advanced passer; he always knows that White is in the corner, usually on the weak side of the floor, ready for a kick out.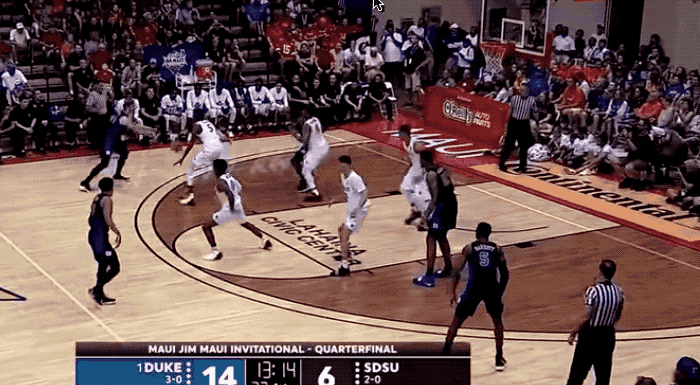 On spot-up attempts in the half court, White has scored one point per possession (48 eFG%), according to Synergy Sports. However, he's done even more damage in transition: two points per possession (100 eFG%). On the break, White mostly runs to the wing looking for catch-and-shoots, but he can finish at the rim, too.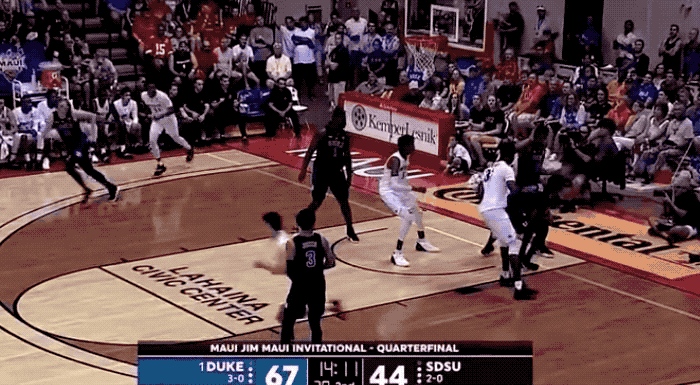 Reb The Set, Gotta Reb The Set
So far this season, Duke hasn't been a great defensive rebounding team. Opponents have rebounded 32 percent of their misses this season against Duke. Last season's team, which spent a lot of time in a zone look, wasn't great, either: 30 percent opponent offensive rebound rate.
But White helps some in this regard, too. He's an industrious rebounder — looking for long rebounds on the offensive end while also helping clean the defensive board, too. According to KenPom, White has a defensive rebound rate of 17.1 percent, which is tied with Williamson for second on the roster.
Read More on Duke Basketball
Zion Williamson shows off new tricks as he dominates vs. Indiana