On Tuesday night, Duke basketball returned to the floor for the first time since last week's loss to Gonzaga in the Maui Invitational. Right from the jump — a post-up on the game's first possession (72.7 FG% on post-ups this season for Zion) — Duke worked to feature freshman stud Zion Williamson in a variety of fashions — including some new looks, too.
For the game, Williamson finished with another monster line: 25 points (15 FGA, 73.3 FG%), six rebounds, four assists, two steals, two blocks and six dunks. He currently leads the ACC with 19 dunks in only seven games. When he was on the floor, Duke (+14 in 29 minutes), scored on 70.7 percent of its possessions.
While his three-point jumper isn't online just yet (10 3PA, 20 3P%), Zion can basically do everything else on the floor. With that tremendous advantage, Duke worked to get Williamson going downhill — with and without the ball.
Pick-and-Roll to the Cup
To close the first half, Duke went to a play that most college teams simply don't have a great answer for: 4-5 pick-and-roll with Zion Williamson as the ball handler.
As R.J. Barrett pounds the ball high with the clock ticking, he calls for Williamson to come get the ball from him. Williamson collects the rock only a few feet away the half-court line; his defender, the 6-foot-10 Evan Fitzner, is in a lot of space — bad news for him.
Barrett clears to the weak side, and with Jack White and Jordan Goldwire split out on opposite sides of the floor, the middle is clear for Zion and Marques Bolden to dance. (Look at how far wide Goldwire is spaced; he's almost hugging the sideline.)
The Hoosiers decide to switch on the screen, which isn't a bad idea; it would be a big ask for Fitzner to absorb the ball screen and recover in time to stop one of Zion's bully drives to the hoop. However, Williamson counters the switch perfectly — spinning back to his left against a near-helpless Juwan Morgan.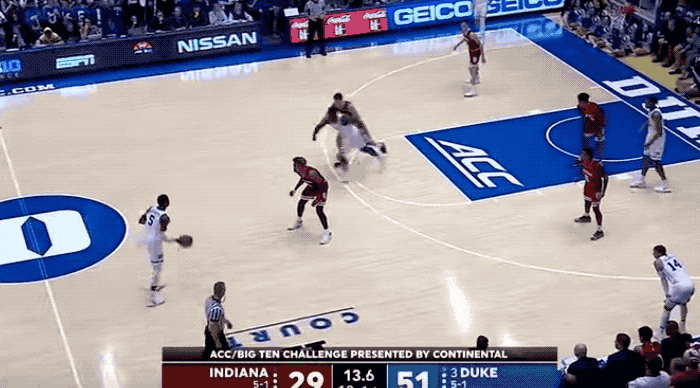 As we've discussed previously in this space, Williamson is a monster coming off a handoff or a screen. Anything that creates a little advantage, and gives Zion a crack of daylight, will put the opposing defense in a colossal bind. For the season now, Williamson is shooting 65.3 percent (1.33 points per possession) on half-court attempts at the rim, per Synergy Sports.
Take it a step further, yeah? Please?
If Duke wants to continue to hunt and attack matchups like this, the Blue Devils could choose to get even funkier. Invert the pick-and-roll, and have Tre Jones screen for Williamson. Is there any opposing point guard that's going to feel comfortable switching on Zion?
Why stop there, though? I doubt Duke will look to play matchup basketball on this level with any real frequency, but pick-and-rolls/pops with Zion and Barrett or Cam Reddish have serious upside, too.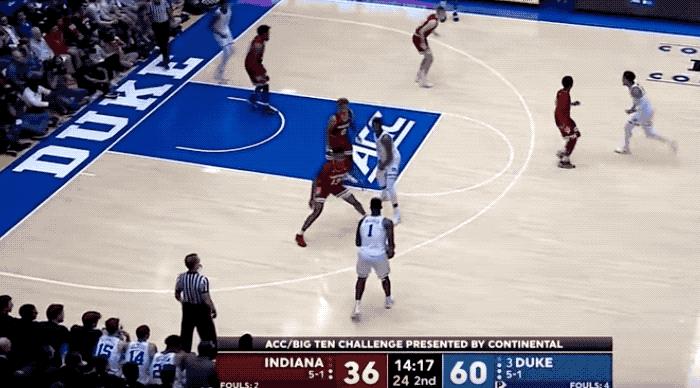 Reddish as the screener in pick-and-pop action — where he can let it fly if he's open, or attack the rim if the closeout is too hard — would be dynamite.
Slip Hop
As the season progresses, Williamson will continue to add more pieces to his game; the Blue Devils will look to exploit his ridiculous talents from different angles, and with alternative modes of creation. In the middle of the first half against Indiana, Duke went to a simple 1-4 high set to utilize Williamson's speed and leverage the threat of Barrett and Reddish handling the ball in space.
In this first clip, Reddish fans out and gets the pass from Jones (excellent again last night, by the way). Williamson, who is at the strong-side elbow, and Javin DeLaurier trot in the direction of Reddish. "Here comes a double drag screen," thinks the defense. Instead, however, Williamson slips out before even setting a screen on Romeo Langford; with the defense lifted and zero weak-side help, it's all too easy for Zion.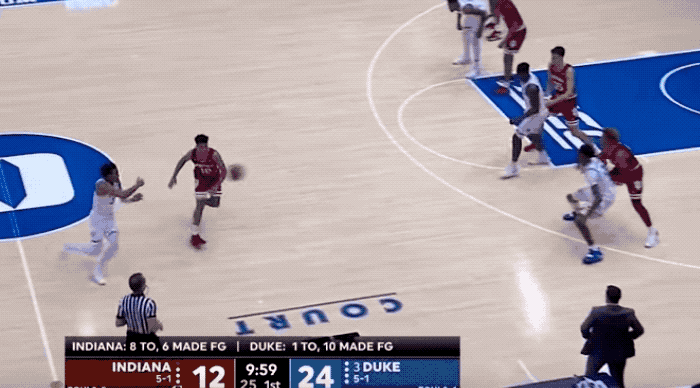 Same half, a minute later: Duke returns to the same 1-4 look, but with Barrett operating on the ball. Again, Williamson slips before screening for Barrett. Indiana gets a help defender to the block to at least prevent another open finish; however, there isn't all that much 6-foot-1 Rob Phinisee can do to stop Williamson, who draws a shooting foul on a quick second jump.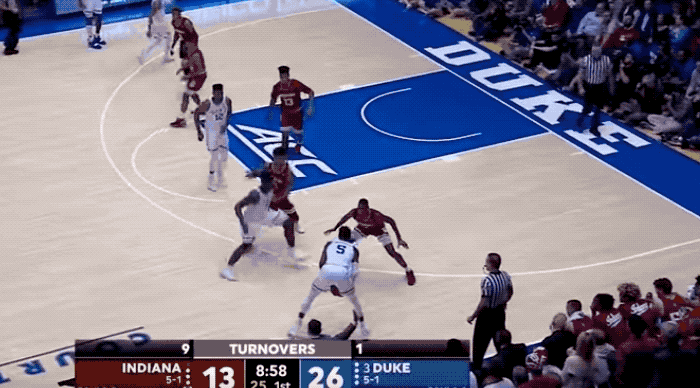 Post Game
Duke has wisely made the post game of Williamson a component of the playbook. According to Synergy, Williamson has scored 1.46 points per possession out of the post this season. The sample isn't huge (11 possessions), but that's a big number — good for No. 19 in the nation, tops in the ACC.
The Blue Devils don't post Williamson like he's Shaq. It's not in the game plan to just dump him the ball on the block, let him back down the defender and score — or kick it out if a double team comes. Duke wants to flow into these post touches with some pace and created advantage.
In the second half, Jones brings the ball up and hands it off to Barrett; this is something Duke has shown before, which we covered last week. However, that's window dressing for what's actually happening in the middle of the floor. With Reddish — a dangerous spot-up player — spaced to the weak wide, DeLaurier sets a back screen for Williamson, who trails the play.
The result is a clean post touch and plenty of room to operate.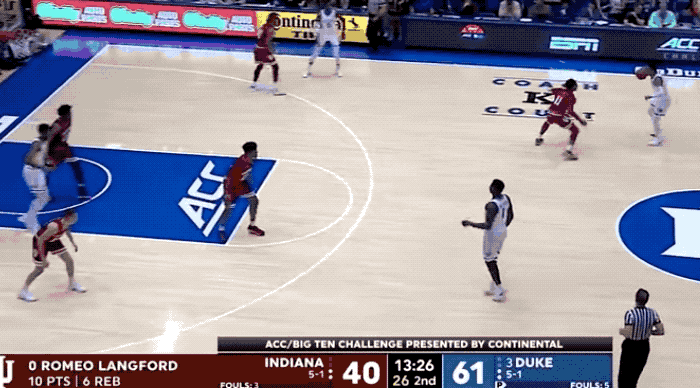 Duke did the same thing to open the game, too, but with Bolden as the screener. Clearly, Duke wants to get Zion close to the rim — or going to the basket — with space.
Elbow Game with RJ and Cam
With Williamson and Barrett, Duke could very well have the top two pick in the 2019 NBA Draft on its roster. So, ya know, it's, like, not a bad idea to involve them in as many two-man actions as possible. This is a well the Blue Devils went to on multiple occasions against the Hoosiers.
Early in the first half, Duke clears one side of the floor out for Williamson and Barrett — with Zion operating at the elbow. This dribble handoff is a pretty easy read for Williamson, but it's tough to defend and produces a wide-open look for Barrett from deep.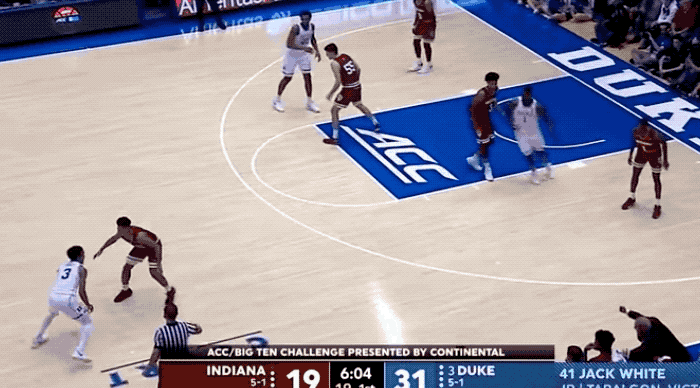 Oh, and he grabs the offensive rebound for a slam, too.
While the actual act of handing the ball off isn't super complicated, Williamson's ability to handle the ball and simultaneously screen for and pass to a teammate is pretty special. It also looks a lot like something you will see Giannis Antetokounmpo do as the trigger man for Milwaukee's three-point arsenal.
Later in the game, Duke went back to this same look in the second half. However, instead of going to the handoff action with Reddish (look how closely his defender stays locked to him), Williamson just barrels toward the rim and draws the foul on Morgan.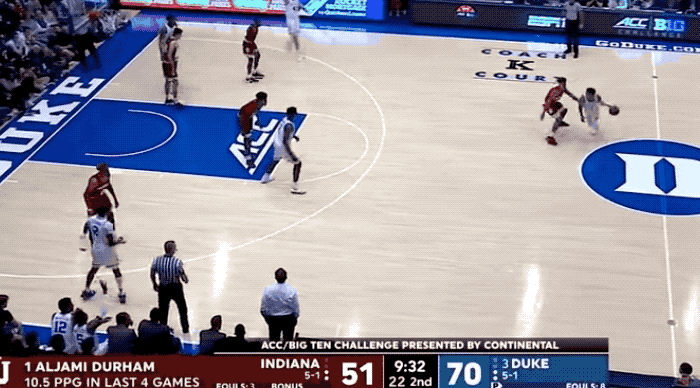 According to KenPom, Williamson has drawn 6.3 fouls per 40 minutes (8.6 FTA per 40 minutes), which ranks 144th in the nation. On isolations this season, Williamson has scored 1.31 points per possession (70 FG%) and drawn a shooting foul on 37.5 percent of those possessions.
Read More on Zion Williamson