No. 1 Duke kept it moving on Monday with a win over San Diego State. The Aztecs rank inside the top 60 in terms of adjusted defensive efficiency, per KenPom, but the Blue Devils still hung 10 three-pointers and 90 points on them. It was the third game this season Duke has made 10+ three-pointers and shot above 40 percent from deep. This was also the fourth game that Duke has scored better than 1.1 points per possession
Before Duke moves on to play No. 8 Auburn (No. 10 in KenPom), let's take a quick look at a few numbers from out in Maui.
Duke's Passing
I wrote about this before the season started: Duke has the ability to be a special passing team. So far, so good. Once again, in the win over San Diego State, Duke flashed its special playmaking abilities.
Tre Jones scored a career-high 14 points on only seven field goal attempts and dished out two assists. That's the fewest number of assists he's handed out in a game thus far in his young career. However, Jones has assisted on 28.4 percent of his teammates' field goals while on the floor this season — nearly 12 dimes per 100 possessions.
In the half court, Jones knows to looks weak side for shooters and secondary attackers. He's spoon fed Reddish on some of these looks this season. As Duke looks to launch its break (1.29 points per possession, 70.3 eFG% in transition, per Synergy Sports), Jones takes flight with his vision and hit-ahead passes. Just look at this dime to Jack White. Next level stuff. (White is in the midst of an excellent junior season, by the way.)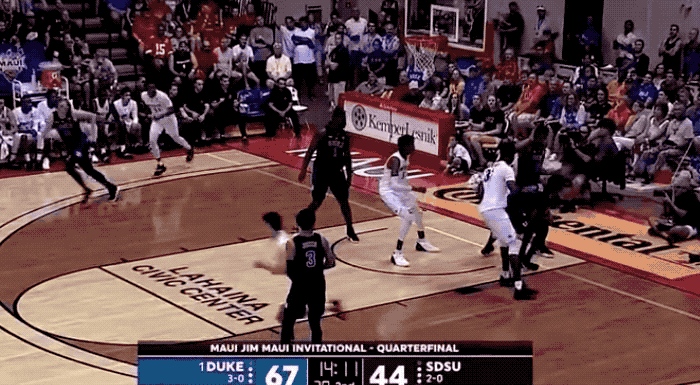 Slash-and-Kick
Currently, RJ Barrett ranks ninth nationally in usage rate, according to KenPom; nearly 37 percent of Duke's possessions have been used by the Canadian when he's on the floor. Barrett hasn't shot the ball great the last two games (41.4 eFG%), but he's still gotten to the line (16 FTA) and created shots for others. The lefty has five games of five or more assists this season, including each of the last two games.
In the win over San Diego State, Barrett handed out five assists, and showcased his ability to collapse a defense with his speedy drives into the lane.
First off, this is a pretty nice reverse dribble and pass out of the double team by Zion Williamson. With San Diego State in recovery mode, and also fairly packed in, Barrett gets to the middle and knows that White is waiting in the corner — his preferred location.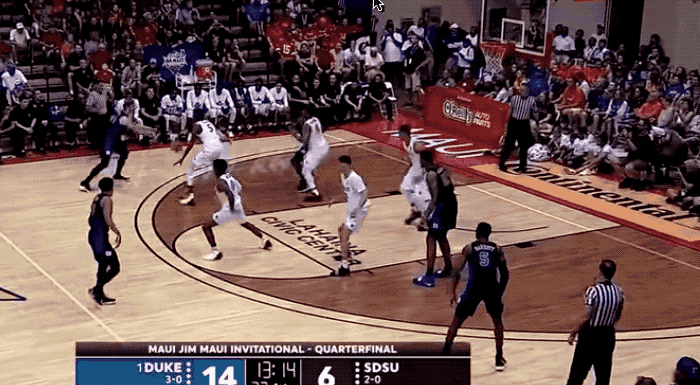 Later in the first half, Jones and Barrett team up in this little pistol set look Duke has used a few times this season. That little pitch/handoff is an excellent way to get Barrett downhill and find some early offense.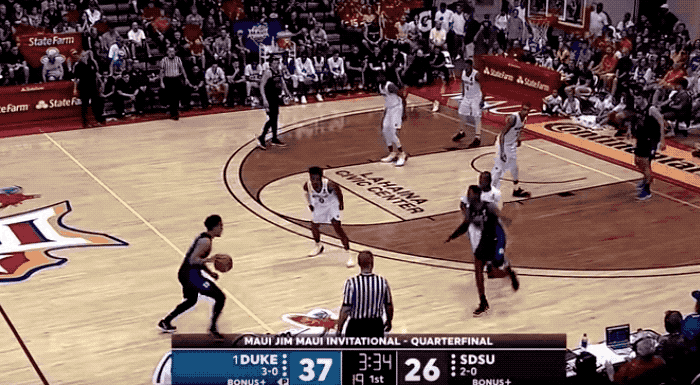 We'll call this next clip slash-and-keep. This comes from the end of the first half with Duke trying to hit the two-for-one. Again, the Blue Devils go to that pistol look with Jones and Barrett; this time, though, there's some slight variation — Antonio Vrankovic is waiting to set a ball screen. The opposing big isn't ready to corral Barrett, who comes flying off with some advantage.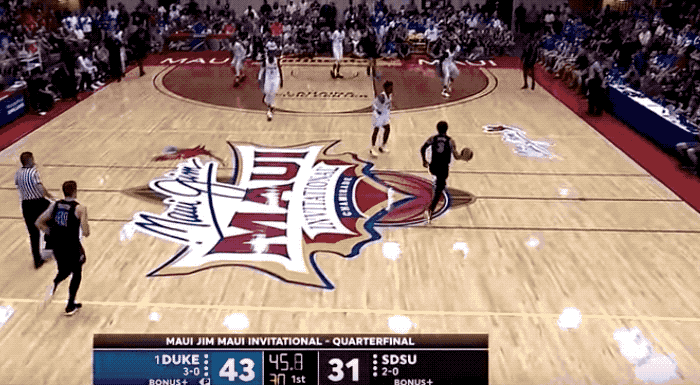 For the season, Barrett is shooting 55.6 percent (61.1 eFG%) on off-dribble jump shots in the half court. The sample is small, but that's rather good.
Up Next: Auburn
On Tuesday night, Duke will tipoff against Auburn in the second round of the Maui Invitational. The Tigers rank inside the top 15 nationally in both weight offensive and defensive efficiency.
So far, this Auburn team has attacked the offensive glass — rebounding 43.1 percent of its misses, No. 5 in the nation — hasn't been shy about getting up shots from deep. In fact, nearly half of Auburn's field goal attempts are three-pointers; the Tigers currently rank 21st nationally in three-point attempt rate (49.5 percent). Over 44 percent of their points have come from beyond the arc, too.
The Tigers have also scored 1.31 points per possession (64.7 FG%) on put-back attempts after an offensive rebound, per Synergy.
Leading the charge for this entire show is junior point guard Jared Harper. The 5-foot-11 Harper has bombed from deep (48 3P%) and is a dynamo in the pick-and-roll. According to Synergy, he's shot 61.1 percent (80.6 eFG%) and scored 1.26 points per possession — one of the best numbers in the nation.
Stopping Harper will be a major defensive assignment for Tre Jones. However, Harper has also assisted on 41.1 percent of his teammates' field goals while on the floor this season. Duke's help-side defenders must be locked in on Harper's drives.
Ball-screen defense will obviously be a key point for the Blue Devils, too. So far this season, Marques Bolden has had some nice moments, but it wouldn't surprise to see Auburn target him in the screen-roll game. If that goes sideways for Duke, a heavy dosage of Jack White and some smaller lineups make a lot of sense.
Read More on Duke Basketball
Film Room: How catch-and-shoot Cam Reddish helps power Duke's offense