Unless you have lived under a rock for the past three years (if you have, all good here, by the way), Duke's 118-84 demolition of Kentucky was not the first time you've seen Zion Williamson in action. A social media darling for years now, Williamson has long been in the public eye. During Duke's mini-campaign north of the border back in August, he flashed his ridiculous skill set, too.
However, the win over Kentucky was different; that was Zion Williamson going up against a top-five team that features multiple future NBA players. This was a blue-chip performance against a blue-blood program, not a small school in Canada.
Williamson's final stat line is legitimately absurd: 11-of-13 FGA (88.5 eFG%), seven rebounds (three offensive boards, 13.4 percent offensive rebound rate), 31.1 percent usage rate, two assists, one block, one steal and only one turnover. Good freaking god, man.
The fact that he made it look so easy — doing stuff we haven't seen many other players, especially at this level, do before — is a bit silly. Regardless, let's take a look back Williamson's opening-night performance, and use it as a tool to evaluate the uniqueness of his game.
Vision Cone
It was apparent during the Canada games this summer and in the preseason: Zion Williamson has terrific vision and the ability to put just the right amount of touch on his passes. Once again, his vision was on display against Kentucky.
In the half court, Williamson can look over the top of the defense and find cutters or weak-side shooters — keep an eye on Jack White in this capacity this season, in the opposite corner. However, in the open floor, Williamson's passing abilities really shine. This 6-foot-7 bulldozer doesn't need an outlet pass to get on the break; he can start his own thunderous rampages down the floor with a block, rebound or steal.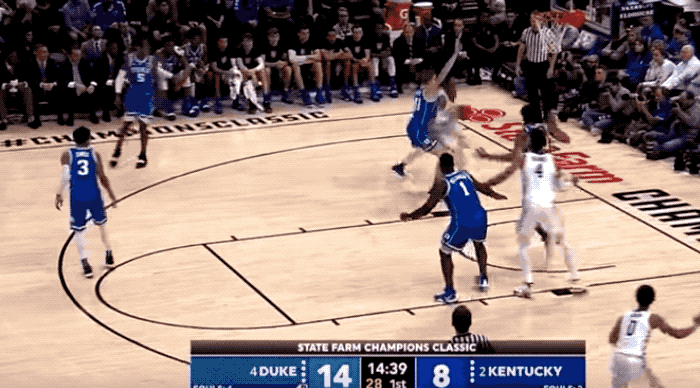 Early in the second half, Williamson showcased a rainbow of skills — none of which included him dunking a basketball. First off, this is exceptional help-side defense by Williamson; he recognizes Nick Richards on the roll to the basket and is able to get there in time to contest what could've been an easy rim finish.
Instead, Williamson does so much more than merely contest. Williamson robs the 6-foot-11, 250-pound Richards of his soul — grabbing the ball right out of his hands, and launching up the floor. With R.J. Barrett sprinting the middle, Zion hits him with a fastball of a bounce pass — two-handed, in stride and right on the money. Wow.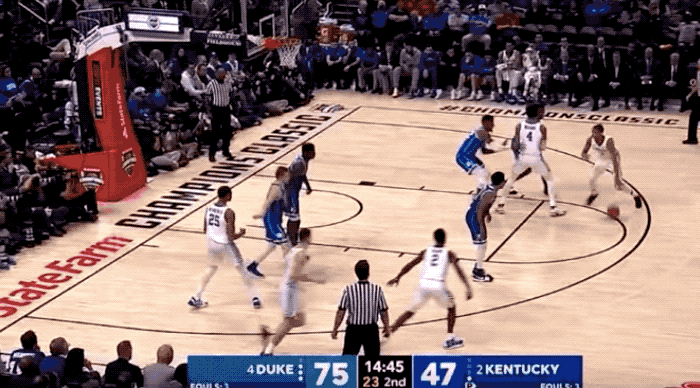 This sequence — defense directly into offense — looks a lot like Draymond Green triggering Golden State's vaunted fast break.
(Duke recorded just four turnovers to 22 assists in this game, and one of those four turnovers came late in the first half. Williamson hit a wide open Javin DeLaurier with a full-court pass that should've produced a dunk, but DeLaurier's eyes got too big, and he traveled with the ball before he could finish).
Can't handle this
Regardless of circumstance, Williamson is a mismatch at all times. In the half court, though, his ability to put the ball on the deck and get all the way to the rim is scary. He has so much power — the upper body strength to bully defenders, mixed with his hops — teams must commit multiple defenders to stop him as he attacks the hoop. Leave your defender on an island, and you will perish. Just ask Kentucky.
Here, in the first half, Williamson accepts a handoff from Tre Jones (seven assists, zero turnovers) and uses a right-to-left crossover to blow by EJ Montgomery, a former Duke target on the recruiting trail.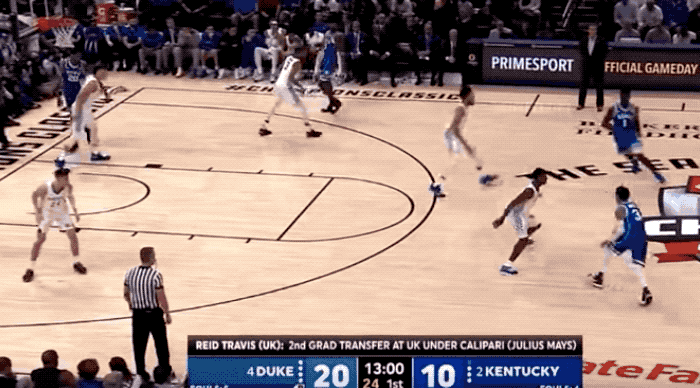 Later in the first half, Williamson gets the ball isolated above the top of the key where he's defended by graduate transfer Reid Travis, who has played in nearly 100 games at the college level. This is the crisis Williamson puts defenses in; opponents need to guard him with size and strength, but it's hard for those guys to defend in space.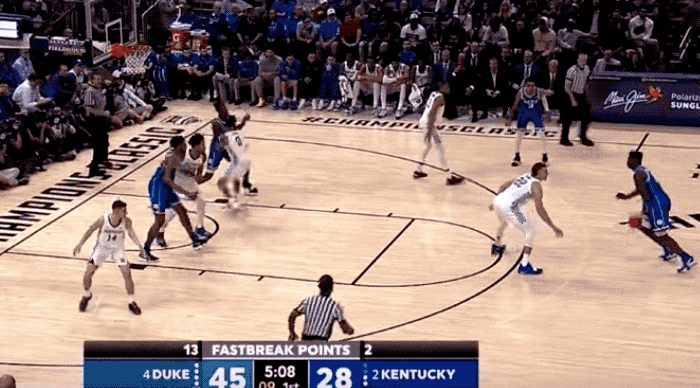 This kind of shot creation — the ability to get from above the key to the rim — is wild, and adds to his intriguing profile as a prospect. Traditional NBA bigs likely won't be able to consistently slide with Williamson in space. If he gets matched up with a plodder, Williamson is attacking the basket.
For the game, Williamson was 5-of-6 on half-court attempts (83.3 FG%) at the rim — over 1.8 points per possession, per Synergy Sports.
Isolation Devastation
Again in the second half, Travis matches up with Williamson up top. He does a nice job moving his feet and getting help. Three Wildcats surround Williamson, but he's simply able to overpower the trio and score right over the top of Travis. On plays like this, there isn't much a defense can do.
According to Synergy, Williamson was 3-of-4 from the floor (75 FG%) on isolation possessions — 1.8 points per possession. Those are monster numbers.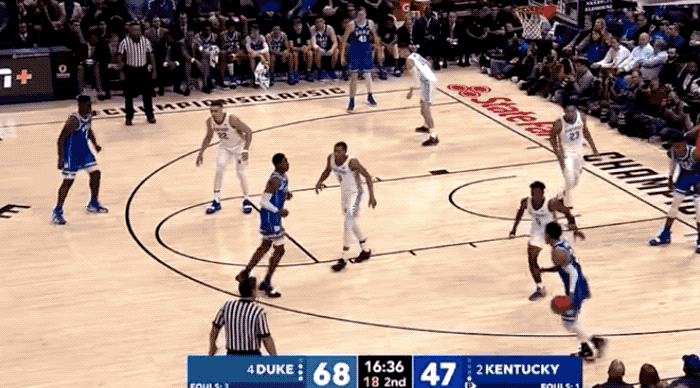 Now for the finale, and one of Williamson's fanciest plays of the night. Williamson pounds the ball high; Travis matches up. As DeLaurier lifts to set a ball screen, Travis tries to prevent Williamson from using the screen and going to his dominant hand. Williamson, however, counters with a deft left-to-right crossover that gets punctuated with a soaring slam.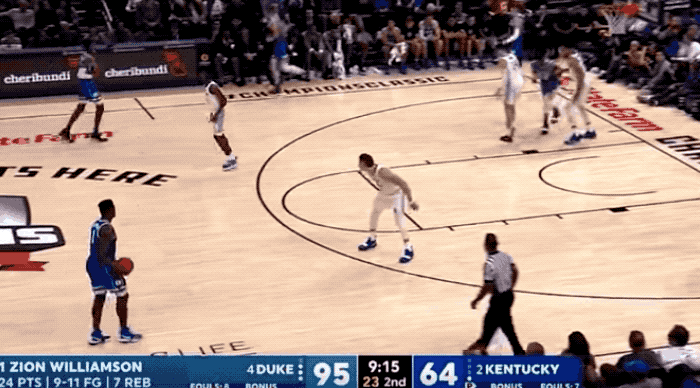 At some point, teams will need to commit an extra defender to thwart these unchecked drives to the hoop. If that happens, though, Williamson has shown the ability to hit the open man with ease. Guys like Marques Bolden and DeLaurier, who play around the rim, should get room service dunks this season off finds from Williamson.
Power Game: Post Patrol and Cleaning the Glass
Now that we have seen Williamson's ability to create his own shoot off the dribble and get to the rim, let's glance at another intriguing aspect of his offensive repertoire: the post-up.
Duke opens the second half with this look. Cameron Reddish throws a simple entry pass to Williamson on the block. Williamson makes quick work of Montgomery, another former 5-star recruit. Isolated in the post, and with all four teammates lifted above the arc, Williamson takes his time, spins left and finishes with ease.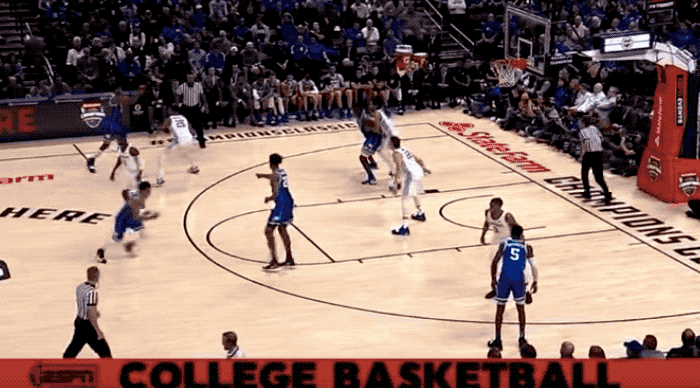 Williamson was 2-of-2 on both of his post-up attempts in this game, per Synergy. Later in the second half, Williamson found himself guarded by the 211-pound Keldon Johnson. Here's where Williamson displays another switch-beating move that should be a boon for him on the next level. If an opponent switches a smaller defender on him, Williamson — who wants to spin left — can get to his shot in the paint.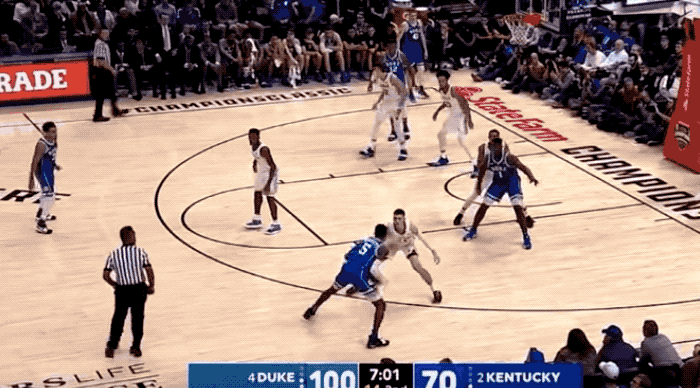 Duke, at this point, doesn't really run much in terms of half-court offense. The Blue Devils have some stuff to go to on baseline out-of-bounds plays but, for the most part, they keep it simple — basic motion actions. That freewheeling style of play should go nicely with this year's bunch; Williamson, Reddish, Barrett and Jones can all create and pass.
However, some forms of spontaneous offense are simply strokes of individual brilliance, and don't involve connecting pieces. Watch Williamson snag this offensive rebound — seemingly out of nowhere — after White misses a corner three. Williamson overpowers Montgomery and then uses a power dribble to go back up and get fouled (7 FTA in this game).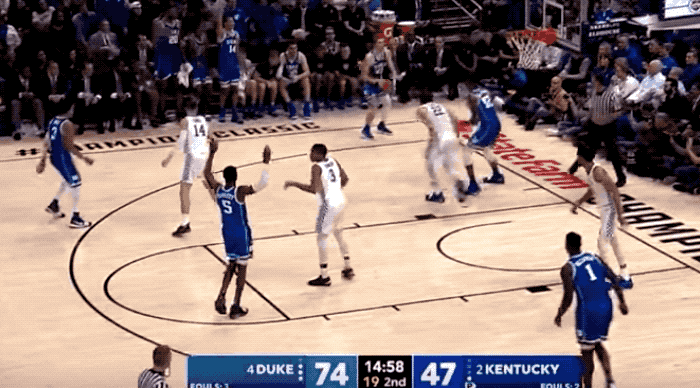 Read More on Zion Williamson
ACC Basketball Power Rankings Week 1: Count the Final Four Contenders