Marvin Bagley has played just nine games in his career at Duke. In that short span of time of time, Bagley has taken the college basketball world by storm — somewhat predictably. Bagley is a dominant offensive rebounder that can go and get his own offense following a miss; thanks to this quick second-jump ability, Bagley is shooting 75 percent on put-back attempts, per Synergy Sports.
However, Duke (wisely) likes to run some simple actions to get him high-percentage looks. It didn't take long for the Blue Devils to figure out how to utilize the team's prized freshman. Mike Krzyzewski's offense really challenges opponents by involving Grayson Allen in a lot of these actions, too.
This is something the ACC Analytics page saw coming. Now, as November comes to a close, let's see what Duke is up to.
The Low Block Post-Up
This is a simple look that Duke ran several times down the stretch against Indiana, including on back-to-back possessions; the Blue Devils will clear out clear out one side of the floor, and have Allen set a back pick for Bagley. This is especially tough to defend because Bagley and Allen are different sizes; opponents don't want to switch, and wide up with a guard on Bagley in the post. That's death.
However, Allen's defender must chip down on Bagley in order to by Bagley's defender some time to recover. This can lead to an open three-point look for Allen. That's a great scenario for Duke, although the goal is to get Bagley a look on the block — as low as possible. The closer to the basket, the better.
Down there, Bagley is remarkably patient, and he can take over using his superior footwork and length. If a defender comes from the opposite block, Wendell Carter is open for a big-to-big dish-and-dunk. Bagley and Carter have a combined 30 assists already this season.
Keep an eye on how deep Bagley's post position is here. College defenders are rarely going to stop him from that distance. Also, my word, the footwork here — on both the re-post and reverse finish — is exquisite.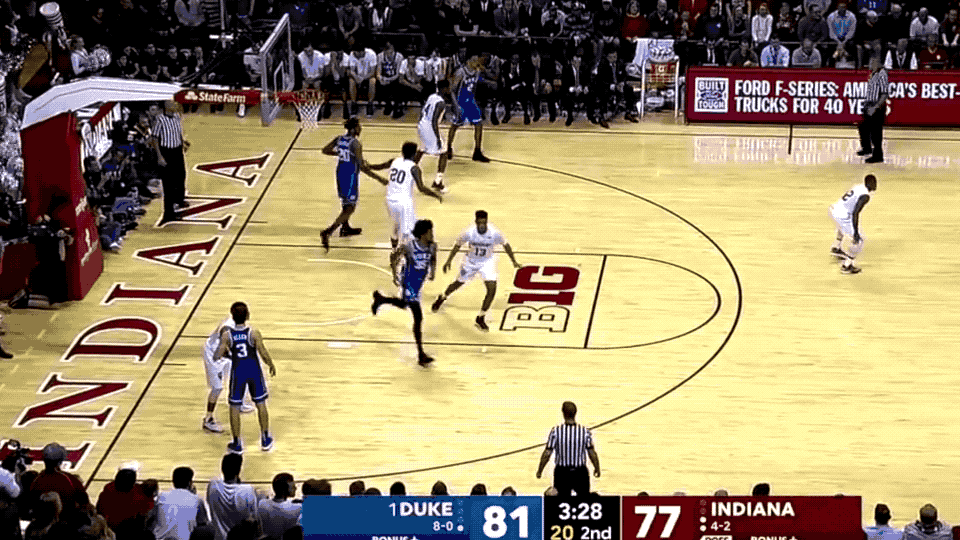 According to Synergy, 12.3 percent of Duke's possessions this season are post-ups (No. 2 in the ACC); that's a huge increase from a season ago — 6.6 percent (No. 9 in the ACC). Bagley has been efficient out of the post, too. The lefty is shooting 50 percent and has drawn a shooting foul on 19 percent of his post-up possessions, per Synergy.
He's scoring one point per post-up possession, which ranks No. 9 nationally in post-up efficiency amongst players with at least 40 possessions.
When all else fails
Duke is one of the most egalitarian offenses in all of college basketball. Coach K wants to see his team use motion, and move the ball from side to side. Drive, kick, replace — look for the next shooter and mismatch; it will come within the flow of the offense.
Well, Duke's running one of the most unstoppable plays in the nation this season, and it's pure matchup basketball: high pick-and-roll with Grayson Allen and Marvin Bagley. The Blue Devils bludgeoned Texas with this play in the comeback win up in Portland. In front of a raucous crowd at Assembly Hall, it was once again on display.
The Blue Devils will space the floor with one shooter in each corner — usually Gary Trent, Trevon Duval or Alex O'Connell — and place Carter in the dunker spot on the baseline. From there, Allen and Bagley make all of the reads.
In this set, Allen comes off a dribble handoff with Duval, and Bagley dives to the hoop. Indiana's weak-side help is too late and doesn't bump Bagley. The result: an easy dunk.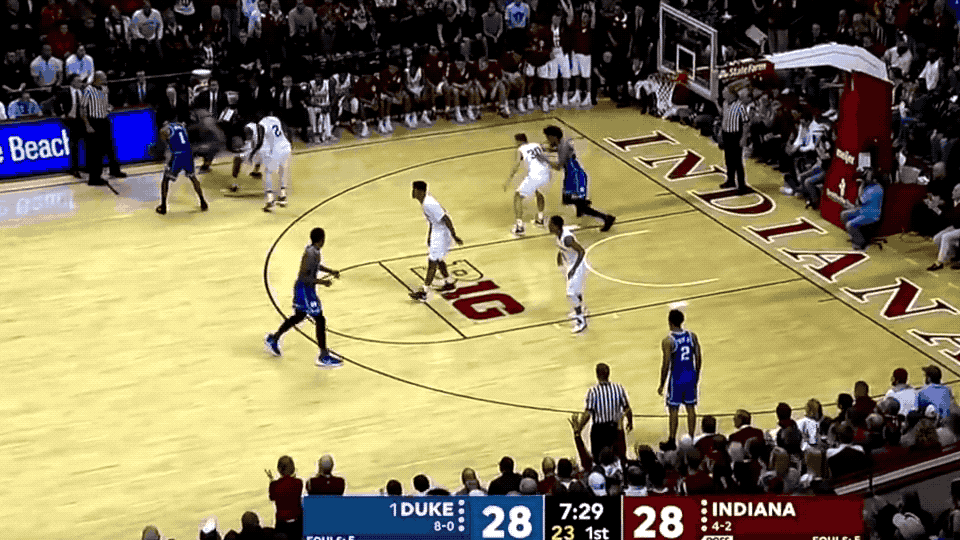 This is the bread and butter for the nation's most efficient offense. According to Synergy, Bagley is shoot 85.7 percent as a roller this season — 1.75 points per possession. And when Grayson Allen has been a passer out of the pick-and-roll, Duke has scored 1.27 points per possession, No. 6 in the ACC.
The Piece de Resistance
Before that finish, though, Bagley made perhaps the most impressive play of his rookie season thus far. Allen dumped Bagley the ball on a short roll; Indian's defense immediately collapsed on the southpaw. What Bagley did next is straight out of the NBA.
Bagley's defender shows hard on Allen, who quickly gets the ball out of his hands. Now it's Duke play 4-on-3 with Marvin Bagley in control.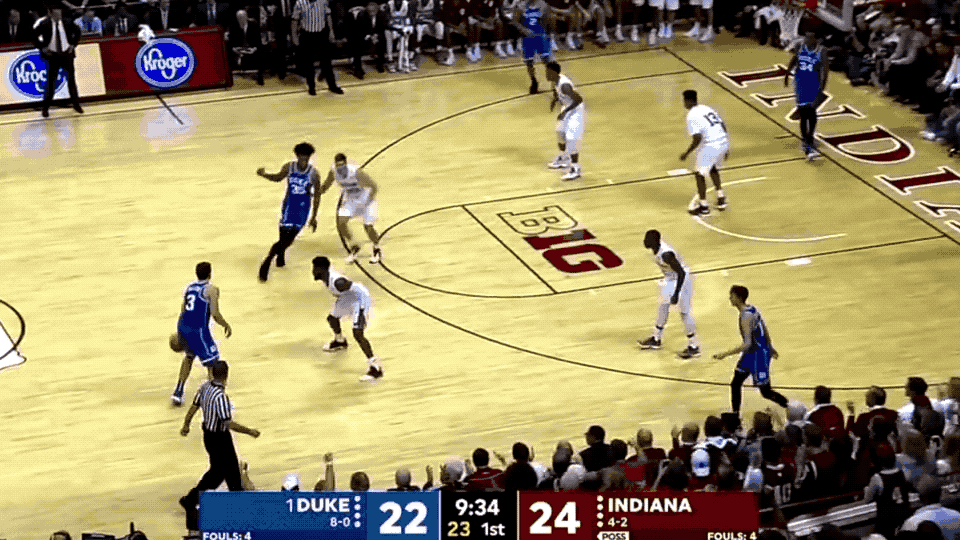 The freshman didn't turn the ball over or go barreling into the help defender for a reckless charge; instead he made an excellent read and found Carter for a wide open slam. This is high-level Blake Griffin to DeAndre Jordan tic-tac-toe passing out of the pick-and-roll. Wow. Marvin Bagley is quite the player; keep an eye out on how Duke plans to utilize him as the season goes along.
Read More
Found money: Alex O'Connell, Javin DeLaurier add versatility to Duke's bench