Zion Williamson is a unique basketball player. During his brief one-year stint at Duke, Williamson emerged as a force unlike any we've ever seen before in modern college basketball. Next season, we will have to watch his ridiculous talents in the NBA; on Monday evening, Williamson declared for the 2019 NBA Draft. And to the surprise of no one, Zion is a lock for the No. 1 pick, too.
Williamson leaves Duke as the unofficial best player of the One and Done Era — with chief competition from Kevin Durant, Derrick Rose and Anthony Davis. He's also the best draft prospect the NBA has seen since LeBron James back in 2003.
ZI🤯N's ready to chase his next dream.#DukeintheNBA 🚀🚀🚀🚀🚀😈 pic.twitter.com/3tfZPo2Iij

— Duke Basketball (@DukeMBB) April 15, 2019
(Let some of those names sink in for a second: LeBron, KD, Brow and D-Rose. Zion Williamson is in some absurd company already.)
Before we go any further, let's take a look back at the rainbow of skills Zion displayed during his time at Duke — why it's so remarkable, and why he projects as a franchise cornerstone in the NBA.
Rim Efficiency
Williamson played in 33 games this season; excluding the first loss to UNC, Duke went 29-3 in games that Zion played 10+ minutes in. A historical marvel of efficiency, Williamson averaged 22.6 points (77 2P% in ACC play), 8.9 rebounds, 2.1 assists, 2.1 steals and 1.8 blocks per game.
It really is incredible how a guy this big — nearly 300 pounds — with this much power and explosiveness can finish with extraordinary touch and skill at the rim. He's very clever.
Zion finished the season with 72 dunks and shot 79 percent at the rim. According to Bart Torvick, over half of Williamson's rim finishes came unassisted, too. Overall, he posted an effective shooting rate of 70.8 percent, which is absurd.
Remember what ACC Defensive Player of the Year De'Andre Hunter did to Jarrett Culver, another projected top-five pick, in Virginia's title game win over Texas Tech? Take a look at this; Williamson was basically the only player Hunter struggled with one-on-one this season.
Post Game, Attacking Switches
According to Synergy Sports, Williamson shot 75 percent and scored 1.31 points per possession on post-ups this season — both of which rank No. 1 in the nation, by wide margins. If he can drop that right shoulder and get to his left hand, it's a done deal.
When he arrives in the NBA, Zion will immediately pose a threat as a player who can beat switches. Get a bigger player on him, and Williamson will jet to the rim off the bounce.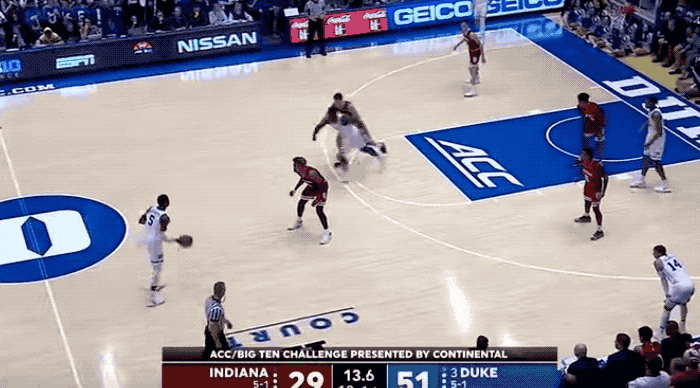 And on the flip side, switch a smaller wing on Zion, and he will punish defenders on the block.
Spot-up shooting: An issue or nah?
Much was made early in the season about Zion's ability to shoot from distance. Well, about that: Williamson finished second this season on Duke's roster in 3-point percentage (33.8 3P%). In fact, after the calendar flipped to 2019, Zion shot 39.6 percent on 3-point attempts over his final 21 games (2.5 3PA per game).
Starting with the home win over Clemson (Jan. 5), Williamson was 11-of-31 (35.4 3P%) on catch-and-shoot 3-point attempts on spot-up possessions. This is obviously a growth area for Zion. If he adds a reliable 3-pointer from NBA range, though, I'm not sure how you defend him. He will become a devastating closeout threat, too.
Regardless, his range shooting isn't the red flag that some made it out to be. And even if he struggles with his jumper on the next level, he's still going to be a marvelous offense player — Zion does basically everything well, including some stuff at historically-great levels.
Dominate the glass
Williamson was, of course, an absolute force on the glass, too. Zion grabbed nearly 12 total rebounds per 40 minutes; he also finished this season with an offensive rebound rate of 12.8 percent, which ranked No. 71 nationally, per KenPom.
According to Synergy, Williamson shot 75.6 percent and scored 1.52 points per possession on put-back attempts after an offensive rebound. Both of those numbers rank second nationally behind Gonzaga's Brandon Clarke, another projected top-10 pick. (A case can be made the Clarke is the No. 2 prospect in this year's draft class.)
Even defensive rebounds can instantly turn into offense with Zion leading the break as the ultimate grab-and-go player.
Playmaking: So much untapped potential
Two of the other reasons Zion looks like such a natural fit in the NBA: his vision and passing ability. In pro ball, teams want as many playmakers on the floor as possible; Williamson scratches that itch while also impacting the game with efficient scoring, rebounding and defense.
Not direct out of roll, but he can put it on the deck and make quick reads — and this is just one of many examples. Surround him with NBA-level shooters and, wow. pic.twitter.com/nnRmo1dFWC

— Brian Geisinger (@bgeis_bird) March 22, 2019
There's a lot of utility for Zion to play both sides of the pick-and-roll — similar to Giannis Antetotokounmpo. Going to his left, he can handle and pass with ease. And there's just so much potential as a short-space passer/playmaker on short basket rolls from ball screen actions. His quickness, power and body control in tight spaces is so special.
Dribble handoff (DHO) actions with Zion will be a godsend to whichever team lands his services in the draft. Go under his screen, and he'll make the easy drop-off pass. Overcommit on the shooter, and he'll roll hard to the basket or pop into space.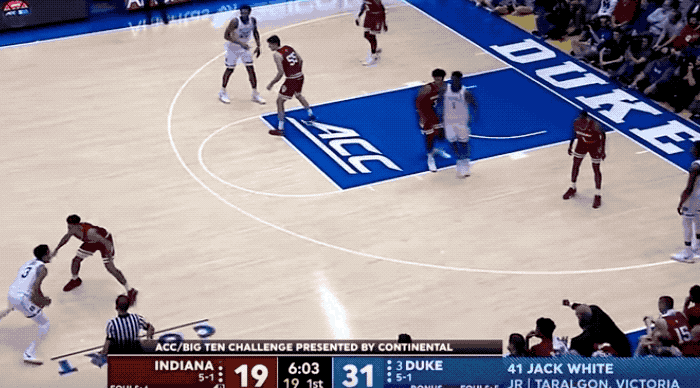 This will open up the ability for Zion utilize a fake DHO — dribbling toward a teammate like he wants to exchange the ball, only to turn the corner and drive. Williamson has the ability to initiate and run an offense from the elbows.
In The Open Floor, Picking His Spots
During ACC play, Zion assisted on over 18 percent of his teammates' field goals while on the floor — three assists per 40 minutes. This came despite Duke not running a lot of passing possessions for him (think pick-and-roll with him as the ball handler).
Williamson had to generate these assist looks out of transition opportunities or post doubles. For the record, he's pretty darn good at both.
As Zion advances to the next level — and the gameplay opens up with better shooting and spacing — we will get to see ever more of his vision and passing skills.
Williamson still needs to work on his right hand, which will come; for now, though, he's very reliant on his left. However, he's such a dangerous player player in the open floor, it almost doesn't matter. This dude's ability to find his teammates is special, and it still amazes me with just how good he is at throwing the ball with spin and precision — while on the move.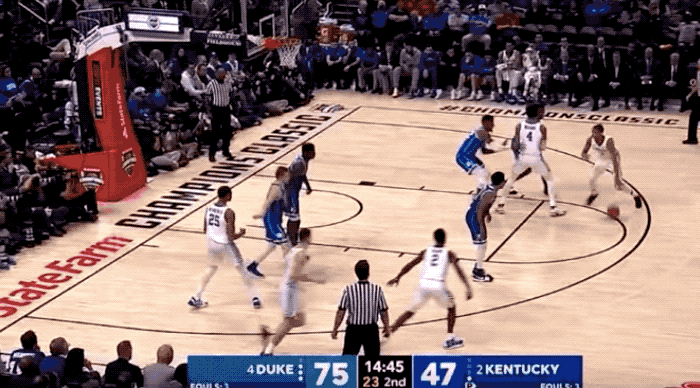 Defensive Numbers: Zion Williamson
Defensively, Williamson proved capable of doing just about anything. As the season progressed, Zion showed the ability to switch across all five positions; he also got significantly better at sliding and staying in front of speedy point guards that he outweighed by (literally) 100 pounds.
As a help defender, Williamson was unlike anything we've ever seen in the history of the ACC Basketball. Opposing pick-and-roll attacks were rendered helpless with Zion blowing up passing lanes. When Duke pressed and applied ball pressure with Tre Jones, Williamson took flight as the world's biggest free safety. Teams were mortified to throw the ball over the top.
Zion has a tendency to gamble and play a little recklessly on the defensive end. My guess would be that Duke —looking to crush souls and avoid half-court offense — told him to go for it: go cause havoc. It's hard to argue with some of the results, too.
(This part of his game shouldn't be totally altered, but I'm sure NBA coaches will see that he dials back on some of the risk-taking. NBA shooters and players are too good.)
Doing Damage
Zion was one of three Division I players this season to finish with at least 50 block and 50 steals. (One of the other three players is Washington's Matisse Thybulle, the top wing defender prospect in this year's draft class.)
Williamson averaged 2.8 steals and 2.4 blocks per 40 minutes. Along with Thybulle and Auburn's Chuma Okeke — another monster 3-and-D prospect — Zion was one of three Power 5 conference players with a block rate of five percent and a steal rate of three percent.
Similar to LeBron, Zion has a penchant for the chase-down block, too. Williamson plays with exquisite body control and timing — able to contest these shots without tipping his hand ahead of time.
There's also an effort factor that should be taken into account with Zion as well. This guy loves playing basketball and he knows only one speed: fast. I mean…dude.
Read More on Zion Williamson
Throwback: Another look at Zion's impressive opening night against Kentucky