In only a few days, college basketball will officially be back. Upon its arrival, we will be gifted an excellent game to kickoff the season: No. 4 Duke vs. No. 2 Kentucky in Indianapolis. In terms of talent on the floor, this matchup is sort of ridiculous. R.J. Barrett, Zion Williamson, Cameron Reddish and Tre Jones from Duke; on the other side, Keldon Johnson, P.J. Washington and Tyler Herro from Kentucky. That's a lot of future NBA talent on the floor, including multiple soon-to-be lottery picks.
Duke already has two exhibition games in the bag — easy wins over Virginia Union and Ferris State. The schedule now clears for the much-anticipated matchup with the Wildcats. Before that, though, lets backtrack and focus on something that jumped out in the exhibition games: Reddish's passing ability.
The Blue Devils enter the season loaded with versatile offense talent. They should put together a top-10 offense simply by lining up and going right at opposing defenses, which is exactly what Mike Krzyzewski will ask of his team. However, I'm bullish on the pieces fitting together, smoothly, because of this team's ability to pass the ball.
Williamson has freaky vision; Jones is already an excellent passer, and Barrett is in the process of nailing down that trade, too. It's early, but Reddish has game as well. Let's take a quick look at some of his highlights from the preseason, split into three categories.
Find The Shooter
This first clip comes from the Ferris State game, and it should be noted: Cameron Reddish is right-handed. However, watch him whip this pass with his off-hand (something that matters as his game progresses to the NBA) directly into R.J. Barrett's shooting pocket for an easy catch-and-shoot opportunity.
That's filthy — just an absolute bullet from Reddish to Barrett, who shot 7-of-14 on three-point attempts in the two exhibition games.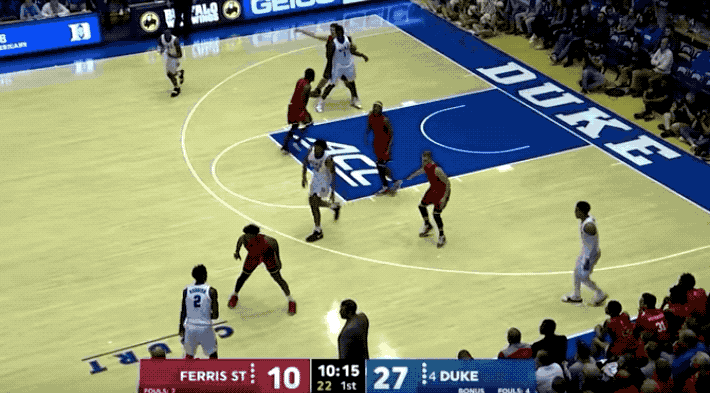 It's one thing to be able to split the court with laser passes that result directly into three-balls. That's special. However, sometimes all that's required is a quick, decisive ball rotation. From the Virginia Union game: Reddish snags Barrett's daring one-handed touch pass, and quickly rotates it to corner for an open three from Jones.
Barrett creates some offensive advantage with his tap pass; with the defense scrambling, Reddish immediately delivers a catchable ball to Jones. Bingo, bango, bongo.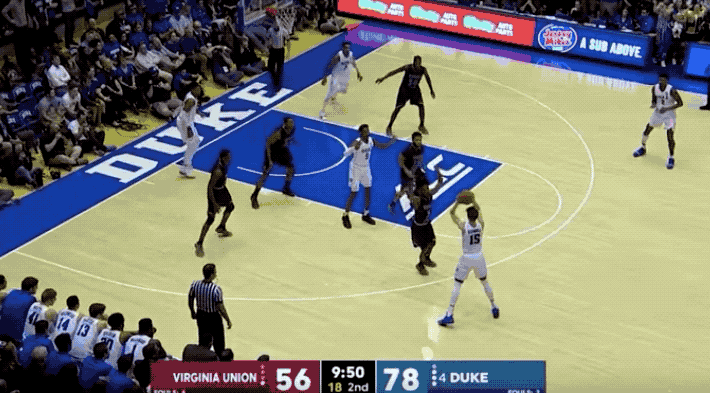 Drive & Dish
So far, so good — Reddish looks awesome finding open shooters from a set position. Well, how does he function passing on the move? Let's go back to the Ferris State game, early in the second half of Duke's blowout win. In transition, Williamson passes ahead to Reddish (get used to hearing that this season), who easily gets into the teeth of the defense, before hitting Barrett with an easy drop-off pass. That's room service.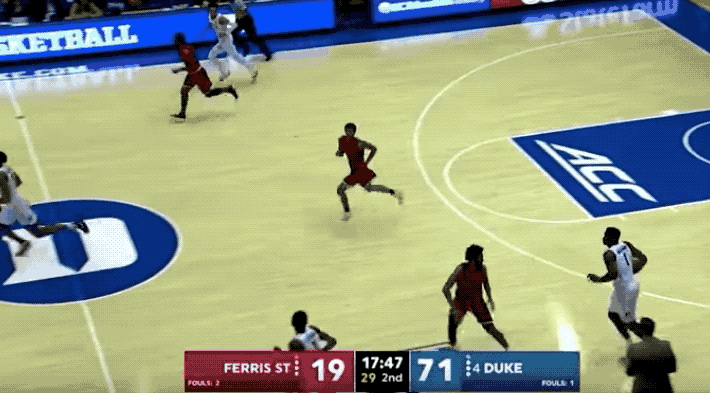 Reddish has plenty of ball-handling experience, including on the international level with USA Basketball. It's wild to think of how Duke can spread the floor with four guys that can dribble, pass, cut and shoot. Jones will be the primary caretake of the offense, but in parts of the exhibition games, Reddish brought the ball up and got Duke into its offense.
This next clip, in my opinion, is the money one, though. Williamson draws a crowd on one side of the floor and zips the ball over the Reddish on the weak side. Here's where Reddish shows off his ability to be a gifted second-side offensive player.
If left open, he can rise up and lift from deep — Reddish has excellent shooting range. Instead, he smokes the closeout, drives baseline and — playing with his head up — makes the obvious read: three-ball, corner pocket. Keep an eye on the clock, too; look how much ground Duke covers — back and forth — in about six seconds.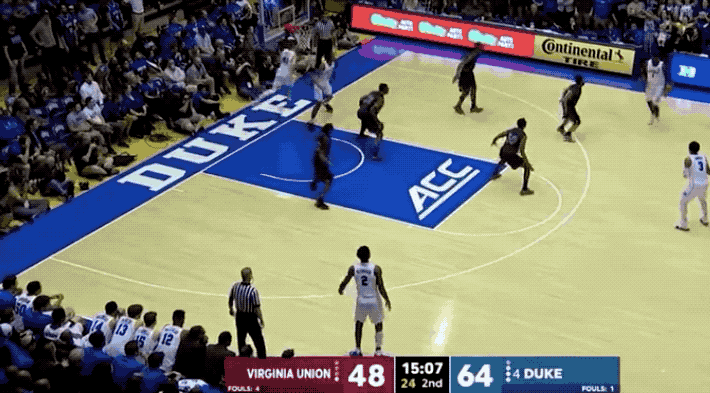 In the two preseason games, Reddish dished out 12 assists in 46 minutes of action (10.4 per 40 minutes). He plays with pace and vision, and it certainly doesn't hurt to have guys like Williamson to hit on the break.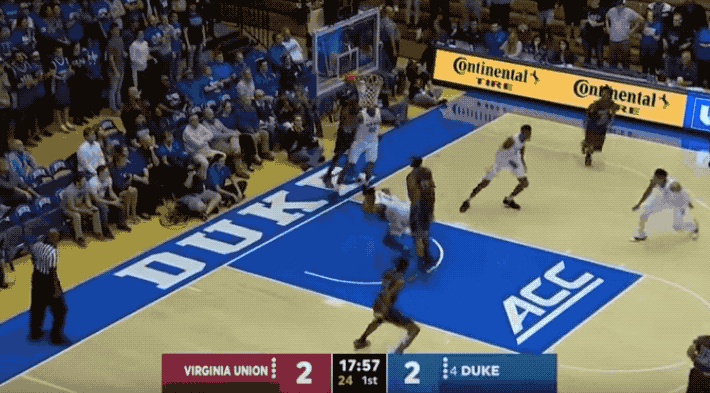 Open Floor and Over The Top
At 6-foot-7 (and a wingspan around seven feet), with handles and a jumper, Reddish can play four positions on offense. This is where Reddish's height gives him a serious advantage — he can see over the top of a lot of defenders.
On this play, Virginia Union completely forgets about Marques Bolden after the baseline inbounds from Jones. Reddish, Barrett and Williamson overload the strong side of the floor, which forces the zone to shift. Bolden gives Reddish the Randy Moss "chuck it up" gesture; one second later, he's slamming the ball home. The ball is right on the money, too.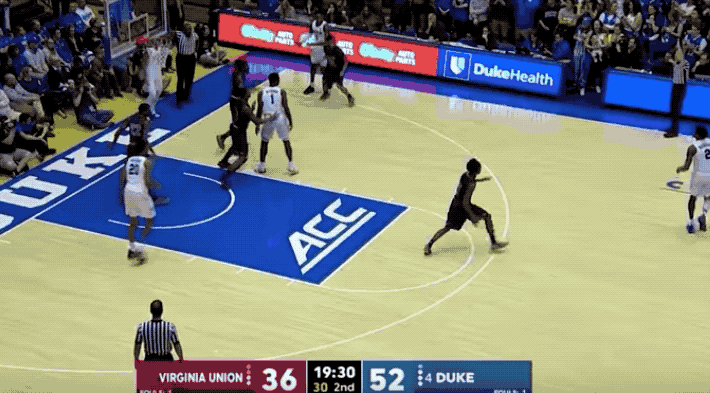 Obviously, Duke has yet to face stiff competition, but that will change soon. However, this is an encouraging start for something to monitor during the season.
In the eyes of some, each game this season for Duke will be a referendum on this class, and the draft prospects for each individual player. That's shortsighted; a lot will change between now and April — and beyond that, June. But if Reddish, Barrett, Williamson and Jones continue to flash their passing abilities, then this will be a fun bunch to watch, and those skills will be noted come draft time.
Read More on Duke Basketball
Duke, UNC both make the cut for 4-star combo guard Boogie Ellis