One of the many beautiful things about the game of basketball is how it allows players to excel in roles while refraining from boxing people in. Players aren't just cogs in a machine; they can bring their personality and style to whatever their team needs.
Duke basketball is a sustainably great program in part because year after year the Blue Devils find role players that help make the team greater than the sum of its parts. Once again, in 2018-19, that will have to be the case.
With a lineup filled with future NBA lottery picks — RJ Barrett, Zion Williamson, Cameron Reddish and Tre Jones — Duke has more than enough firepower to score lots of points and win games. Ultimately, these are the guys that will control the team's destiny.
However, they aren't alone in this endeavor; in fact, they're far from it. To achieve basketball synergy, Duke needs both old and new players to fulfill roles, too.
Those four rookie studs will have the ball in their hands plenty, which is why wings Alex O'Connell, Jack White and Joey Baker (if he doesn't redshirt) will be extremely useful if they can be efficient, low-usage shooters. Basically: Guys that don't need the ball, but can make shots.
Elsewhere on the floor: Javin DeLaurier returns for his junior season and an excellent opportunity: do the dirty work. Now, that may not sound glamorous, but it is. DeLaurier is a hard work; if he locks in this season, plenty of highlight dunks are on the horizon — along with the ability to demonstrate to scouts why he may have a pro career in his future.
Central Casting: An Athletic Forward
At 6-foot-10 and athletic, DeLaurier certainly looks the part of a modern day forward on the defensive end — versatile, able to defend multiple positions and rebound. This is DeLaurier's calling card.
We've talked about it in this space before, and if you watched Duke's exhibition tour in Canada, you saw it there, too: this is a super athletic roster with the ability to switch and trap defensively. DeLaurier, who can guard any frontcourt position in college basketball, can be a disruptive player.
While playing a little under 13 minutes per game last season, DeLaurier averaged 2.8 steals and 2.5 blocks per 100 possessions. He was one of only six ACC players (minimum 300 minutes) to have a block rate of at least four percent and a steal rate of two percent. DeLaurier was joined by some other good defenders in this distinction, too: Ray Spalding. Isaiah Wilkins and Ben Lammers.
Chat it up
The concerns for Duke on the defensive end don't center on anything physical; this roster is gifted with great talent and length. Two points of emphasis, though: rotation and communication. Both of which can be tough to nail down in a short span of time, especially with a young roster.
Depending on how and when this team decides to switch or fight through (hedge and recover or drop) on screens, constant communication will be needed to minimize cut points. DeLaurier needs to be a talker for this defense — constantly barking out movements, bumping cutters and helping clean up any possible messes at the rim.
Make sure to keep an eye on this when he shares the floor with Marques Bolden. Assuming Duke doesn't retreat to a zone, Bolden will be put through a fair share of ball screens — far from a strength of his. Can DeLaurier help plug up holes will this arises?
DeLaurier has it in him to be a good help-side defender. The more he puts this type of activity on tape, and shows the ability to switch out on smaller guards, the more of an appealing pro prospect he becomes.
(Re)boundless Energy
Mike Krzyzewski has talked about this in the preseason: Duke needs Javin DeLaurier to be an excellent rebounder. Fortunately for them, this is the one skill DeLaurier seems to already have a grasp on.
As a sophomore, DeLaurier averaged 17.5 rebounds per 100 possessions. That's a massive number. On the offensive end, DeLaurier could be an elite rebounder with more minutes.
According to KenPom: DeLaurier grabbed 15 percent of available offensive rebounds while on the floor (419 minutes) last season. In a smaller sample, that's a rate above Wendell Carter and Marvin Bagley.
These opportunities can turn into easy, efficient offense, too. According to Synergy Sports, DeLaurier's most used possession type in 2017-18 was a put-back after an offensive rebound. On those attempts: 1.14 points per possession (62.5 FG%). DeLaurier and Williamson — a pairing we will see often at the 5 and 4 — could be a serious factor in this department.
More recently: over the course of Duke's three exhibition games in Canada, DeLaurier grabbed 17 rebounds (six offensive) in 72 minutes of action — good for 9.4 per 40 minutes.
Play heads up
This is the fun part for DeLaurier: if he simply runs the floor hard and cuts with purpose along the baseline in the half-court, he will get his fair share of slams. With this kind of perimeter power around him, he will get scoring opportunities by simply running the floor and being ready for the ball.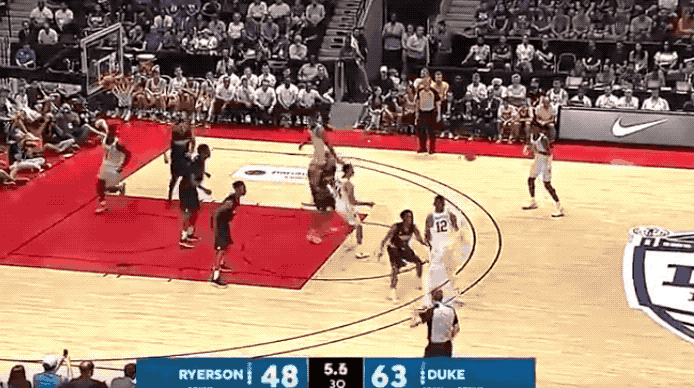 In 2017-18, DeLaurier had 16 dunks, and shot 74.5 percent at the rim, factoring in transition possessions. This is where most of his activity on that end occurs — at the hoop: 43 of his 45 field goals (95.6 percent) last season came at the rim. Of those 43 makes, 58.1 percent (25) were assisted. (Remember: he likes to score off offense rebounds.)
It remains to be seen what Duke's best lineup will be for 2018-19; will the four freshmen function better with a shooter (White, AOC), a post presence (Bolden) or an athlete/rebounder (DeLaurier). Over the course of a long season, matchups will also obviously dictate some of rotation. But DeLaurier, if he plays to his potential and his role, will help Duke do great things this year.
Read More on Duke Basketball