ACC Football media days are on the horizon; it's also the midst #WatchListSZN. This can mean only one thing: time for preseason lists, too. Settle down; we're all excited.
Here's a quick look at which pass-catchers will race up and down the sidelines and light up scoreboards in 2018.
Honorable Mention
No. 5 Dez Fitzpatrick — Louisville
It didn't take long for Fitzpatrick to emerge as a freshman playmaker for Lamar Jackson in 2017: 45 receptions, 699 yards and nine touchdowns — second most in the ACC. Fitzpatrick finished the season as the second most targeted Louisville receiver — behind only Jaylen Smith: 77 targets, which translates to a target rate of 17.3 percent and a catch rate of 58.4 percent.
Fitzpatrick emerged as a bit of an advanced metrics darling. According to Pro Football Focus, passes targeted for Fitzpatrick resulted in a quarterback rating of 126.9 — third best in the league.
In 2018, Fitzpatrick will once again get to work as one of the top second options in the nation; however, Smith and Fitzpatrick will have to function with a new quarterback.
No. 4 Ahmmon Richards — Miami
After an injury-plagued 2017 sophomore season, Richards returns as one of the top perimeter playmakers in the league. Last season, as the Hurricanes surged, Richards saw his numbers decline across the board: 55 targets (Football Study Hall), 25 catches (a catch rate of 45.5 percent), 447 yards and 8.1 yards per target.
As a freshman All-American in 2016, Richards stood out: 75 targets, 49 receptions (a catch rate of 65.3 percent), 934 yards and 12.5 yards per target.
Despite the injuries last season, Richards was still productive as a downfield threat. According to Pro Football Focus, Richards ranked second in the ACC (amongst returning players) on deep pass targets (18) with a catch rate of 46.7 percent, and seventh in yards per route run: 2.18.
If Richards can stay healthy, he has the opportunity to be the best skill position player on a stacked roster in Coral Gables.
No. 3 Jaylen Smith — Louisville
Smith is the archetypal modern big wide receiver: tall (6-foot-4), reliable on third down and a vertical pass threat.
When Lamar Jackson wasn't running for his life in 2017, he frequently looked for Smith in the pass game. Smith led the Cardinals in targets with 98 and yards per target (10.1), per Football Study Hall. In 2017, Smith was one of 11 ACC players to record at least 90 targets — only five return in 2018. He was also top five in the league in receiving yards (980) and yards per catch (16.3).
According to Pro Football Focus, Smith ranked third in the ACC, amongst returning players, in yards per route run (2.77), deep ball catch rate (30 percent) and drop rate (7.1 percent).
No. 2 Greg Dortch — Wake Forest
Say hello to your high-volume, high-efficiency pass-catching overlord: Greg Dortch. If not for a freak injury eight games into his freshman season, Dortch would've rewrote the record books in Winston-Salem. There's a very good chance, however, that he establishes himself as the ACC's premier wideout in 2018.
Dortch is a targets and catch magnet; he missed the final five games of the 2017 campaign, and still finished third on the roster in total targets: 74. He missed the final two months of the season, but Dortch was the only ACC receiver to record at least 50 receptions for 700 yards and eight touchdowns.
But wait, there's more: Dortch ranks fifth amongst returning wide receivers in drop rate (4.88 percent), No. 1 in wide receiver rating (134) and tops in yards per route run (3.9), per Pro Football Focus. He will have to adjust to life without John Wolford, but Dortch is poised for a monster 2018.
No. 1 Kelvin Harmon — NC State
When it comes to flash, it's tough to think of a more daring vertical pass-catcher in the ACC than Kelvin Harmon. By this point, we've all seen the highlights: Harmon snags one-handed passes while somersaulting through the air, with ease.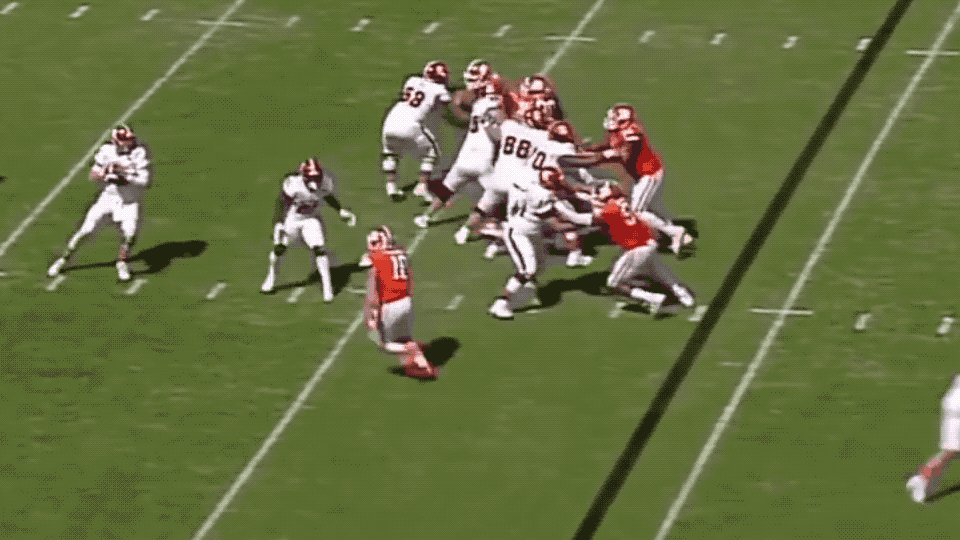 OK, fine, that's slight hyperbole; however, there's plenty of sizzle with this steak, too. Harmon, who was one of only two ACC players to eclipse the 1,000-yard receiving mark in 2017, has ridiculous body control to go with his size — 6-foot-3, nearly 215 pounds.
Teamed up with quarterback Ryan Finley, Harmon was targeted 117 times, per Football Study Hall — nearly a quarter of NC State's pass attempts. Harmon is both efficient (51.3 percent Success Rate) and explosive: 14.7 yards per catch.
Amongst returning receivers, Kelvin Harmon ranks fifth in deep ball catch rate (34.6 percent), per Pro Football Focus. His 287 deep ball receiving yards are also top amongst returning players.
Read More
A statistical look at the top receiving running backs in the ACC