Good lord, this Miami defense is good. As the Hurricanes have jumped out to a 5-1 start, there's no question what powers this team: the defense of Manny Diaz.
After losing three defensive lineman to the 2018 NFL Draft, it looked as though the strength of this unit would be an outstanding linebacker duo — Michael Pinckney and Shaq Quarterman — and a secondary that returned gobs of talent: Michael Jackson, Jaquan Johnson, Trajan Bandy and Sheldrick Redwine.
That line of thinking was certainly understandable, too: those are all good, proven players. However, through the first half-dozen games of 2018, it's clear that the front four hasn't missed a beat. In fact, this group — with the return of Gerald Willis — has been even better than the 2017 iteration.
Fantastic Front Four
Miami continues to lead the FBS in tackles for loss with 72; right behind the Hurricanes are the Tigers of Clemson (57). Led by Willis (12.5 tackles for loss), Miami is one of only two FBS teams averaging 10+ tackles for loss per game. Last season, Miami averaged 8.5 tackles for loss per game — good for No. 4 in the nation.
Up front, Miami's defensive line accounts for 39 of the team's 72 tackles for loss (6.5 per game). On offense, the Canes have allowed just 37 tackles for loss.
So think about that: Miami's defensive line, alone, has more tackles for loss than its offense has allowed. The 6.5 tackles for loss per game from the d-line are more than what seven ACC teams average.
Football Study Hall tracks a statistic called Havoc Rate, which measures the percent of plays a team or position group records a tackle for loss, forces a fumble or defenses a pass. In 2017, Miami's defensive line posted a Havoc Rate of 8.8 percent — No. 4 in the FBS. Overall, the 2017 Canes defense ranked 13th nationally in Havoc Rate: 19.8 percent.
Those are outstanding numbers; however, in 2018, Miami has risen the bar. The defensive line has a 13.9 percent — No. 1 in the FBS; overall on defense, Miami has a Havoc Rate of 28.9 percent. That's insane.
Help me help you
As Miami worked to erase a 20-point deficit in the second half in the comeback win over Florida State, it was the defense that took over. Those three second half touchdown passes N'Kosi Perry chucked were the direct result of Miami's defense catching fire and burning the building down.
The first two touchdown tosses Perry had in the second half came after Miami forced a turnover in FSU's territory. After Redwine forced a fumble, which Willis recovered, Miami took over on FSU's 20; a few plays later, Perry hit Lawrence Cager on a fade for six.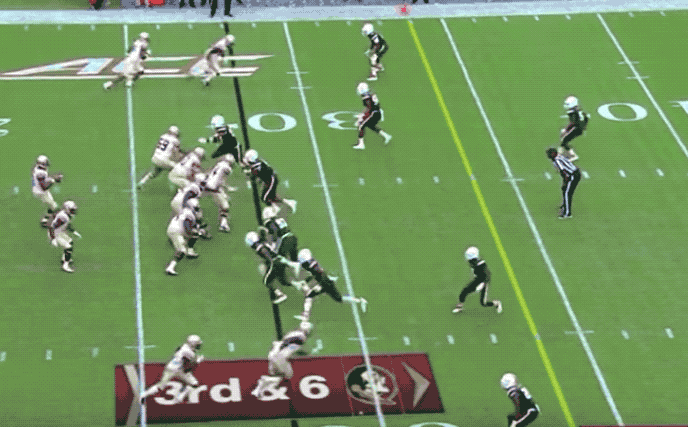 A few minutes later, Pinckney stepped in front of a screen pass and intercepted Francois, who was constantly under duress last Saturday. On the very next play, Perry snapped a 17-yard touchdown pass to a spinning Jeff Thomas. (Man, that dude is good, too.)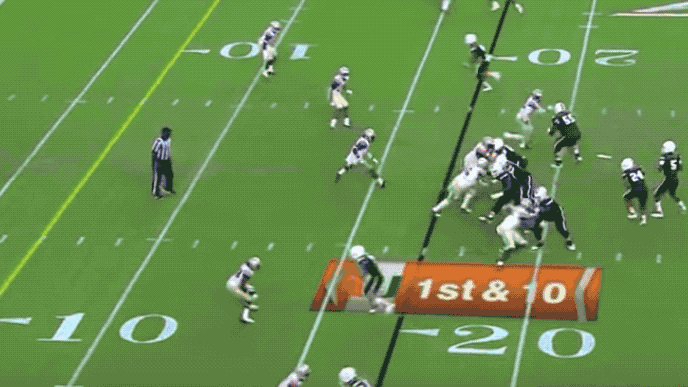 The third and final touchdown pass was another hookup between Perry and freshman tight end Brevin Jordan, who continues to perform nicely: 15 receptions and four touchdowns on 22 targets, per Football Study Hall.
For the game, Miami's offense finished with an average starting field position of the 38.8 yard line. On the season, the Canes' offense has an average starting field position of the 35.9 yard line. That's good for fifth in the FBS.
If Miami's going to run the table the rest of the way in the regular season — Football Study Hall gives them a 61 percent of better win probability in ever game — the defense has to continue setting up the offense.
Oh, but there's more: Miami Football
All of this gets back to a larger point: Miami's defense went bonkers, forced turnovers and gave its offense short fields to operate in. If that doesn't happen, FSU almost certainly wins this game. (Of course, a controversial call certainly played a key role, too.)
Success Rate is a Football Outsiders metric that tracks the percent of plays that an offense has success, which is measured by gaining 50 percent of necessary yardage on first down, 70 percent on second down, and 100 percent on third and fourth down.
With the Turnover Chain flying around and the crowd going berserk, Florida State's offense managed a Success Rate of 20 percent in the third quarter and 19 percent in the fourth quarter.
This is the dominance of Miami's defense; the Hurricanes constantly had FSU behind schedule on offense. It certainly didn't hurt that Miami recorded a season-high six sacks and 12 tackles for loss. (Stop me if you've heard this before: FSU struggled to protect Deondre Francois).
The Turnover Chain (Remix)
The Turnover Chain was a cultural phenomenon in 2017. It was the perfect combination of luck, defensive playmakers and self-promotion marketing. The Hurricanes forced 31 turnovers in 13 games — while its offense coughed it up just 18 times — a differential of 13. That resulted in a turnover margin of +1 per game, which was good for tops in the ACC and No. 5 in the FBS.
According to Football Study Hall, that turnover differential of 13 was far more than the team's expected total: 3.3.
In 2018, the Turnover Chain is back and — literally — bigger than ever before. So far this season, after six games, Miami is +5 in turnover margin — good for 14th in the FBS.
Read More on Miami Football
Dominance at the line of scrimmage continues to fuel Hurricanes