The ACC football schedule gets started early this week. On Thursday night, Miami will open up its conference schedule when it hosts North Carolina. After a narrow victory in Chapel Hill last season, Miami will look to make it two in a row over UNC, which defeated The U in 2015 and 2016.
At the top of the chart for North Carolina's defense and special teams: Find a way to stop breakout receiver Jeff Thomas.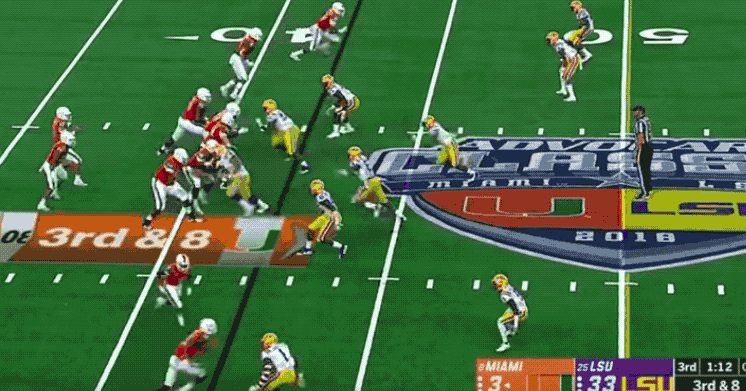 Thomas showed good chemistry with quarterback Malik Rosier, but Miami fans have to be thrilled at the thought of Thomas teaming up with N'Kosi Perry.
Big Play Threat
Thomas posted a very solid freshman season; he caught 17 balls (on 30 targets, fifth most on the team) for 374 yards (22 per catch) and two touchdowns. He also returned 32 kicks for 691 yards. As a sophomore, though, he's taken all of that up a notch — plus some.
With Ahmmon Richards again injured, Thomas has been elevated to the team's go-to receiver. According to Football Study Hall, Thomas has been targeted 19 times in the pass game (most on the roster) this season — with 12 of those being converted to catches. Thomas leads the ACC with a ridiculous 26.3 yards per reception average — up from 22 in 2017. He's done so in spectacular fashion, too.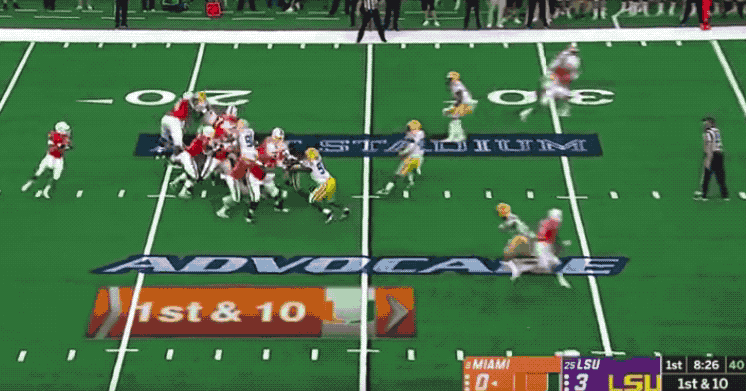 Yeah, not too shabby, huh? For the season, over half of his receptions (7) have gone for 15-plus yards, and he's been money on third down, too: five receptions for 182 yards (36.4 per catch) and four first downs. Thomas has five catches of 30-plus yards and three grabs of 40-plus yards — both of which are tops in the ACC.
North Carolina's Defense: Up to the task?
After an impromptu bye week due to Hurricane Florence, which allowed UNC to avoid Central Florida, the Tar Heels had a nice bounce-back game on defense against Pitt. Now the Panthers won't be mistaken for the Kansas City Chiefs anytime soon, but UNC produced three sacks and got a big performance from Tomon Fox.
DE Tomon Fox had a huge game today for UNC — seven tackles, two TFLs, and one sack. He will sit vs. Miami on Thursday, but Malik Carney will be back.

— Ross Martin (@RossMartin_IC) September 22, 2018
As Ross Martin from Inside Carolina notes, Fox will sit against Miami for his suspension, due to the sale of team-issued sneakers. UNC, however, will get senior rush end Malik Carney back, which is great news. In the season opener against Cal, Carney had two of North Carolina's five sacks.
According to Football Study Hall, UNC's defense ranks 54th in the FBS is passing marginal efficiency and 39th in completion rate — opponents have completed 55.1 percent of their passes against the Heels. Those are both pretty good numbers.
Very Special Teams with Jeff Thomas
Thomas has done more than just electrify in the return game, though; he's upped his game on special teams as well. The 5-foot-10 Thomas has returned six kicks for 155 yards (25.8 yards per return) and three punts for 126 yards (42 yards per return). Thomas doesn't have enough returns to qualify, but that average would obviously lead the FBS if he did.
According to Football Study Hall, Thomas has a 66.7 percent Success Rate on his kick returns and a 100 percent Success Rate on his punt returns. Again, those are great numbers.
Currently, Thomas joins Wake Forest's Greg Dortch as the only two FBS players with at least 300 receiving yards, 100 kickoff return yards and 100 punt return yards.
A positive for UNC: the Tar Heels have a kickoff efficiency of 92.9 percent, which ranks 22nd nationally, per Football Study Hall. This means that basically 93 percent of North Carolin's kickoffs this season have produced a net of at least 40 yards. That's solid work from Freeman Jones, who has five touchback on 14 kickoffs so far this season.
Read More on Miami Football
ACC Power Rankings: Miami up to No. 2, UNC tries to get out of last place