After weeks — if not months — of eligibility limbo, freshman guard Braxton Beverly was declared ready to play by the NCAA a few hours before NC State hosted Bryant, back on Nov. 14. If Kevin Keatts and the Wolfpack make the NCAA Tournament in 2018, this will likely be one of the season's notable leverage moments.
Check Beverly's season-long stat line, and you likely won't be blown away. No coach will ever complain about 10.1 points and 4.1 assists; however, the shooting slash numbers aren't exactly Steph Curry-like: 36.8 percent from the floor, 39.2 percent on two-point attempts.
Go a little bit deeper, though, and you can see how much value Braxton Beverly has provided the Wolfpack. NC State is currently on the right side of the NCAA bubble, and the freshman guard that almost didn't get to play this season is a big part of that picture.
In the win over Notre Dame on Saturday, Beverly scored 16 points (on nine field goal attempts), and handed out six assists; it was just the most recent example of Beverly helping the Pack win a key resume-building game.
Little bit of this, little bit of that
There are currently just six players in the ACC that have attempted at least 100 three-pointers and have assist rates above 20 percent. Braxton Beverly has connected on 39-of-111 three-pointers this season (35.1 percent). NC State has assisted on 55.8 percent of its made field goal this season, which ranks 92nd in the nation. Beverly has helped in this department by assisting on 21 percent of his teammates' made field goals while on the floor.
The return of Markell Johnson to NC State's lineup has helped everyone on the offensive end; the Pack flows better on that side of the ball with a slash-and-kick guy like Johnson running the show. Beverly can move off the ball and float around the perimeter as a solid spot-up player and a secondary creator.
According to Synergy Sports, Beverly is shooting 34 percent — with an effective field goal rate of 51.2 percent — on catch-and-shoot attempts: 1.02 points per possession. In total, the rookie guard has scored 87 points on catch-and-shoots — tied for 20th in the ACC with Boston College star Jerome Robinson.
Beverly has a solid offensive rating of 113.4 points per 100 possessions, per KenPom, and a big part of that is because he plays to his strengths. Shoot threes, try to avoid turnovers and hit free throws when you get to the line — 86 percent.
Synergy, In Motion
Kevin Keatts has even found some creative ways to utilize Braxton Beverly's shooting, including this set from the win at North Carolina.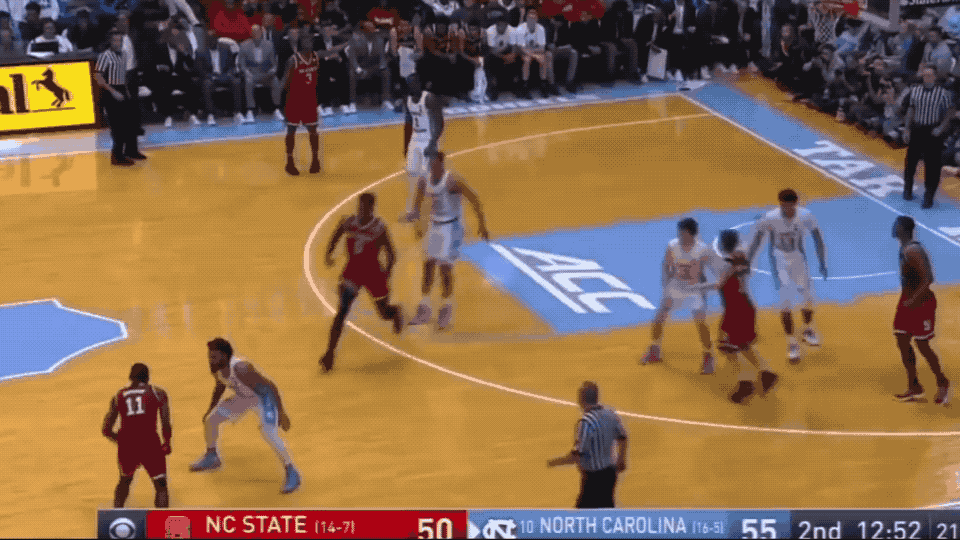 NC State isn't the only team that will run this type of action — stack pick-and-roll with a back screen for the roller.
This, however, is a nice way for the Pack to play to the individual strengths of both halves of their double point guard lineup: spread pick-and-roll distribution for Johnson, and a spot-up look for Beverly. 60 percent of Beverly's field goal attempts have come from beyond the arc, and that rate has increased slightly in ACC play: 62.2 percent.
Read More