In the win Monday night over No. 25 Miami, Gary Trent became the third Duke player this season to score 30-plus points in a game this season. The freshman hit 30 in an efficient fashion, too: only 14 field goal attempts. According to Sports Reference, there have been just 56 30-point games on fewer than 15 field goal attempts this season.
The Blue Devils play with great tempo on offense; the nation's No. 2 offense loves to get out and run, and Trent has emerged as one of the league's top transition scorers.
However, the 6-foot-6 wing gets the job done in the half-court, too, which was on display in recent outings against Wake Forest and Miami.
According to Synergy Sports, Trent is shooting 47.8 percent — 58.7 effective field goal percentage — and scoring 1.23 points per possession off screens this season. Amongst ACC players with at least 20 off-screen possessions, Trent ranks third in efficiency — behind only Devon Hall and Joel Berry.
That precise shooting — matched with a low turnover rate (8.4 percent) — makes Trent a wildly efficient scorer. Trent ranks 38th nationally in individual offensive rating, per KenPom.
Over the last eight games for Duke, Trent has really elevated his game: 17.6 points, 52.6 percent shooting on three-points (over seven attempts per game). And while Trent lit the Deacons up thanks to some comically lax defensive coverage, he was blistering against better defensive pressure from the Hurricanes.
The Curl
During his breakout sophomore season in 2016-17, Luke Kennard scored in a variety of ways. However, one his favorite actions was a curl cut — frequently after some dribble handoff (DHO) action with Amile Jefferson. That play was borderline unstoppable for Duke last season.
Trent hasn't developed DHO chemistry with Marvin Bagley or Wendell Carter — yet. But he's already skilled at using screens, and against Miami, Trent flashed some curl cut skills
In the first half, Trevon Duval enters the ball to Grayson Allen on the wing. Over on the weak-side of the floor, Bagley sets a pindown screen for Trent. Fellow freshman Lonnie Walker trails hard, so instead of lift above the arc for a three, Trent curls to the teeth of the lane — now he has Walker pinned on his hip. Trent takes a two-handed power dribble and gets right to his spot, where he lifts for two.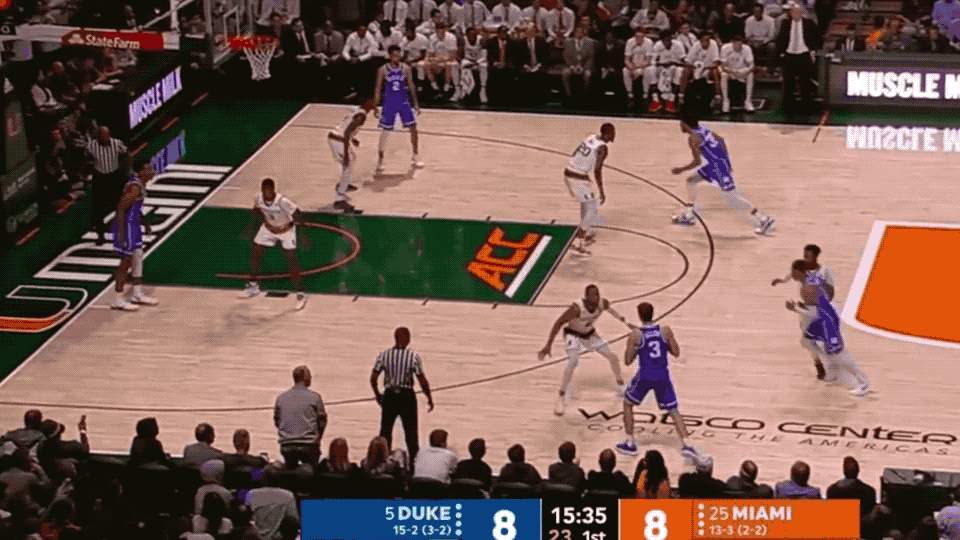 The Corner Flare
It probably doesn't hurt to have a father that played in the NBA, but Gary Trent is already advanced in the ways he moves without that ball. This makes him an especially appealing NBA wing prospect. Let's look at another way Trent read his screens and defender.
With Duke yet again scrambling to comeback in the second half, Trent runs off a baseline screen from Carter. His defender, Ja'Quan Newton, makes a mistake. Newton cheats, and tries to shoot the gap and get on top of Carter's screen.
Trent notices this, and counters by fading to the corner. Duval throws a laser of a chest pass, and now Newton is stuck in no man's land — unable to steal the pass or properly contest Trent. That's really smart movement without the ball from Trent.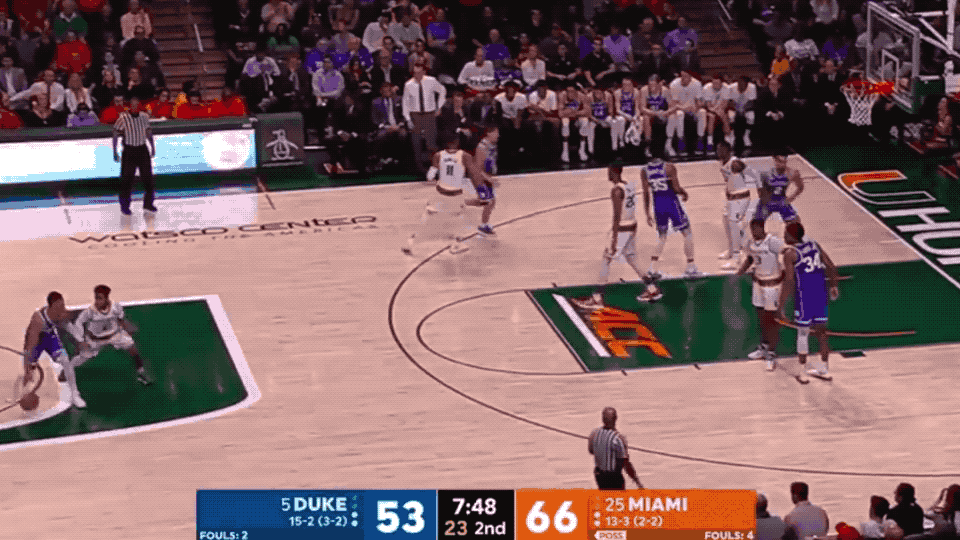 After a sluggish November, Trent is now shooting 41.4 percent from downtown. He's dangerous of the catch, too. According to Synergy, Trent is scoring 1.05 points per possession (52.6 effective field goal percentage) on catch-and-shoots.
The Dagger
Finally, let's take a look at the play that Duke called to put Miami away. With a three-point lead and 1:20 left in the game, Duval dribbles high off a screen from Bagley, which gets his defender, Dewan Huell, pulled away from the middle. After that, Trent sets a flex screen on the baseline for Carter; Duval could feed the 6-foot-9 Carter on the block. That's not what he's looking for, though: this is screen-the-screener action.
As soon as Trent finishes his screen, he zips up the middle of the lane off a pindown from Bagley, and is wide open to receive a pass from Duval. Walker has to hang back to help on Carter on the block, which puts him at a disadvantage now. That's why this action, which UNC loved to run with Justin Jackson, is so dangerous. Look at where Walker is when Trent catches the basketball.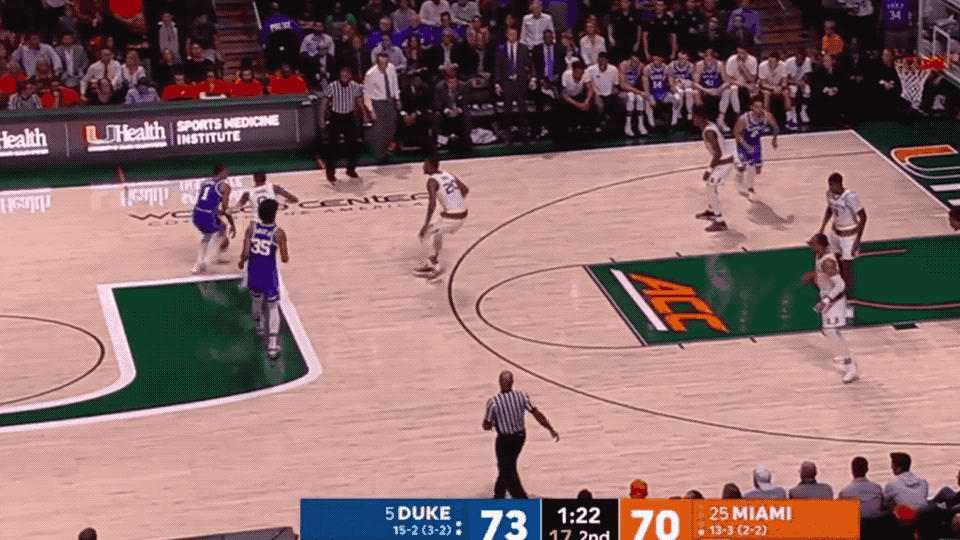 Bottoms.
With Grayson Allen in a mini slump, Trent's range shooting and cutting have been critical for Duke. Once Allen snaps back to his usual self on offense, the Blue Devils could look even scarier on offense with two of the most dynamic wings in college basketball.
Read More
Can't stop what you can't get to: Duke continues to dominate above the rim