It's no secret that the strength of Duke basketball on the offensive end of the floor is the team's post play. Watch the team play, check out the stats, debate with friends or family; all signs point to this team being carried by two freshmen post studs: Marvin Bagley and Wendell Carter.
The air up there
Duke's transition offense has excelled so far this season; Grayson Allen is playing magnificently as a senior.
However, Bagley and Carter power this team. Duke basketball continues to lead the nation in offensive rebounding rate, per KenPom: grabbing 43 percent of their own misses. Bagley and Carter both post individual offensive rebounding rates north of 14 percent; both rank inside the top 50 nationally in that metric, too.
Bagley is perhaps the best second-jumper in all of college basketball; Carter is a skilled low-post brute. Together, they turn these possessions into instant offense. According to Synergy Sports, those two have combined to shoot 49-of-67 (73.1 percent) on put-back attempts after an offensive rebound.
The Blue Devils use 10 percent of their possessions via a put-back — the highest rate in the ACC. In the win over Florida State, Duke recorded 16 put-back possessions; nine of those came from Bagley, while Carter accounted for another five.
Duke has scored 161 points on 130 put-back possessions — both of which are also tops in the conference, per Synergy. Carter and Bagley account for 113 of those points. Over 70 percent of Duke's put-back points come from two players.
Currently, only 11 Division I players average at least 12 points per game, shoot above 60 percent and have offensive rebounding rate of at least 14 percent. Two of those players wear Duke uniforms; what a tremendous advantage for this season
The B2B Business of Duke Basketball
Marvin Bagley and Wendell Carter aren't exactly Draymond Green or Blake Griffin (yet) when it comes to passing from the post; however, both players are capable and willing passers.
It's especially fun, though, when one of the bigs helps facilitate for the other. For example: take a look at this clever move from Carter on a baseline inbounds play, early in the game against Florida State.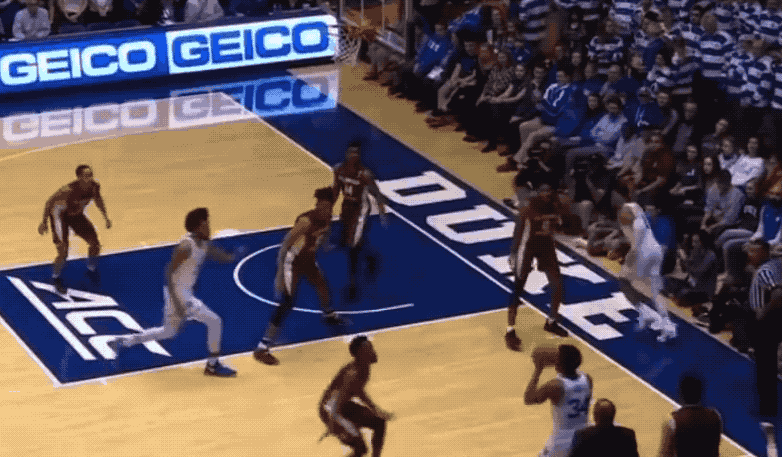 On non-post-up attempts around the basket, Bagley is shooting 74.7 percent and scoring 1.53 points per possession — No. 3 in the ACC. According to Synergy: Bagley's 133 total point on non-post-ups at the rim ranks third highest in the nation.
Now, how about when the slipper is on the other foot? Bagley has managed to find Carter for high-percentage looks, too. This is an absolutely exquisite dish from Bagley on a short roll in the win at Indiana.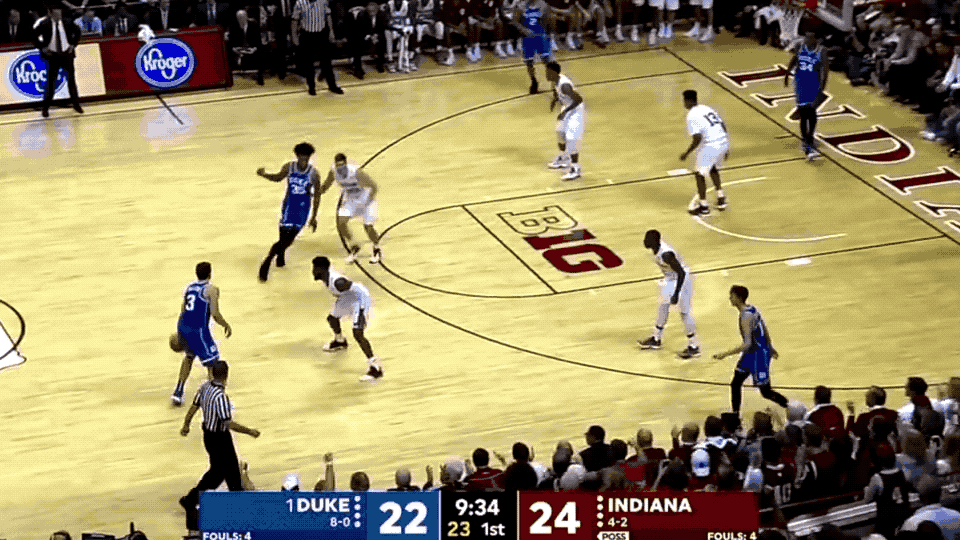 The timing and footwork on this is tremendous; Bagley does well to avoid barreling through with a charge. He's just a freshman, but Carter has excellent footwork along the baseline — on both ends of the floor. Here, he hangs in the dunker spot around the basket, and does a nice job going reverse to shield the defenders.
Carter has shot 67.2 percent on non-post-up looks at the basket (1.42 points per possession), according to Synergy.
Behind the strengths of Bagley and Carter — the ability to finish in traffic, the passing — Duke has built an offense that ranks No. 1 in the nation in offensive efficiency on cut plays. Duke has scored 1.48 points per possession on cuts.
Bagley is near perfect on attempts that follow a basket cut, per Synergy: 20-of-23 (87 percent), 1.83 points per possession.
Read More
ACC announces basketball players of the week: Ty Jerome and Marvin Bagley