Only one player for North Carolina currently ranks inside the top 20 in the ACC in scoring: junior Justin Jackson.
Alas, the Tar Heels feature a balanced attack on offense — with seven players who average at least six points per game, four of those in double figures. Jackson isn't Joel Berry; he's not this offense's best or most important player. However, he's really good, and he's rounding into the wing scorer many believed him to be capable of becoming when he first arrived in Chapel Hill.
While Jackson has shot the ball well all season (career-best true shooting rate of 60.4 percent), he's been especially strong in UNC's last three games: 18.7 points, 6.7 rebounds, 2.7 assists and 47.8 percent shooting clip on three-pointers. This includes his performance Wednesday evening against Davidson in Chapel Hill, when he went 7-of-13 from beyond the arc and collected 27 points — which tied a career high from earlier this season in a win over Tulane.
Here's a look at Jackson's shooting display, courtesy of ESPN.com. The filled-in circles represent makes, and as you can see, Jackson focused on the two money areas: at the rim and beyond the arc. Only one attempt came from the midrange area on the floor.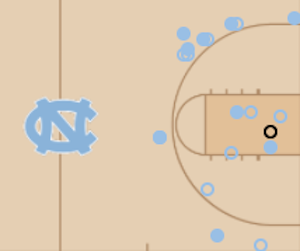 According to Sports-Reference.com, Jackson posted an offensive rating of 120 points per 100 possessions in North Carolina's ninth win of the season.
Most of Jackson's threes are of the catch-and-shoot variety, and his prowess was on display versus the Wildcats. Jackson had a couple catch-and-shoots at the end of the shot clock or after a loose-ball scramble. UNC also ran him off some stacked, staggered screens, which were effective and, in turn, opened up other players on the floor.
With a little over eight minutes remaining in the game, Carolina had Kenny Williams set a baseline flex screen for Jackson. Davidson, recognizing the hot hand, switches on the pick so it can keep a body on the junior. However, UNC runs another action off of this: Williams darts up and around a double screen from Kennedy Meeks and Isaiah Hicks for a clean look from deep, which he buried.
The Tar Heels were without Berry on Wednesday. When their star guard is out of the lineup, it becomes much more challenging to unlock a defense — dribble penetration isn't nearly as easy. It's wise, then, to leverage Jackson's shooting as a way to bend defenses, then reverse the ball back for open jumpers or other secondary action.
The Texan is shooting threes more than ever before — nearly 46 percent of his field-goal attempts have come from beyond the arc. Jackson favors shooting from the left wing — demonstrated by Adrian Atkinson at the wonderful Secondary Break. Let's look to see if UNC continues to run Jackson into his prime spots.
Following the win over Davidson, Andrew Carter from the News & Observer asked Roy Williams how Jackson improved his outside touch. Williams responded: "I have no idea." Perhaps it doesn't matter how Jackson and UNC got to this new place. As long as Jackson keeps taking and making three-pointers, the Tar Heels will remain one of the most efficient offenses in America.