Lost amid the Duke hysteria, another ACC basketball team opened the 2018-19 season with a strong non-conference victory this week. Yes, it's early but the ACC is 2-0 against the SEC, thanks in part to Florida State.
FSU started the season strong with a resounding 81-60 victory over Florida. Honestly, it wasn't even that close; the Seminoles were up 34 points with under five minutes to play. Florida State put in this performance without, perhaps, its best player: stretch 4 Phil Cofer.
Let's take a quick look at a few numbers from the victory.
Outside Space
Even without Cofer healthy and active, Florida State still has some dangerous range shooters: PJ Savoy and M.J. Walker. The Seminoles splashed 11 three-pointers in this game — with seven of those coming courtesy of Savoy or Walker. According to Synergy Sports, those two combined to score 12 points on nine spot-up possessions against Florida.
After Tuesday's performance — when all seven of his field goal attempts came from beyond the arc — nearly 87 percent of Savoy's career field goal attempts (242-of-279 FGA) have been of the three-point variety. This dude knows where he's most valuable, and that's letting it fly from deep.
Savoy doesn't need to be in a standstill to lift with accuracy from deep, though. He showcased some explosion curling off this monster double screen for another three-ball.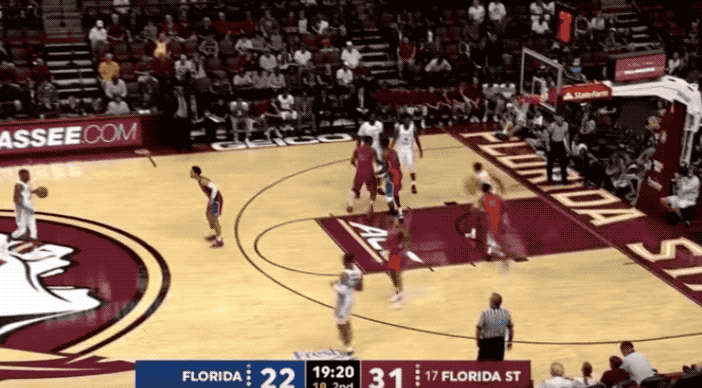 Running around screens is an excellent mode of off-ball shot creation; however, in the half court, the best way to generate  open catch-and-shoot looks from deep is off the slash-and-kick. Few guards in the ACC are better at collapsing a defense and finding shooters and cutters than Trent Forrest.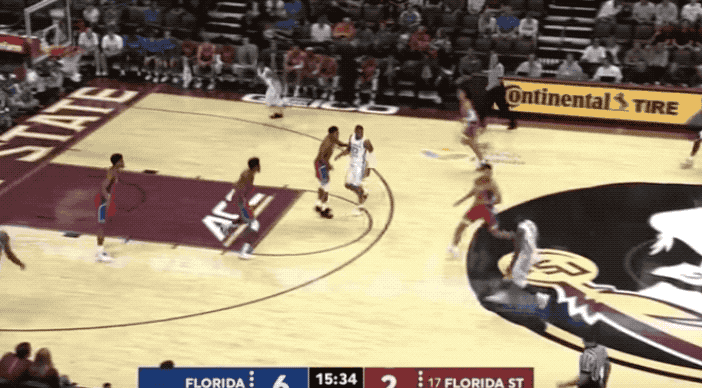 May The Forrest Be With You
Forrest is on the verge of becoming a household name in the ACC Footprint. The 6-foot-4 junior brings size, speed and smarts to the point guard position.
He was on his game against the Gators, too. Forrest (+16 in 25 minutes) handed out five assists (44 percent assist rate), scored 13 points on seven shooting possessions and was a perfect 6-of-6 from the free-throw line.
In the half court, Florida State scored 10 points on five possessions when Forrest was passer out of the pick-and-roll, per Synergy. (Remember: slash and kick.) This isn't exactly disciplined ball-screen defense from Florida, but this is still a nice find from Forrest — hitting Walker, spaced out in the weak-side corner.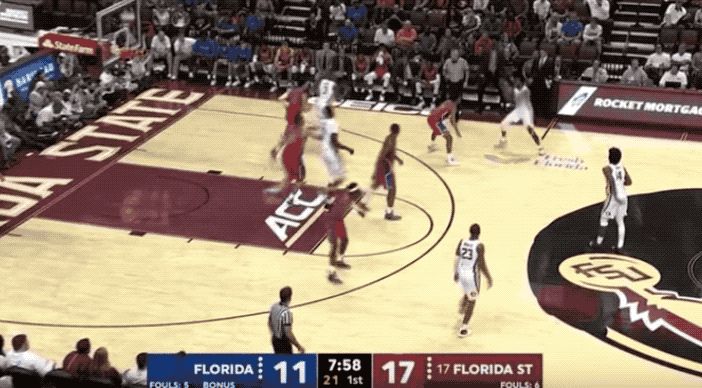 Once Cofer returns, this type of action will be brutal for opponents to defend. There just isn't really a good option to help off of.
FSU basketball, of course wants to get out an run; that's a huge part of this program. With all of the athletes this team has along the perimeter, that should be no challenge this season. Forrest and Terance Mann, one of the top slashing finishers in the country, will lead that charge.
Look at this help defense and quick-twitchy reaction from Forrest — wow.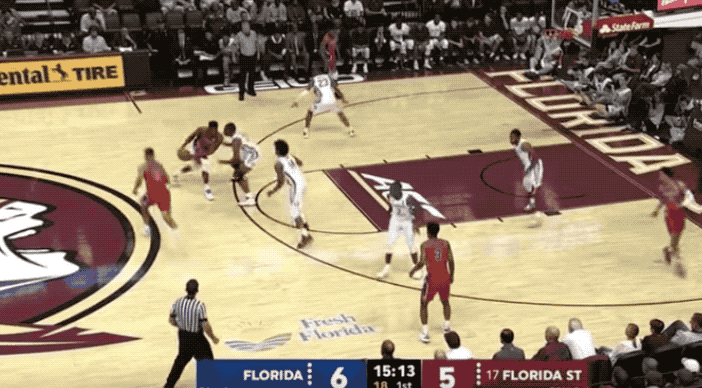 In the 2017-18 season, Mann scored 1.25 points per possession (70.3 eFG%) in transition, according to Synergy.
The Mannimal
See, it's puns like this one above that pay me the big bucks as a fancy sportswriter. Wait, where were we? Oh, that's right: Terance Mann. Man, he's really freaking good.
Mann (+24 in 27 minutes) slapped up nine points and nine rebounds (three offensive) in the win over Florida. According to Synergy, he scored 1.75 points per possession out pick-and-roll in the win, too.
The Best Things In Life
Overall, Florida State scored 64 of its 81 points in the half court — 1.03 points per possession. A big part of that success: FSU's ability to get to the charity stripe.
Florida State attempted 34 free throws in this game — to 48 total field goal attempts. That translates into a free throw attempt rate of 70.8 percent, currently fifth best in the nation, per KenPom. (Sound the Small Sample Size Alarm while you're at it.)
Dating back to the 2010-11 season, this game was the 49th time FSU has attempted at least 30 free throws in a game that ended in regulation.
Read More on ACC Basketball