UNC Basketball coach Roy Williams has the good fortune of leading a roster that has plenty of experience. The Tar Heels hit the ground running this season with a nice mix returning scoring, three-point shooting and defense.
However, there's some newness here, too; this isn't exactly the same cast of characters. Joel Berry and Theo Pinson are gone, and North Carolina must adjust. For the past two seasons, those two guys have been the engine room of North Carolina's half-court offense — creating shots for themselves and others.
A big portion of last season's top-10 offense was Pinson's ability to facilitate and ignite offense from the elbow. It was a simple process: give Theo the ball, run cutters and shooters off him, let him survey the defense and make the right read. When UNC went small — and Pinson was surrounded with four really good spot-up shooters — this was a serious challenge to defend.
Coby White has worlds of potential, and he's been given the keys to the offense. It's his show to run. Next to White, though, a new player emerged as a playmaker in the season-opener against Wofford: Kenny Williams.
New Ground?
Over the course of the past three seasons, Williams has grown into one of the best catch-and-shoot floor spacers in the ACC. In the 2017-18 season, Williams splashed 72 three-pointers (40.2 3P%) and scored 1.15 points per spot-up possession (58.2 eFG%), according to Synergy Sports.
That was the main task for Williams: space the floor and move the ball. As a sophomore and junior, Williams played in 63 games and posted a low usage rate of 14.9 percent (57.3 eFG%). It's early, and the sample couldn't be smaller, but there appears to have been an adjustment in this regard.
With a bit of a playmaking void, Williams stepped up on the road against Wofford. It's not just the five assists (23.8 percent assist rate) — one off from tying a career high, though. It's the type of shots Williams helped generate with his dribble and vision that's notable.
In the win over Wofford, UNC scored 1.27 points per possession (72.7 eFG%) on half-court spot-up looks and 1.22 points per possession on finishes at the rim, according to Synergy. Those are both great numbers, and Williams played a key role.
Helping Hand
Let's look at the tape from two nights ago, yeah? Early in the first half, Williams has the ball on the left side of the floor in a four-out look, and gets a ball screen from Luke Maye. Wofford big man Cameron Jackson, Maye's defender, hedges hard, which forces Williams away from the basket. With Cameron Johnson in the post for UNC, Maye floats out to the open spot — and after a little chip/flare screen from Seventh Woods — Williams hits him for the triple.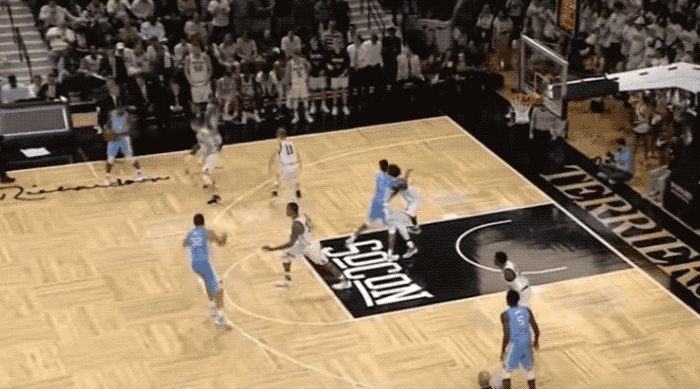 Maye went 2-of-5 on three-point attempts in the opener — with both makes assisted on by Williams. here's the second. Again, Williams has the ball in a four-out look on the left side of the floor. After attempting to post, Maye drifts out to set a ball screen on Fletcher Magee.
With Williams up against the sideline, Wofford elects to trap him. That's maybe not the wisest idea; Williams isn't going to pull a Dame Lillard and lift off the bounce from deep. Maye pops out and it's a really easy bounce pass for Williams.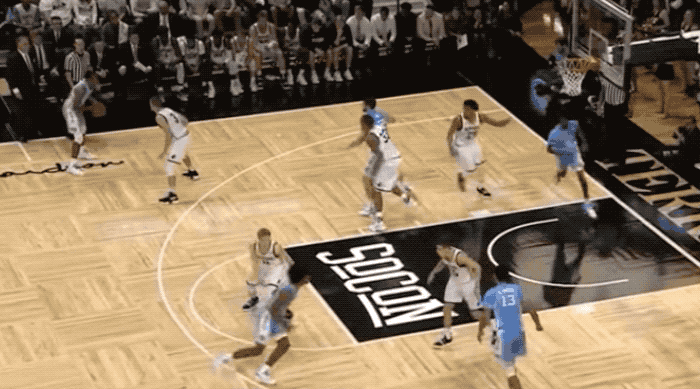 Look Ma, no dribble
This look is a little bit different. Later in the first half, Williams comes off a double staggered screen on the weak side of the floor; Nassir Little hits him with the pass. Williams could curl in — a favorite action of his — and look for his own shot, but Jackson steps in off the screen, which produces a numbers advantage.
There's now one defender — the 6-foot-1 Ryan Larson — left to stop Garrison Brooks or Coby White. Larson stunts down and, in fact, it's White who's open on the wing. However, Williams goes to Brook (9-of-14 FGA at the rim in this game, 64.3 FG%) who catches the ball over Larson and then bulldozes through a recovering Jackson.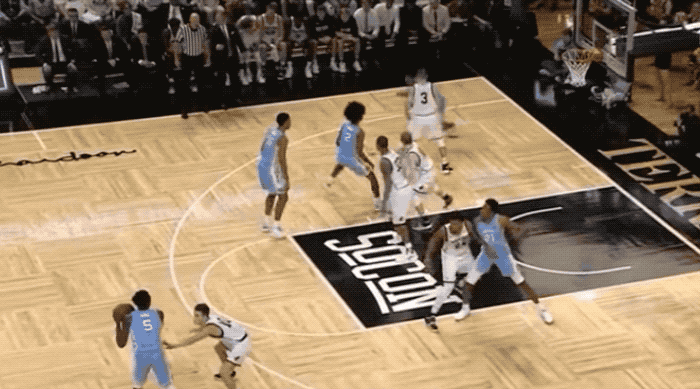 Back To Basics: UNC Basketball
In the opener, Williams helped get his teammates open with more than just passes, though. The Tar Heels, repeatedly, used back screen action from Williams in the mid-post to create confusion and good looks on the block. This is more of what we've seen from Williams the past three seasons.
The timing on this play is excellent, too. Brooks runs a handoff to Woods, and as that sets up, Williams slides in from the strong-side wing to set a back screen on Jackson and lift up (Spain action).
Williams is good shooter, so defenders don't want to just leave him alone; that would be a risk. UNC can take advantage of that gravity with off-ball screen action.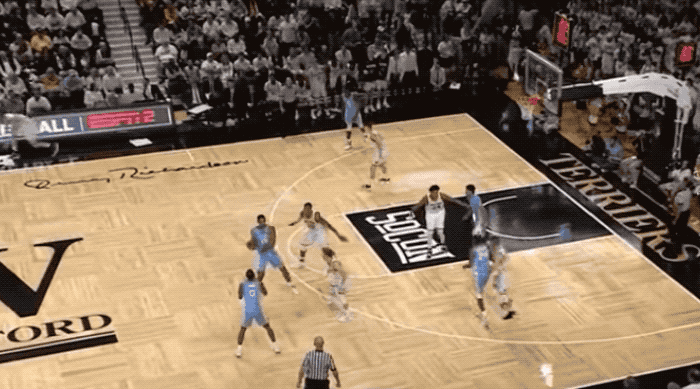 Strengths
Ultimately, it will be up to White, Woods and Little — primarily — to do most of the shot creation for the Tar Heels. No one will confuse Williams with Chris Paul or Kyle Lowry in terms of playmaking. He's not going to dribble seven times, breakdown a defense and find a shooter; however, if he can function as a point of connection and work the pick-and-pop game with Maye, that's a big boon for North Carolina's offense.
Read More on UNC Basketball
North Carolina, Duke make the cut for 4-star guard Boogie Ellis