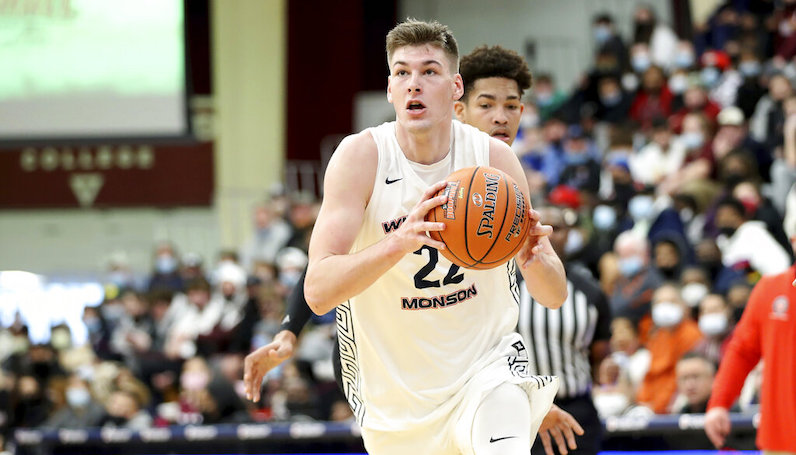 Kyle Filipowski, Duke
The prospect pitch for Kyle Filipowski is one that fits into the modern game: he's a skilled, tall (6-foot-11) frontcourt passer who can facilitate, initiate high-post actions, make reads as a passer and stretch the floor with his pick-and-pop shooting.
From the Nike Hoop Summit: Here's Filipowski with some easy initiation from the elbow, which results in a 3 for Cam Whitmore.
Earlier this offseason, Duke landed a transfer from Northwestern: veteran center Ryan Young. During his time with the Wildcats, Young frequently worked as a frontcourt hub on offense, when Northwestern would run Princeton/point series sets.
After Young's commitment, I took a look at some of the ways Duke has featured various high-post passing types in recent years. Filipowski and Young could serve as facsimiles for one another on the roster, depending on Jon Scheyer's preferred mix on offense.
It'll also be interesting to see how Duke's frontcourt rotation melds together. Dereck Lively and Young are true 5s, and Lively is set to play a lot of minutes as the defensive anchor. Filipowski projects to start along Lively — as the de facto 4-man. The arrival of Illinois transfer Jacob Grandison adds some versatility to the mix; he's a proven stretch-forward, who can play the 3 or 4. Harvard transfer Kale Catchings brings flexibility to the rotation as another hybrid forward.
Freshman forward Mark Mitchell provides a big-time dose of wingy athleticism; he can guard multiple positions and rebound the hell out of the ball. Mitchell is another talent that can hold down both forward spots.
Regardless, Filipowski will see a lot of minutes with another true big man on the floor: Lively or Young. However, Duke may also roll with hybrid starter/bench lineups that feature Filipowski at the 5, along with four guards/wings. Those lineups will allow the Blue Devils to open things up and space the floor around Filipowski and his passing.
---