Its initial release was delayed due to a preseason injury suffered by Cameron Johnson. However, North Carolina basketball is embracing pace-and-space on offense with a lineup that presents a variety of challenges. With a healthy Johnson in the lineup, UNC can deploy a five-man unit that offers only a few hiding places for opposing defenses.
Joel Berry, Kenny Williams, Cameron Johnson, Theo Pinson and Luke Maye are the five Tar Heels that comprise this lineup. The fantastic Adrian Atkinson has coined this group as North Carolina's Death Lineup, a tip of the cap to the transcendent Golden State Warriors.
Roy Williams has yet to use the lineup in heavy minutes this season, so far — choosing to primarily play with two traditional bigs. This allows UNC to utilize the lineup in leverage situations at the end of halves.
After the narrow win over Wake Forest on Saturday (Dec. 30), Williams wasn't pleased with his team's effort; however, the Death Lineup results are promising.
Updated Death Lineup stats through 3 games (and 16.6 minutes):

32 offensive possessions, 54 points (1.69 PPP), 0 turnovers

— Adrian Atkinson (@FreeportKid) December 30, 2017
Williams went to the lineup for the first time against Wake Forest with 2:28 left in the first half. What followed should inspire more confidence in the utility of this five-man group. UNC went on an immediate 11-3 run to closeout the half; the Tar Heels scored on all five offensive possession over this stretch.
Let's run through a couple ways this lineup puts a ridiculous amount of pressure on opposing defenses.
Slice and Dice
In this first clip, Luke Maye is stationed at the top of the key, near the three-point line. Theo Pinson cuts across to the strong-side of the floor, where Joel Berry dribbles the ball, off Maye's screen. Kenny Williams quickly follows Pinson, and cuts toward a screen from Maye.
However, instead of cutting all the way though, Williams catches the pass, one dribbles and curls hard to the basket — something we've seen him do this season. Wake's Terrence Thompson guards Maye, and doesn't sink low enough to prevent the curl from Williams; Mitchell Wilbekin, defending Williams, is a step behind the play, too, due to Maye's screen.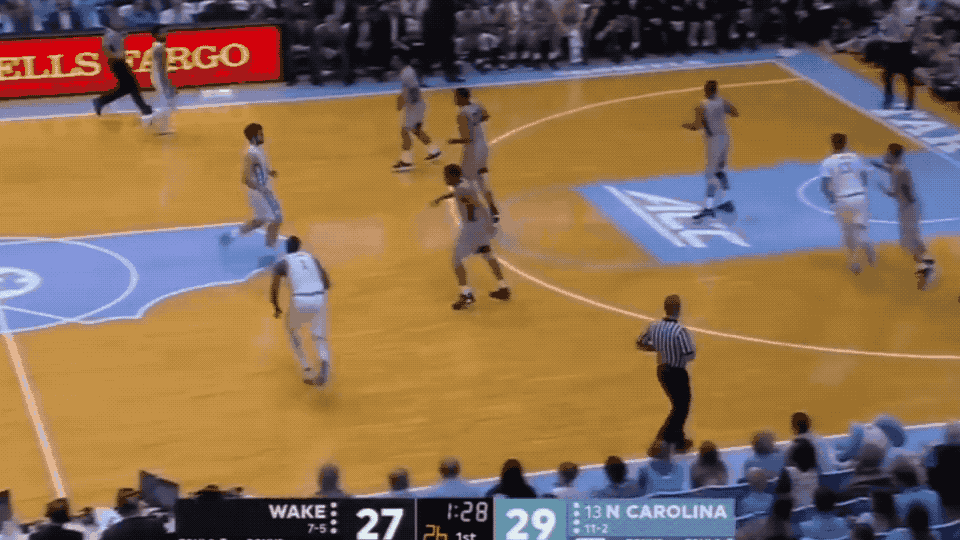 This is great player movement. Williams cruises in for a lefty layup. If you're Wake, you maybe wouldn't mind having Keyshawn Woods stunt down from the corner, even though it can be risky to offer help from the strong corner. If he does this, Williams has an easy pass to Johnson for a possible corner three.
Plus, on the weak side, look how open Maye is on the rim run. This wouldn't be an easy pass for Williams, but if he can get it there, no one is home to stop Maye at the hoop. UNC has option on this play.
Embrace the chaos
That was clearly on orchestrated set play for this lineup; however, part what makes Pinson such a special player is his ability to create for others when nothing else is happening on the floor. Championship-level teams need these types of players. To get it from a guy that can credibly guard four positions, though, is rare.
In the next clip, which takes place on UNC's next possessions, the offense has stalled out with around 12 second left on the shot clock. There's no panic from Pinson, however.
With the floor spread — thanks to Berry, Johnson and Williams (three excellent three-point shooters) — Pinson drives to the basket. If help comes from either direction, the crafty senior (23.3 percent assist rate) knows where to go with the ball — that teammate will be open. In this instance: it's Maye for the easy deuce.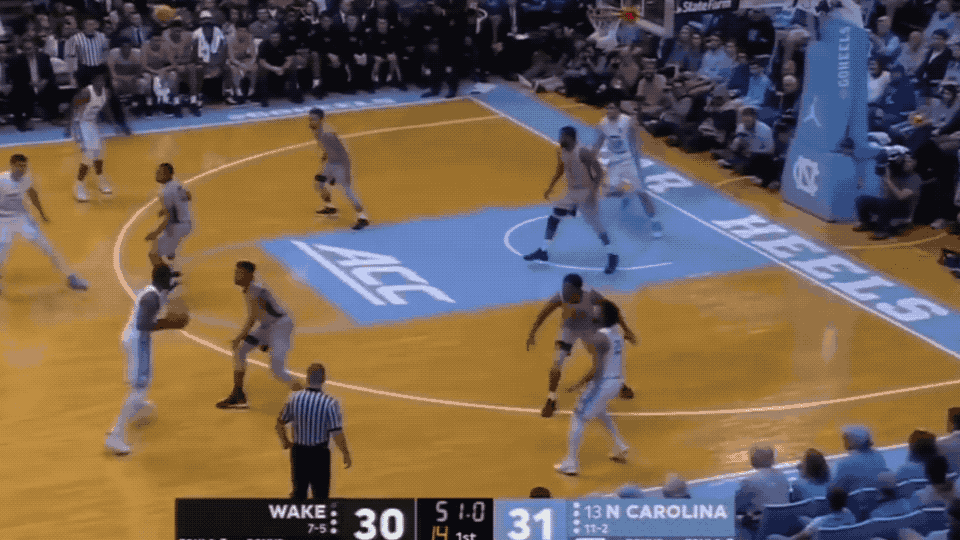 Closing Time
With UNC trailing by two points around the three-minute-mark of the second half, Williams deployed this small-ball five for crunch time duty. The Tar Heels closed the game on an 8-2 run; a Bryant Crawford layup accounted for Wake Forest's lone field goal of this stretch, and UNC came away victorious.
Two of those eight points came on another Maye layup after another find from Pinson.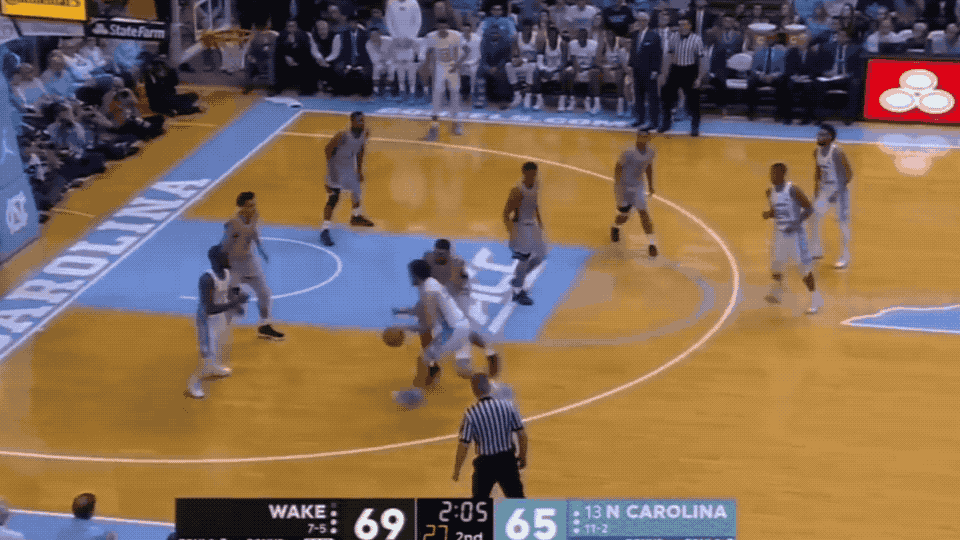 This sort of two-man action has room to work because Berry, Williams and Johnson are all dangerous catch-and-shoot options.
According to Synergy Sports, Williams is shooting 51.4 percent (68.6 effective field goal rate) on spot-up attempts — scoring 1.35 points per possession (No. 6 in the ACC). Last season at Pitt, Johnson recorded 159 catch-and-shoot attempts: 1.2 points per possession, 60.1 percent effective shooting. Joel Berry (207 career three-pointers) is one of the most prolific outside shooters in program history. Basically, leave one of those guys open, and it's about a 40 percent chance a three-ball is about to get rained on you
Doral Moore continues to be a menace at the rim for Wake Forest — on both ends of the floor. It was no different Saturday (five blocks); however, keep an eye on this clever share from Pinson.
He gets all the way to the other side of the lane. This drags Moore away from the hoop, and gets the 7-footer up in the air. That's the perfect time for Pinson to hit Maye, and he doesn't miss his mark.
Read More