North Carolina is the reigning champion of college basketball. In a just or sane world, the next year would be spent as victory lap. But in the current athletics landscape, that mentality doesn't exist. UNC basketball will look to repeat in 2018.
As we've discussed in this space before, the absence of Justin Jackson — now with the Sacramento Kings — creates a crater in North Carolina's offense. Jackson was a spot-up bomber for the Tar Heels in 2016-17; he was just the second ACC player since Kyle Singler in 2009-10 to use at least 200 catch-and-shoot possessions, per Synergy Sports.
According to KenPom, Jackson used roughly 24 percent of UNC's possessions when on the floor — No. 1 on the roster. Fortunately for Roy Williams, his team returns plenty of firepower. Joel Berry is one of the best guards in America; Theo Pinson is a two-way demon; Cameron Johnson and a healthy Kenny Williams are spacing agents that should help replace the sweet-shooting Jackson.
You will notice a trend with those players, though: they are all guards or wings. Luke Maye, an interesting pick-and-pop threat in 2017-18, is the only notable post player. Maye, however, is best served looking for jump shots, not paint touches.
What will the Tar Heels do without an obvious interior scoring threat?
Stunt and Grunt
The last two seasons, UNC has bludgeoned opponents in the paint — on post-ups and offensive rebounds. In 2016-17, the Heels led the nation in offensive rebounding rate — 41.7 percent (they ranked No. 3 the season before). According to Synergy, North Carolina scored 1.1 points per possession on put-back attempts following an offensive rebound.
The team used 377 offensive possessions via a put-back, per Synergy — 10.6 percent of its total possessions. Both of those numbers were tops in the ACC — by a significant margin, too. The Louisville Cardinals ranked second in both categories: 250 put-back possessions (nine percent).
Not only did Kennedy Meeks, Isaiah Hicks and Tony Bradley clean up on the offensive glass; the three towers powered UNC's post game, too.
According to Synergy, 12.7 percent of North Carolina's offensive possessions were post-ups — 451 in total. That rate ranked 24th nationally, and fourth amongst Power 5 programs — Purdue, Texas A&M and Wake Forest. Led by John Collins, the Demon Deacons were the only ACC team to use a greater percentage of its possessions (14.3 percent) with post-ups.
On post-ups, North Carolina scored 0.85 points per possession and shot 47.2 percent — No. 6 in the ACC. Meeks (202), Hicks (116) and Bradley (79) combined to account for nearly 96 percent of UNC's 451 post-up possessions, too, per Synergy.
Now: Pace and Space
So, it's clear this team lost a lot of beef up front, which means the 2017-18 Tar Heel will have to pivot when it comes to offensive design.
Luke Maye should be up for a larger share of post-ups, but he used just 35 post-up possessions as a sophomore. Even if he makes a massive jump, there's still a lot of possessions up for grabs. UNC adds three freshmen frontcourt players to its roster this season, including top 150 recruit Garrison Brooks. However, most rookies aren't ready to contribute heavily as low-post hubs. Not everyone can be 2014-15 Jahlil Okafor — he was a unicorn of sorts.
To make up the difference, the Tar Heels should embrace their strengths — elite perimeter play and shooting. The time has come in Chapel Hill to let if fly from deep.
Of teams that ranked inside the top 10 of KenPom's offensive efficiency ratings last season, North Carolina was the only team with a three-point attempt rate below 35.7 percent. They were also the only team that shot under 36 percent on three-pointers. Less than 31 percent of UNC's field goal attempts were triples; as a team, the Heels shot 35.5 percent from deep.
North Carolina's dominance in the paint allowed the team to steer away from three-pointer reliance, and yet still remain wildly efficient. Last season marked the third straight year that UNC ranked inside the top 11 nationally in offensive efficiency.
Roster construction — UNC basketball
UNC should look to play small as much as possible next season; it's how this team will maximize its talent. It's also a lineup construction that Roy Williams has been reluctant to use in years past. As large portions of basketball of zigged towards small-ball in recent years, North Carolin has zagged away, and played bully ball.
However, with multipositional talents like Cameron Johnson and Theo Pinson — an elastic defender that can shut anyone down — Williams should reconsider. Think back to the 2012-13 season, when UNC ditched convention and played smaller.
For the final 13 games of that season, UNC started Reggie Bullock and P.J. Hairston at the two nominal forward spots; the Heels went 9-4 over that stretch with the only defeats coming against ACC champ Miami, Duke (twice), and Kansas.
The 2012-13 Tar Heels shot 37.2 percent on three-pointers — the best mark of the last eight seasons in Chapel Hill — and scored 110.4 points per 100 possessions, according to KenPom.
The elements
Last season: Berry, Williams, Johnson and Maye shot a combined 209-of-538 on three-pointers — 38.8 percent. That's really good; embrace it, UNC basketball.
In the table below, you can see a couple different things. One, how often each player attempted a three-pointer. For instance, 66.2 percent of Johnson's total field goal attempts came from beyond the arc. Second, the catch-and-shoot efficiency numbers detail how accurate each player was shooting off the catch last season.
| | 3PAr | 3P% | Catch-and-shoot efficiency | Catch-and-shoot eFG% |
| --- | --- | --- | --- | --- |
| Joel Berry | 53.9% | 38.3% | 1.22 | 61.1% |
| Cam Johnson | 66.2% | 41.5% | 1.20 | 60.1% |
| Kenny Williams | 57.6% | 33.8% | 1.11 | 55.4% |
| Luke Maye | 24.5% | 40.0% | 1.05 | 52.4% |
According to Synergy Sports, there were 88 Division I players in 2016-17 that attempted at least 150 catch-and-shoots. Of that group, Berry (No. 20) and Johnson (No. 24) were two of only 25 players that scored 1.2 points per possession or more.
Amongst ACC players that used at least 100 catch-and-shoot possessions, Berry and Johnson ranked seventh and ninth, respectively, in points per possession.
UNC should also look to get Johnson and Pinson involved in some of its patented pinch post action. Here's a look at that from last season at Indiana. Keep an eye on Justin Jackson on the weak side of the floor.
North Carolina runs some generic UCLA action to the left, with Berry passing it to the wing, and cutting down through off a screen from Tony Bradley. As the ball gets rotated, Jackson digs back up to the elbow — that's the pinch post.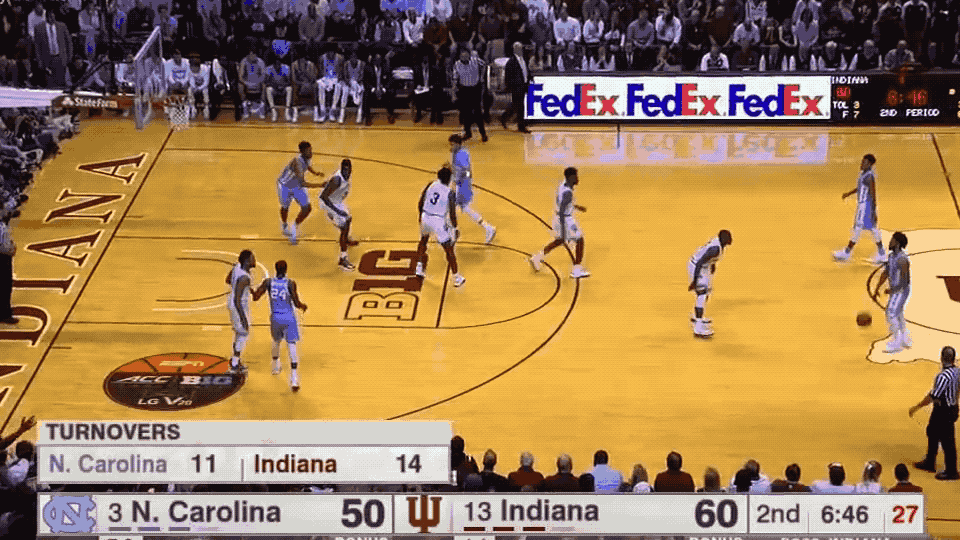 Nate Britt enters the ball to Jackson, and then immediately runs in his direction for a handoff. This exchange with Jackson causes a brief pause in defensive rotation — who has who. It looks like Britt has an angle to the hoop after Jackson's de facto screen, but OG Anunoby — one of the best athletes in college ball last season — diagnosis then play, recovers and pins Britt.
Regardless, that's still great action. Also, keep an eye on what Berry is doing at the end of the play. If Jackson hand't hit Britt with the handoff, Berry was about to come rocketing up a double pindown screen from Williams and Bradley — which would've created another look from deep.
Read More