As North Carolina marched to the 2017 NCAA Championship, one of the key figures was a player that missed the first half of the season: wing Theo Pinson. Out with a foot injury, Pinson sat the first 19 games of UNC's season. The Tar Heels went 15-4 over that stretch.
However, a healthy Pinson provided a serious jolt to the lineup when he returned; North Carolina went 18-3 in the 21 games that the 6-foot-6 Pinson was a participant.
Pinson briefly tested the draft waters, but he will return to Chapel Hill for his senior season, where more will be expected of him now that Justin Jackson is in the NBA.
A rare combination of skills
Theo Pinson is a ubiquitous talent — a lockdown defender with a penchant for setting up teammates for easy scores. Everyone remembers the Luke Maye game-winner against Kentucky. Don't forget, though: it was Pinson who drove the length of the floor, drew the attention of three defenders, and found Maye for the jumper.
He was the ACC's Andre Iguodala in 2016-17: Pinson took care of whatever Roy Williams needed from him that night.
Pinson's passing is special — take another glance at this gorgeous look to Isaiah Hicks on the run in the NCAA Tournament.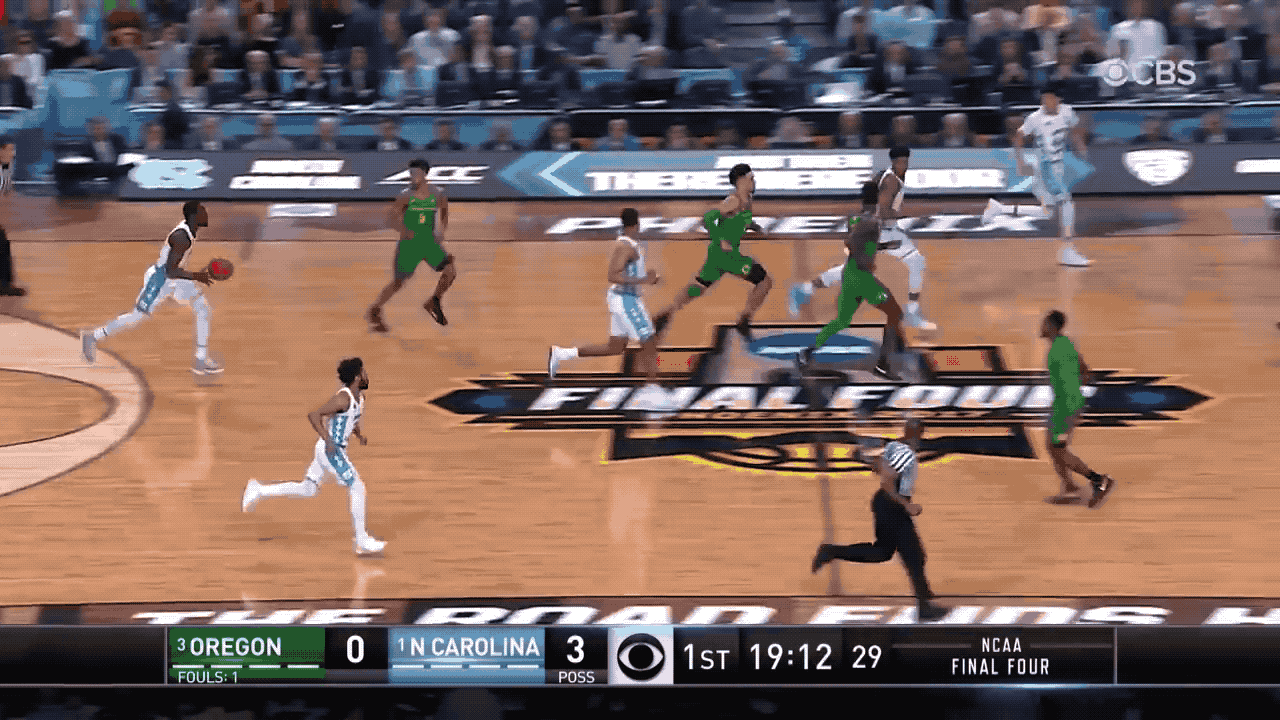 In fact, Pinson was one of just 15 Division I players this season to have a defensive rating under 100 points per 100 possessions, record at least three assists per game, post turnover rate under 20 percent and a rebound rate over 10 percent. Only one other ACC player — Miami's Bruce Brown — hit these benchmarks this season.
Dating back to the 1992-93 season, only two Tar Heels have put together that profile: Pinson and J.P. Tokoto (2013-14).
Where Theo Pinson stars
When it comes to defense, Pinson rises above the rest. UNC featured the best pair of wing defenders in the nation this season, thanks to Justin Jackson and Theo Pinson. It's a big part of what helped the Heels cut down the nets in Arizona.
In UNC's Final Four showdown with Oregon, Pinson was really special. It was more than the five assists he had, too; his defense was absolutely sensational.
Oregon's All-American, Dillon Brooks — the 45th overall in this year's NBA Draft — was taken completely off the board. Jackson spent time on Brooks, but a lot of credit is due to Pinson. Brooks shot just 2-of-11 from the field, which proved to be his second-worst performance of the season.
It wasn't just Brooks that felt the wrath of Pinson, though. Tyler Dorsey entered the game hotter than any player in America: over Oregon's previous seven contests, Dorsey averaged 23.6 points and shot 57.8 percent from downtown.
Dorsey against UNC, however, cooled off: 3-of-11 from the field. He didn't make his first shot attempt until the second half. Pinson even turned away Jordan Bell at the rim — perhaps his most impressive achievement.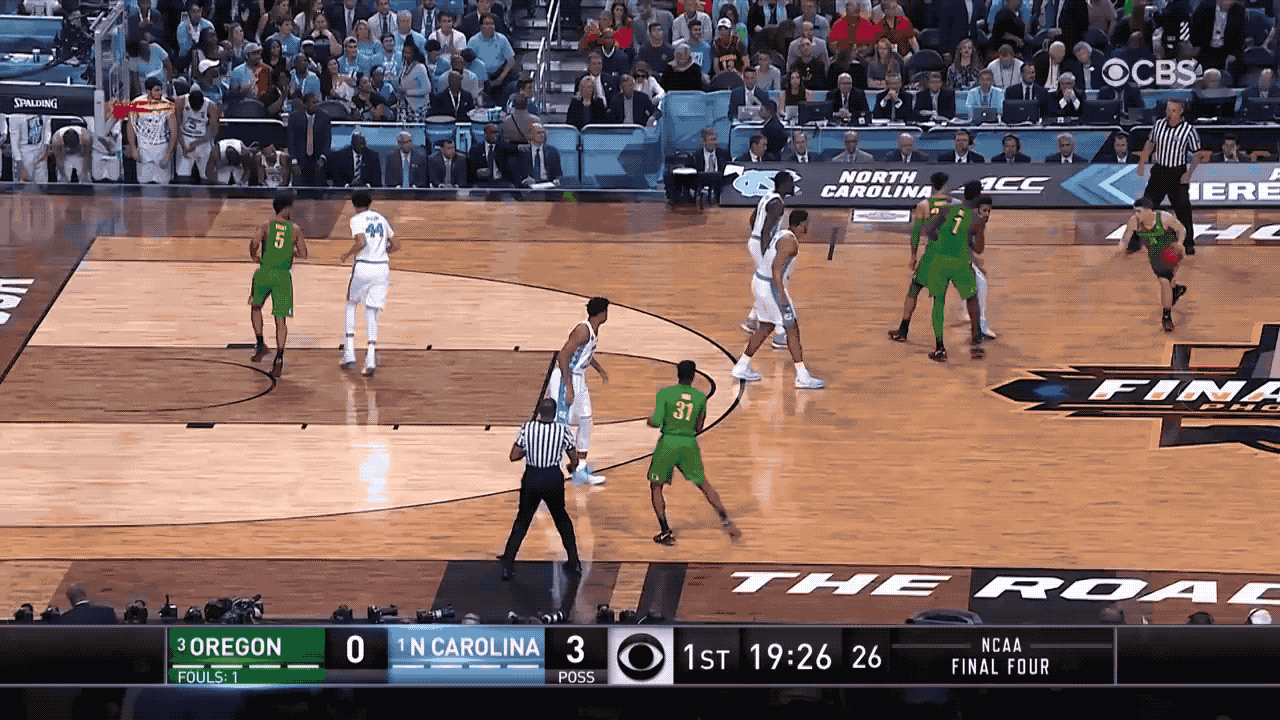 Bell (seen above robbing Hicks of his soul) is basically Spider Man, and he shot nearly 70 percent on non-post-ups at the hoop, per Synergy Sports. This play by Pinson was no small feat. Pinson is on Brooks, who is involved in ball-screen action. Meeks is caught in no man's land as Bell rolls, and Jackson has his back turned to the play. Pinson diagnosis all of this, and makes an incredible help play.
This performance came on the heels (heh) of Pinson's dismantling of Kentucky's De'Aaron Fox in the previous game. Fox, the No. 5 pick in the NBA Draft, went 5-0f-14 from the field in what would turn out to be his final college game.
The athleticism translates to the offensive side, too
Theo Pinson also a nifty finisher around the hoop; per Synergy Sports, Pinson shot 64 percent on non-post-up attempts at the basket. His length and athleticism help him finish with ease, including a memorable throw down against Florida State — his third game back from injury.
What he needs to work on
It doesn't take a degree in astrophysics to see that Pinson isn't a very good shooter. Pinson — out of high school — was billed as a plus-shooter; that, however, has simply never been the case.
He's dealt with injuries during his time in Chapel Hill, but for his career, Pinson is a sub-39 percent shooter. The struggle worsens the further he ventures from the hoop, too. For his career, Pinson has connected on less than 27 percent of his three-point attempts.
Pinson shot a lowly 23.4 percent on three-pointers this season, and it probably should've been worse. Don't forget: One of his nine makes from beyond the arc in 2017 was this gem in Brooklyn against Miami.
The Greensboro, North Carolina product was one of just four ACC player in 2016-17 to attempt at least 30 three-pointers, and shoot less than 25 percent from beyond the arc.
Moreover, according to Synergy Sports, 88 players in the ACC this season recorded at least 30 catch-and-shoot possessions. Of that group, Pinson ranked 82nd in offensive efficiency from that play type: 0.79 points per possession (27.3 FG%).
Why that improvement could matter
UNC has the shooting to offset Theo Pinson's challenges from deep, if it persists next season. Joel Berry, Cameron Johnson, Kenny Williams and Luke Maye can all stretch the floor.
This, however, is about his future professional career. Pinson's frame, passing ability and defensive skill set make him an NBA prospect. But the addition of a perimeter jumper would do wonders for his longterm outlook.
NBA teams shoot more three-pointers than ever before; franchises seek players that can shoot triples and defend multiple positions. Former Tar Heel Danny Green, for instance, is in the midst of a four-year, $40 million contract. Green fits this profile.
Teams simply can't have enough competent 3-and-D players. Pinson checks only one of those boxes, though. If he can figure out a jump shoot, the sky is the limit.
Wait, or is it: the ceiling is the roof?