While Clemson's vice gripe on the ACC is nothing new, the league is headed for a bit of a transition season in 2019. A handful of new coaches enter the league, which means new systems and styles of play. Along with that, the conference has parted ways with several veteran quarterbacks, like Daniel Jones, a top-10 NFL Draft pick (stop laughing), and Ryan Finley, a fourth round pick.
During their six combined seasons of ACC play, Jones and Finley combined to throw for close to 19,000 yards and 112 touchdown passes — on 2,640 attempts. Factor the departure of Eric Dungey, who battled injuries but was super productive while at Syracuse, and the dismissal of Deondre Francois at FSU, and yeah, the ACC isn't in a great place when it comes to quarterbacks.
This year's list of top 5 ACC Quarterbacks looks a lot different than a season ago; change can be good, but perhaps it's a little disconcerting — at least in terms of returning talent — on the heels of a weak showing by the league at the 2019 NFL Draft.
No. 5 James Blackman, Florida State
After two seasons in Tallahassee, Blackman's career at FSU has been anything but stable or conventional. As a true freshman in 2017, he was thrust into the starting job after an injury to Francois in the season opener. Blackman had some success that season — 2,230 yards and 19 touchdowns — which included an MVP effort in the Independence Bowl victory, though he got a lot of his work done closer to the line of scrimmage.
With Francois back in 2018, Blackman took to a backup role under first-year coach Willie Taggart. He appeared in four games and redshirted.
Now in his third year at Florida State, Blackman is working with his third play-caller — Kendal Briles — after coordinator Walt Bell left to become the head coach at UMass.
Wisconsin transfer Alex Hornibrook could contend for the starting job as well; he threw for over 5,000 yards during his time with the Badgers. However, this should be Blackman's gig. Let's just hope the offensive line can hold up better this season, too.
Word of advice: get the ball to Tamorrion Terry and Cam Akers as much as possible.
No. 4 Tommy DeVito, Syracuse
A prized 4-star recruit in Syracuse's 2017 class, DeVito got on the field in 2018 due to injuries with Dungey, and also because the coaching staff thought he gave them a better chance to win — like the comeback victory over UNC.
DeVito doesn't offer the same run/pass versatility of Dungey, but he's capable of making all kinds of throws and getting the ball down the field. Overall, he completed 44-of-87 attempts (50.6 percent) for 525 yards and four touchdowns. He also tossed up three interceptions, too, including two in Syracuse's loss to Notre Dame.
According to cfbstats.com, DeVito completed 18 passes of 10 or more yards (41 percent of his total completions and nine passes of 20+ yards. With the go-go pass-happy approach of Dino Babers, DeVito should put up video game numbers this season as a full-time starter.
No. 3 Ryan Willis, Virginia Tech
Another player that was forced into service last season, Willis quickly acclimated himself to the offense of Justin Fuente. Willis, who transferred in from Kansas, took over as the team's full-time quarterback after Josh Jackson left Tech's loss to Old Dominion with an ankle injury.
The following week as the starter against Duke, Willis threw for 332 yards and three touchdowns in a road win. A week later, the Hokies were crushed in Blacksburg by Notre Dame, but Willis still managed 309 yards, two touchdowns and one interceptions against an excellent defense.
In total, he threw for for 2,716 yards — 226 per game — and 24 touchdowns to nine picks during the 2018 campaign. He also added four rushing touchdowns, too. With his help, and some finessing, too, Virginia Tech kept two streaks alive: 14 straight wins over UVA and 26 straight seasons with a bowl game.
Willis completed 114 passes of 10+ yards, which ranked third in the ACC — behind only Finley and Trevor Lawrence. He also completed 39 passes of 20+ yards and 10 passes of 40+ yards.
With 2019 on the horizon, expect to see a lot of Willis and Damon Hazelton on the perimeter.
No. 2 Bryce Perkins, Virginia
In the 2018 season, Perkins announced himself as one of the most dynamic playmakers in the ACC. Following one season of JUCO ball in 2017, he threw for 2,680 yards — 64.5 percent completion rate, 7.7 yards per attempt — and 25 touchdowns to just nine interceptions; this went along with 923 rushing yards (officially) and nine touchdowns.
Virginia QB Bryce Perkins didn't let the blitz faze him against Louisville yesterday pic.twitter.com/Jfp1sEt4QI

— PFF College (@PFF_College) September 23, 2018
Perkins joins Lamar Jackson (twice) and Deshaun Watson as the only two ACC players — since the 2000 season — to throw for 2,500 yards and 25 touchdowns while running for at least 900 yards, too. He accounted for 277.2 yards of total offense per game, which ranked third in the conference.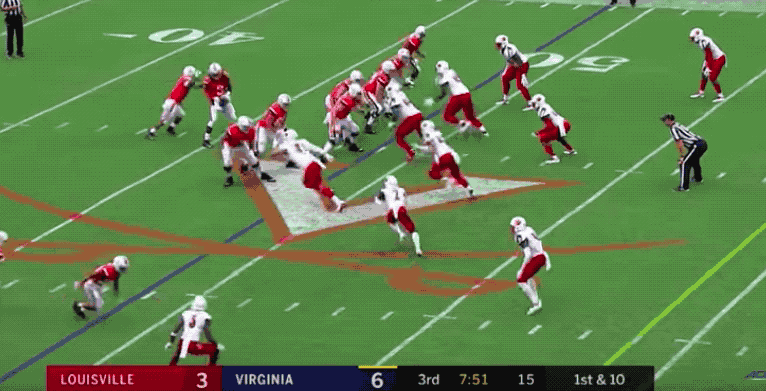 In total, he recorded 36 carries of 10 or more yards; that ranked second in the ACC, behind only Clemson's star running back Travis Etienne, a big-play machine.
Bryce Perkins is a true dual-threat at quarterback and is primed for a huge season. pic.twitter.com/AXO4vn9Z7Y

— PFF College (@PFF_College) June 17, 2019
No. 1 Trevor Lawrence, Clemson
By this point, everyone knows about Lawrence — who returns for his sophomore season at Clemson as perhaps the best player in the country. After toggling with incumbent Kelly Bryant for playing time at the position to start the season, Lawrence took the job on full-time heading into the Syracuse game.
While that outing against Syracuse ended in scary fashion, Lawrence put together a masterful 2018 season — connecting on 65.2 percent of his passes for 3,280 yards and 30 touchdowns to just four picks. With a plethora of superstar skill players to work with, Lawrence was unfazed while facing pressure.
Trevor Lawrence was completely unfazed by pressure last season. pic.twitter.com/CSkIRB9CrJ

— PFF College (@PFF_College) June 3, 2019
Restating the obvious: Lawrence did all of this while helping lead Clemson to another national title and the first 15-0 season in modern college football history.
Lawrence led the ACC in terms of yards per attempt: 8.3. He was also tops in the league in completions of 30+ yards (27) and 40+ yards (15). Over 45 percent of his completions (117) went for at least 10 yards, too.
Trevor Lawrence has more than lived up to his 5-star billing this season at Clemsonhttps://t.co/7nWanhOfnD pic.twitter.com/X4k693r57a

— PFF College (@PFF_College) November 22, 2018
Going back through the 2000 season, Lawrence became just the 17th QB to complete at least 65 percent of his passes and throw five or fewer interceptions with at least 350 pass attempts.
During the College Football Playoff, though, Lawrence took his game to another level. In wins over Notre Dame and Alabama — both of which inside the top 11 nationally in defensive efficiency — Lawrence went 47-fo-71 (66.2 percent) for 674 yards — 9.5 yards per attempt, 337 yards per game — and six touchdowns to zero interceptions.
Honorable Mentions
Tate Martell, Miami

The Ohio State transfer and rejected Game of Thrones character name was a prep football star, and put some impressive yet limited numbers during the 2018 season with the Buckeyes
Miami has a good defense and talented skill position players; Martell could excel if he wins the starting job

Sam Hartman/Jamie Newman, Wake Forest
Anthony Brown, Boston College

Improved as a sophomore: 2,121 passing yards and 20 touchdown passes