It's been a fast start to the 2018-19 season for FSU Basketball. Florida State is 8-1 and ranked No. 10 in this week's AP Poll; KenPom slots the Seminoles in as the No. 14 team in the nation, according to the site's efficiency metrics. Already this season, FSU has three wins over top-50 KenPom teams, including No. 15 Purdue, thanks to a last-second floater from Trent Forrest.
THIS IS WHAT HE DOES

Trent Forrest is one of the most clutch players in all of college ball.

(via @clippittv) pic.twitter.com/bQMs0O8sc9

— Basketball Society (@BBallSociety_) November 29, 2018
Florida State also ranks inside the top 30 in both adjusted offensive and defensive efficiency, per KenPom. Considering that FSU has done all of this without arguably its best player — veteran stretch-4 Phil Cofer — and it's rather impressive.
This is a really good team; Florida State can play with anyone in the country. When Cofer returns, things in the half-court offense should improve, too. He provides valuable stretch the the frontcourt, which should make things easier for Forrest, Terance Mann and MJ Walker.
As the season progresses, though, there's something obvious to keep an eye on.
Can FSU avoid turning the ball over?
Currently, Florida State ranks 320th in Division I basketball with a turnover rate of 22.4 percent. That's not great. According to Synergy Sports, Florida State ranks No. 157 in raw half-court offensive efficiency — 0.9 points per possession (50.6 eFG%). That ranking would improve if the Seminoles turned the ball over less; as of right now, FSU ranks No. 331 in half-court turnover rate (19.7 percent).
Look, you won't find a bigger Trent Forrest fan than me. Despite lack a three-point jumper, this dude plays an excellent brand of basketball — creating open looks for others with his powerful drives to the hoop. On the defensive side of the floor, he's a steals guy (2.8 steals per 40 minutes), too, which is big.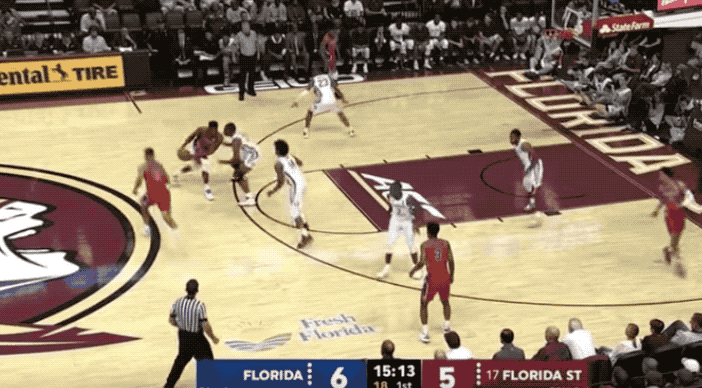 The ball is in his hands for FSU this season, and that's usually a good thing; however, Forrest has a turnover rate a shade under 27 percent — good for 3.7 turnovers per 40 minutes. Both of those numbers are up from a season ago: 20.2 percent turnover rate and 2.7 turnovers per 40 minutes.
Forrest is the primary ball handler for this offense, but he's not alone. According to KenPom, six players on this roster have played in at least 40 percent of the team's minutes and have turnover rates north of 20 percent. There are also six players with at least 150 minutes of action this season who also average over three turnovers per 40 minutes, according to Sports Reference.
One Step Too Many
The pick-and-roll, which is a major part of Florida State's offense, is at the root of this issue, too. On possessions used this season, pick-and-roll guards have scored just 0.69 points per possession, good for No. 268 in the nation.
This is due, in part, to a high rate of turnovers. According to Synergy, Florida State has a turnover rate of 30.1 percent on possessions used by pick-and-roll ball handlers — No. 337 in the nation, worst in the ACC by a wide margin. (Virginia Tech ranks 14th with a turnover rate of 21.9 percent on these possessions, per Synergy.)
Going Forward
Again, the return of Phil Cofer should help here, too. Last season, Cofer turned himself into a low-turnover player. Cofer's turnover rate of 12 percent in the 2017-18 season (1.6 turnovers per 40 minutes) ranked inside the top 200 nationally, per KenPom.
When Cofer hits the floor, FSU will plug in a guy that plays 25-30 minutes per game and doesn't turn the ball over much. That's great, but there's an added bonus, too: his three-point range should help loosen the floor some.
Cofer is a productive three-point shooter, who blends decent volume with efficiency. That, in turn, should draw an extra defender further away from the hoop, which could benefit Forrest and Mann — two excellent slashers. If those two have a few more inches of space, it could go a long way.
Of course, it will still be up to the team's guards and wings to do a slightly better job taking care of the ball. Forrest and Mann (22 percent turnover rate) need to stay aggressive; however, for this team to hit its full potential, it's critical to reduce those nasty turnovers.
Florida State could do damage in the ACC this season; the Seminoles could also make a serious run come March. But to increase those odds more on the margins, the turnover rate needs to drop. From the ACC, teams like Duke and Virginia will hit you hard in transition. Currently, six ACC teams score better than 1.15 points per possession in transition, per Synergy.
Read More on FSU Basketball
Week 6 ACC Basketball Power Rankings: Florida State remains at No. 5