This is always an interesting part of the college basketball calendar. Teams are dealing with exams as the winter holidays approach. Games are sort of sparse, and the variance in level of opponent is interesting. With conference play less than a month away, let's take a look at this week's ACC Basketball Power Rankings.
No. 1 Virginia
After nearly a week off, Virginia looked a little rusty in Sunday's win over VCU: 0.95 points per possession (35.2 eFG%). It was a quiet game for De'Andre Hunter — 1-of-6 field goal attempts, nine points, no blocks or steals — but Ty Jerome took over down the stretch when UVA needed it. For the season, Jerome has scored 1.5 points per possession (73.7 eFG%) on spot-ups, according to Synergy.
Let's check in on Virginia fans and see how they were feeling during the closing moments of that game yesterday.
HUGE THREE FROM TY TIES IT AND A TEN SECOND CALL GIVES VIRGINIA THE BALL. TONY BENNETT WAS AT MIDCOURT TO HIGH FIVE KIHEI ON THAT DEFENSE I'VE NEVER SEEN THAT.

— Caroline Darney (@cwdarney) December 9, 2018
No. 2 Duke
There may not be a more terrifying sight — for an opposing coach — in college hoops this season than Duke's fast break. Duke has scored 1.29 points per possession (70.3 eFG%), according to Synergy Sports. The Blue Devils can use defense to ramp up these offenses; currently, Duke ranks No. 5 nationally in block rate (17.6 percent) and No. 1 in steal rate (14.5 percent).
Also, watch Zion work.
This exchange from Zion Williamson: wow. Helps on the baseline drive, grabs the defensive rebound, hit-ahead pass to Barrett, and gets yet another finish at the rim after trailing the play. pic.twitter.com/Ah0dM8NKD3

— Brian Geisinger (@bgeis_bird) December 9, 2018
Also: R.J. Barret, good at basketball.
After 10 games, Barrett has surged into the lead pic.twitter.com/vROZ9JDFwP

— Chris Bunn (@DukeForum) December 10, 2018
No. 3 North Carolina
In its only game last week, North Carolina smoked UNC Wilmington — without Coby White (ankle) in the lineup. Now the Heels must gear up to face Gonzaga, which ranks No. 1 in the nation in adjusted offensive efficiency and is coming off its first loss of the season. Next Saturday, defense will be critical for UNC.
Carolina is 1-2 overall when allowing 1.00 PPP or more, only win is against UCLA

Gonzaga is 4-0 overall when allowing 1.00 PPP or more, also Zags are undefeated

Curious to see how Gonzaga matches up with Tennessee tomorrow

— Dadgum Box Scores (@dadgumboxscores) December 8, 2018
No. 4 Virginia Tech
The Hokies made 11 three-pointers (45.8 3P%) in this weekend's win over South Carolina State. It was the eighth time this season Virginia Tech — in nine games — has made 10 or more three-pointers on 40 percent or better shooting from deep. According to Synergy, Virginia Tech has scored 1.22 points per possession (65.1 eFG%), which is tops in the nation. Nickeil Alexander-Walker had another big game, too.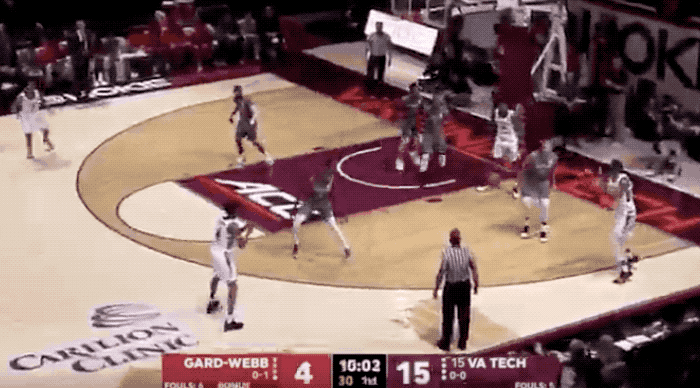 No. 5 Florida State
Look, this team is awesome and can play with anyone. It's honestly hard to differentiate between 3-5 in this list. Over the weekend, FSU defeated UConn, 79-71, which is the fourth win over a KenPom top 100 team so far this season. Phil Cofer returned to practice last week, but didn't play against the Huskies. The Seminoles don't play again for another week, so Cofer gets some additional time to heal up.
Phil Cofer is not dressed for the Seminoles basketball team#FSU #GoNoles #UConnhttps://t.co/OLwhNOIdZu

— Tallahassee Democrat (@TDOnline) December 8, 2018
No. 6 Syracuse
Syracuse picked up two victories against top-100 KenPom teams last week, including a buzzer-beating win — courtesy of Tyus Battle — over former Big East rival Georgetown. Battle, 18 points per game (72 FG% at the rim), continues to power Syracuse's offense.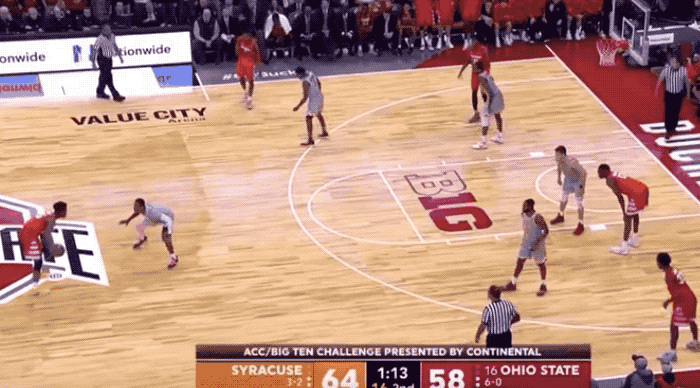 No. 7 NC State
According to KenPom, NC State has played the weakest schedule in the country, so far this season. We'll know more about NC State, which ranks inside the top 10 nationally in offensive rebound rate (39.4 percent) and effective shooting (57.5 eFG%), in another 10 days — with matchups against Penn State and Auburn.
No. 8 Louisville
Chris Mack and Louisville continue to battle, man. The Cards fell on the road by one point to a good Indiana team on Saturday, but there's no shame in that. Plus, Jordan Nwora (1.24 points per possession on spot-ups) continues to ball — 24 points, four three-pointers and 14 rebounds against the Hoosiers.
No. 9 Clemson
No Marcquise Reed (19.4 points, 31 percent usage rate) proved costly against Mississippi State. In defeat, the Tigers scored 1.06 points per possession, which isn't bad, but hit just six three-pointers (22.2 3P%) and attempted only 17 free throws. Clemson has three losses on the season — all of which have occurred in the last four games, all to good teams. The Tigers have four more games before league played starts up.
No. 10 Notre Dame
Notre Dame played two games last week — both against top-50 KenPom teams, both of which ended in defeat. TJ Gibbs continues to slump, which is a problem: 28.1 percent shooting from deep, under 40 percent shooting from inside the arc. Gibbs has scored just 0.67 points per spot-up possession, according to Synergy.
No. 11 Miami
You have to go back to the day after Thanksgiving to find the last time Miami won a game. The Hurricanes played one game last week — a 14-point road loss at Penn. Despite the struggles, Chris Lykes has continued to score out of the pick-and-roll: 1.02 points per possession (61 eFG%), per Synergy.
No. 12 Boston College
According to KenPom, Boston College ranks third nationally in free throw attempt rate: 52.2 percent. Led by Steffon Mitchell (6.1), BC has four players that drew at least 4.8 fouls per 40 minutes. Oh, and this team had quite the weekend — as its game against Texas A&M was cancelled and the team had to deal with all kinds of weather and travel issues.
Statement on Men's Basketball game at Texas A&Mhttps://t.co/hoUPScrdxg

— Boston College Men's Basketball (@BCMBB) December 8, 2018
No. 13 Georgia Tech
Once again, Georgia Tech's defense is very good. The Yellow Jackets rank No. 11 nationally in adjusted defensive efficiency. Opponents are shooting just 25.2 percent on three-point attempts (No. 4) and 41.2 percent from inside the arc against Georgia Tech. It will a slog for Tech to score this season, but this team can defend.
No. 14 Pittsburgh
Xavier Johnson scored 21 points and attempted 11 free throws, but had eight turnovers, too, in the loss to West Virginia. After two straight defeats, Pitt has three games on the horizon against teams outside the top 160 of KenPom before Jan. 5 matchup against UNC.
No. 15 Wake Forest
Wake Forest used a big second half — 48 points — to erase Charlotte, 80-56. Things, however, get a tad trickier for the Demon Deacons over the next two weeks: home to Davidson, and then at Tennessee. Buckle up.
Contributor Rankings
| | David Glenn | Brian Geisinger | Josh Graham | Consensus |
| --- | --- | --- | --- | --- |
| 1 | Virginia | Duke | Virginia | Virginia |
| 2 | Duke | Virginia | Duke | Duke |
| 3 | UNC | UNC | UNC | UNC |
| 4 | Florida State | Virginia Tech | Virginia Tech | Virginia Tech |
| 5 | Virginia Tech | Florida State | Florida State | Florida State |
| 6 | Syracuse | Syracuse | Syracuse | Syracuse |
| 7 | NC State | NC State | NC State | NC State |
| 8 | Louisville | Louisville | Clemson | Louisville |
| 9 | Clemson | Clemson | Louisville | Clemson |
| 10 | Notre Dame | Miami | Notre Dame | Notre Dame |
| 11 | Miami | Notre Dame | Boston College | Miami |
| 12 | Boston College | Boston College | Pitt | Boston College |
| 13 | Georgia Tech | Georgia Tech | Miami | Georgia Tech |
| 14 | Pitt | Pitt | Wake Forest | Pitt |
| 15 | Wake Forest | Wake Forest | Georgia Tech | Wake Forest |
Read More on ACC Basketball
STOCKS Report: Zion Williamson, Javin DeLaurier create havoc for Duke's defense