The conference slate for ACC Basketball got started this week with Virginia Tech's win over Notre Dame. However, things will get going this weekend — seven ACC games across Saturday and Sunday, headlined by Florida State at Virginia.
Before that, though, let's take one quick look at the ACC Basketball Power Rankings as things get ready to heat up.
No. 1 Virginia
Virginia heads into conference play undefeated, after a 100-64 win over go-go Marshall. The 100 points were the most by UVA under Tony Bennett. In fact, if you go back to his time at Washington State, too, that's the highest-scoring game of Bennett's coaching career. We've said it since the season started: This Virginia team — with NBA talents like De'Andre Hunter and Ty Jerome, and speedy point guard Kihei Clark in the mix — is different.
No. 2 Duke
After a lengthy break, Duke will return to action in its ACC opener this weekend against Clemson. Duke's defense, which ranks third nationally in adjusted efficiency, will look to continue causing havoc. The Blue Devils, led by Zion Williamson (48 combined steals and blocks), rank second nationally in block rate (19.4 percent) and No. 1 in steal rate (15 percent). The turnovers can trigger a transition offense that scores over 1.2 points per possession, according to Synergy Sports.
No. 3 Virginia Tech
Virginia Tech's win over Notre Dame in the ACC opener (1.35 points per possession) was just more proof: the Hokies can be scary good offensively. Even without Chris Clarke, Tech currently leads the nation in three-point shooting (45.3 3P%), effective shooting (61.5 eFG%) and spot-up efficiency (1.24 points per possession). Nickeil Alexander-Walker is awesome; the league is on notice.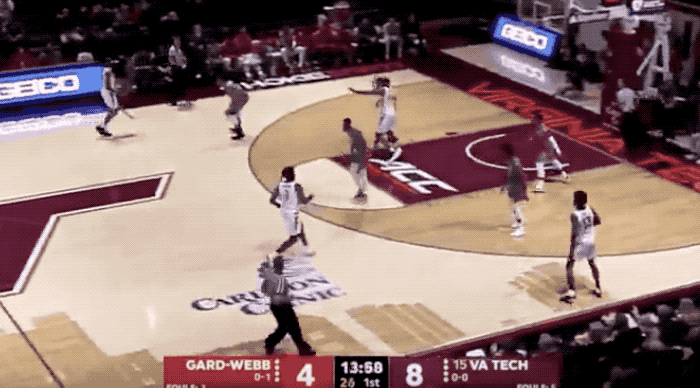 No. 4 North Carolina
UNC bounced back from the disappointing pre-Christmas loss to Kentucky with an outstanding defensive performance a week later against Davidson: 0.78 points per possession (37.3 eFG%), per KenPom. This is the level of defense North Carolina needs to bring, consistently. Also, Cameron Johnson (48.5 3P%) continues to never miss: 1.46 points per possession on spot-ups. Johnson's gravity and utility as a screener can free up his teammates, too, which is something we discussed at the start of the season.
No. 5 Florida State
We will know more about this FSU squad after Saturday's bout with Virginia, which should be a lot of fun. However, this Florida State bunch looks ready to rumble. After battling a nagging foot injury, Phil Cofer played 28 minutes and scored 14 points in the win over Winthrop. He also connected on three three-pointers — a welcomed sight for FSU, which ranks 180th nationally in three-point percentage (34.2 3P%).
No. 6 NC State
Markell Johnson is the engine for the Wolfpack's attack; veteran forward Torin Dorn is an efficient, high-usage finisher (58.3 eFG%). Kevin Keatts and NC State, however, feature an egalitarian offense that has plenty of room for additional contributors. Freshman wing Jericole Hellems has been a solid, so far, off the bench. Hellems has scored 10+ points five times this season, including the team's two most recent games: wins over USC Upstate and Loyola MD. The 6-foot-7 Hellems also has 13 combined steals and blocks in 225 minutes.
No. 7 Syracuse
Syracuse may never quite get there this season, but there's the framework for a good team here. Or at least one that makes sense: a stout zone defense that's supported by an offense driven by an NBA-level talent in Tyus Battle. The offense has been, predictably, sluggish; defensively, Syracuse has been solid but not elite. Still, from the confines of the zone, Syracuse ranks inside the top 10 nationally in both block (16.5 percent) and steal rate (13 percent).
You can't open the season as the No. 16 team in the country and be a "sleeper."

That's not how it works https://t.co/coxHzk33eC

— Joe Giglio (@jwgiglio) January 2, 2019
No. 8 Clemson
After missing three games, Marcquise Reed was a sight for sore eyes when he returned to the lineup. Since his return, Clemson has won two straight games — South Carolina and Lipscomb — with Reed cooking from the field: 23 points and 4.5 assists per game on 55.2 percent shooting.
No. 9 Louisville
Former UConn center Steven Enoch has been a nice addition to Louisville's rotation, although his production has dipped against tougher competition. A solid defensive rebounder (10.1 rebounds per 40 minutes), Enoch has added some rim protection to Louisville's defense (2.1 blocks per 40 minutes) while helping offensively, too. Enoch, who draws 4.7 fouls per 40 minutes, is shooting 85.7 percent from the free throw line (30-of-35 FTA). He's currently one of four ACC players with 10+ blocks that's also shooting above 80 percent from the stripe.
No. 10 Miami
Miami continues to trek on without junior low-post hub Dewan Hernandez, who continues to battle eligibility issues. In the win over Campbell, the team's third straight victory, Zach Johnson had his best game in a Miami uniform: 22 points on only six field goal attempts (5-of-6 3PA, 7-of-9 FTA).
No. 11 Notre Dame
It's no shame to lose to an excellent Virginia Tech team on the road; however, the loss does put Notre Dame in an early hole. Saturday's home matchup with Syracuse is crucial for Mike Brey's club. As is usually the case under Brey, Notre Dame is once again taking care of the ball on offense (13.5 percent turnover rate) while avoiding fouls on defense (20.2 free throw attempt rate).
No. 12 Pittsburgh
You may lack the verve to say this with much confidence, but let's go for it anyway: Pittsburgh is a pretty good basketball team. In Jeff Capel's debut season, his defense, which ranks 41st nationally in weighted efficiency, has been solid, despite giving up too many offensive rebounds. One thing to keep an eye on, though: nearly 40 percent of opponent field goal attempts have come from beyond the arc — a big number. However, only 27.5 percent of those shots have gone in. If that percentage starts to swing in the wrong direction, what will Pitt do?
No. 13 Boston College
The overtime loss to Hartford (which gave Duke some troubles earlier this season, too) stings, especially as Boston College gets set to play Virginia Tech and Virginia over the next seven days. No matter what, though: Ky Bowman will continue to ball. The junior point guard slapped up a career-high 44 points (on 23 FGA) in the defeat. Within the ACC, Bowman currently ranks second to only R.J. Barrett in scoring (20.9 points per game) and ninth in usage rate (27.5 percent).
No. 14 Georgia Tech
Georgia Tech can't shoot (50.4 eFG%) or score; those problems will plague the Yellow Jackets all season. However, Tech can still hand its hat on a defense that limits three-point attempts (34.6 percent opponent three-point attempt rate) and forces turnovers at a decent clip (21.5 percent opponent turnover rate).
No. 15 Wake Forest
Brandon Childress has been pretty darn good for Wake Forest, but other than that, there's not much else positive to report. This is a proud program with a loyal fanbase that cares a great about basketball. It's a bummer to see it continue to backslide, one head-scratching loss after another. Wake Forest is barely keeping its head above water; only two games over .500, the Deacs already have four losses to teams outside the KenPom top 100. The win over Cornell (1.2 points per possession) was decent, though.
That's the last straw. Danny Manning has got to go https://t.co/OdEYGqhvCw

— SportsChannel8: The Tweets (@SportsChannel8) January 3, 2019
Contributor Rankings
| | David Glenn | Brian Geisinger | Josh Graham | Consensus |
| --- | --- | --- | --- | --- |
| 1 | Virginia | Duke | Virginia | Virginia |
| 2 | Duke | Virginia | Duke | Duke |
| 3 | Virginia Tech | Virginia Tech | UNC | Virginia Tech |
| 4 | Florida State | Florida State | Virginia Tech | UNC |
| 5 | UNC | UNC | Florida State | Florida State |
| 6 | NC State | NC State | NC State | NC State |
| 7 | Syracuse | Syracuse | Syracuse | Syracuse |
| 8 | Clemson | Clemson | Louisville | Clemson |
| 9 | Louisville | Louisville | Clemson | Louisville |
| 10 | Miami | Miami | Notre Dame | Miami |
| 11 | Notre Dame | Notre Dame | Boston College | Notre Dame |
| 12 | Pitt | Pitt | Pitt | Pitt |
| 13 | Boston College | Georgia Tech | Miami | Boston College |
| 14 | Georgia Tech | Boston College | Georgia Tech | Georgia Tech |
| 15 | Wake Forest | Wake Forest | Wake Forest | Wake Forest |
Read More on ACC Basketball
Inside The Playbook: DJ Funderburk gives NC State his seal of approval