Look, let's just get this out of the way first: the storylines for Kihei Clark are already played out. It's been just seven games, but I can already count on both hands how many times I've heard a mention of how the 5-foot-9 Clark, a 3-star recruit, initially committed to UC Davis before flipping to Virginia. Between now and the end of the season, this will become a part of the college basketball ether — and remain there for the next four years. It's not that Clark's story isn't inspiring or unique; it totally is. It's just, I've heard it too many over the last three weeks. (I'm sorry for being a grouch here.)
Now, with that inane rant over with: Clark is quite good and, at a very early stage of his career, he's having a positive impact on Virginia's offense — currently No. 8 nationally in adjusted efficiency.
Clark's box score stats are fine but not eye-popping: 5.7 points (53 eFG%) and 28 minutes per game. Take a step back, though, and there's really a lot to like.
This And That
In the first game of the season, it was obvious: Clark brings energy to both sides of the floor. On offense, he gives Virginia a ball handler that can penetrate a defense and find open teammates. As good as Ty Jerome and Kyle Guy are, this is a point of differentiation; the offense doesn't have to be all mover-blocker off-ball screens. Jerome can slice-and-dice, too, but he can't much the quicks of Clark.
And on the other end of the floor, Clark is a pest defensively. He can apply serious ball pressure (2.3 steals per 100 possessions) and help disrupt an offense. Virginia's defense is already a bear; opponents are averaging 19.8 seconds per possession on offense against UVA — No. 353 in the nation, per KenPom. Last season, Jerome (3.2 steals per 100 possessions for his career) set the top of Virginia's No. 1 defense. Now, with Clark, he has a partner in crime.
Dual point guard lineups with Clark and Jerome are a go, and the freshman from California has now started two straight games for UVA — both wins over Big Ten teams, Wisconsin and Maryland.
In the victory over Maryland, Clark scored just four points on four field goal attempts. He also handed out four assists without committing a turnover. Plus, letting Clark handle the ball at times puts Jerome in situations to succeed; it's a serious task to chase both Jerome and Guy around screens, re-screens and on pure spot-ups. (De'Andre Hunter's face-up game lets UVA unlock some of this, too.)
Right now, Jerome is scoring 1.69 points per possession (83.3 eFG%) on spot-ups, per Synergy Sports. It's advantageous for UVA to put that dude in spots where he can lift from deep (45.9 3P%) or attack a bent defense.
In Action
As a team, UVA turned the ball over a measly two times against Maryland, which is outstanding. According to Sports Reference, this was just the 50th time since the 2010-11 season a team has scored 70+ points and recorded two or fewer turnovers. Currently, Virginia ranks second nationally with a turnover rate of 11.7 percent.
Virginia looks mostly the same offensively, but the Cavaliers have altered some stuff along the margins — with Clark being a catalyst for some of this change. In the 2017-18 season, 18.8 percent of Virginia's offensive possessions were used via an off-ball screen, according to Synergy Sports. This season, though, that's dipped slightly to 15.3 percent.
It may not seem like much, but there are some more generic pick-and-roll elements to Virginia's offense. The have the pieces to do this, too: shooters to space the floor, athletic bigs to rim run (or pop out) and guards that can break down a defense.
According to Synergy, 4.6 percent of Virginia's possessions this season have been finished by a roll man — up from 2.2 percent last season. On those looks, UVA has scored 1.26 points per possession (65.9 eFG%), which is excellent. This kind of slight differentiation could go a long way come tournament time, too.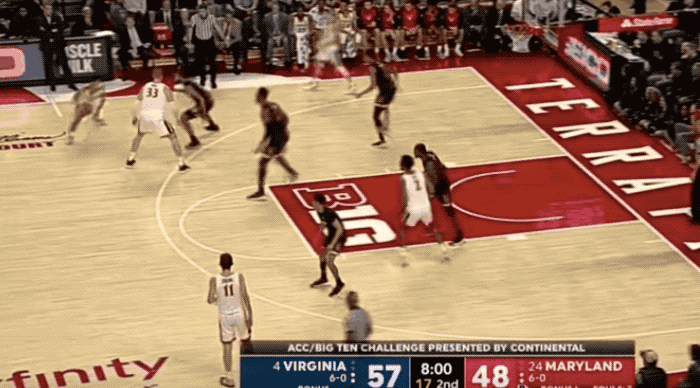 The sample is small, but Clark has been excellent in this department. When Clark has been a passer out of the screen-roll/pop game, and the person he's passed the ball to uses the possessions, Virginia has scored 26 points on 17 possessions, per Synergy. That's an outstanding 1.53 points per possession.
Hit it with a curl
One of my favorite half-court offense wrinkles I've seen in college hoops this season has been how Clark attacks a defense after coming off a down screen. Clark doesn't comes off looking to shoot, like Guy. He curls off pindown screens looking to get into the teeth of a defense.
When an extra defender commits, he has a drop-off pass or he can kick the ball out for a catch-and-shoot tripe. So far this season, Clark has assisted on 17 percent of his teammates' field goals while on the floor.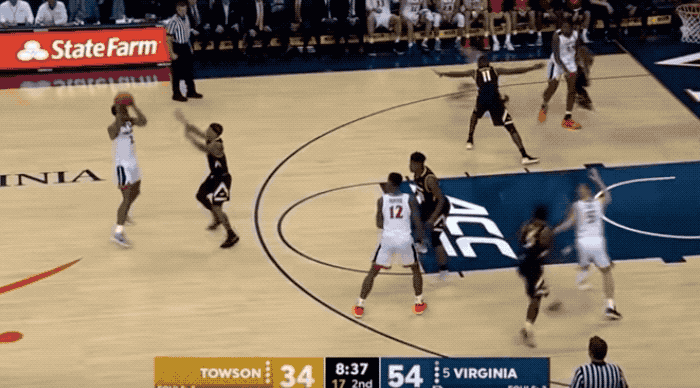 On this look above, you can see the whirring gears of Virginia's half-court offense. The lane is a little cramped with only one high-volume range shooter — Guy — on the floor. But Guy never stops moving, and after Clark curls around a screen from Mamadi Diakite, so too does Guy.
Read More on Virginia Basketball
UVA hoops continues to dominate defensively, while also showing new tricks on offense