With hoops season back, it's time to dust off the old grease board, and go back to our Inside The Playbook series. First up for the 2018-19 basketball: North Carolina and Nassir Little.
UNC is off and running this season — No. 7 in the nation, No. 5 in both offensive and defensive efficiency, per KenPom — and a big part of the success is due to three outstanding freshmen. Coby White (5.5 assists per 40 minutes) has taken over the point guard role from Joel Berry; with his jet-quick speed and ability to separate from defenders, the rookie guard has helped get UNC's transition offense online: 1.07 points per possession, per Synergy Sports. (That's good number, but there's growth potential here, too.)
Off the bench, Leaky Black is shooting 60 percent from the field (10 FGA), while Little has provided a touch of everything — 12 points per game, 13 percent offensive rebound rate and four blocks in 64 minutes.
In the half court, the Tar Heels have been solid, so far. According to Synergy, UNC has scored over 0.97 points per possession (50.6 eFG%). It's helped that veteran sharpshooter Cameron Johnson has gotten off to a blistering start: 10-of-14 on three-point attempts (71.4 3P%) and a true shooting rate of 81.2 percent.
Factors/box score: https://t.co/xqmYiNhawu

While defense can and needs to improve, another opponent scoring less than 1 point-per-possession (Standford 0.91 PPP)

Cameron Johnson is 10-of-17 from 2 this season (58.8%)

And Johnson is 10-of-14 from 3 this season (71.4%) pic.twitter.com/UZCNJIWZjB

— Dadgum Box Scores (@dadgumboxscores) November 13, 2018
Johnson has been absolutely light out off the catch, too. Now healthy, the Pitt transfer has scored 25 points on 12 half-court catch-and-shoot possessions: 2.08 points per possession (104.2 eFG%, ha). Those numbers will obviously settle down some outside of this ridiculously small sample. The point remains, though: Johnson is knocking down spot-up looks and North Carolina can use that to its advantage in more than one way.
Box-Office Success
With under three minutes to play in the first half, and UNC up big on Stanford, the Tar Heels — in a small-ball look, with Little or Johnson as the de facto 4 — set up in one of UNC's classic half-court looks: the box set. In this specific look, Little and Kenny Williams are at opposite elbows, while Luke Maye and Johnson are spaced lower, outside in the lane. Up high, Seventh Woods pounds the rock.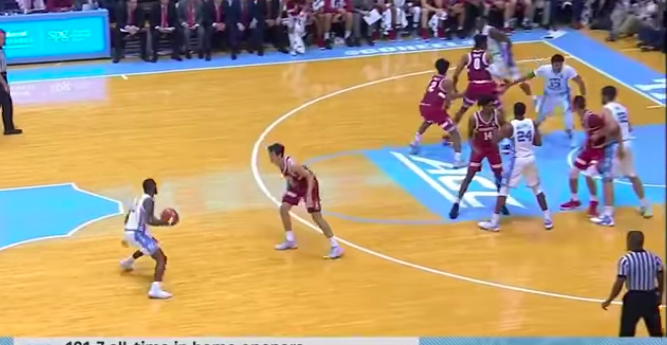 Little spins and looks like he's about to set a pindown screen for Johnson. There's no screen, but Little's presence draw the attention of Johnson's defender, KZ Okpala. Instead, Johnson sprints to the double screen of Maye and Williams, which clears out one side of the floor; with Woods dribbling right, this looks like a simple pitch-and-catch for three.
However, back on the weak side, Little has different intentions; so, too, does Woods. The man defending Little, Bryce Wills, loses touch with Little, who is now in space with no obvious help defender — all three guys are occupied dealing with Johnson (4-of-6 FGA coming off screens this season, 83.3 eFG%, per Synergy) on the other side of the floor.
The timing and eye connection between Woods and Little is excellent. Okpala trails Johnson's cut; Jaiden Delaire (No. 11) notices this and juts out to deny a pass to Johnson. This takes yet another help defender away from the rim. Now it's just Woods and Little playing two-on-two with a blind defender. Woods knew what time it is, too.
All together, this is a nice, quick look to get Little a touch at the rim. For the season now, Little is 9-of-12 (75 FG%) at the rim, including four dunks.
Any other thoughts?
This is just one play from one game in a long, long season. It's worth noting, though: this action came out of a small-ball look for North Carolina. Roy Williams is fortunate to have a deep and talented roster that features a nice mix of veterans, surefire NBA talent (Little and White), length and shooting. Williams can choose to play in a variety of styles — with different parts of the rotation on the floor together.
Up front, Garrison Brooks is off to a nice start this season (13 points per game, 60.7 eFG%), and Sterling Manley has plenty of potential, too. However, UNC had tremendous success last season downsizing its lineup — choosing instead to load up on shooting and passing. It's super early but, though three games, the results are promising again.
In 25 combined minutes at the 4/5, Johnson and Maye shot 6-of-9 on 3s (plus Maye drew a 3-shot foul). In 39 combined minutes at their normal positions (3/4), Johnson and Maye combined at make just 1-of-3 3-pointers.

— Adrian Atkinson (@FreeportKid) November 8, 2018
[Once more: Adrian Atkinson is doing a wonderful job tracking these numbers and writing about UNC hoops over at Inside Carolina. You should follow and read.]
I wrote about this before the season started: Regardless of how North Carolina starts the game, its go-to lineup should be White, Williams, Johnson, Little and Maye. That's how this team maxes out on skill and offensive floor spacing. All five guys can shoot it out the three-point arc and create their own shot — or looks for others.
Cam Johnson scored 9 minutes in 6 minutes as a small-ball 4 in the 1st half, and now has 21 points in 21 minutes at the 4 this season.

— Adrian Atkinson (@FreeportKid) November 10, 2018
In the early stages of his career, Little has struggled some on the defensive end. His length makes him disruptive (2.5 blocks and 2.5 steals per 40 minutes), but he can get caught ball watching, and in the Stanford game, he struggled defensively in space.
Perhaps once all of this comes around, Williams will feel more trust in that aforementioned small-ball quintet. Regardless, North Carolina's small-lineup efficiency — and how Little factors into that equation — is worth monitoring all season.
Read More on UNC Basketball