In Duke's win over Michigan, Grayson Allen was — as a certain popular sportscaster would describe it — en fuego. Allen scored 37 points — a career high — on 20 field goal attempts, including seven made three-pointers, which tied a career best.
Going back through the game, here are a few other items of note.
Duke had to have it
In a game that featured 78 possessions, per Sports Reference, Duke turned the ball over just nine times. This translates to a turnover rate of 11.5 percent. On top of that, the Blue Devils posted an offensive rebounding rate of 48.8 percent — which is ridiculous, especially against Michigan State, and would make the 2017 UNC Tar Heels proud.
This is the start of an offensive profile that should equate to an easy win; however, without Grayson Allen, Michigan State is the No. 1 team in the nation next week. Period.
Outside of Allen, Duke went a combined 19-of-56 (33.9 percent) from the field, 2-of-12 (16.7 percent) from downtown. Allen scored 1.85 points per shooting possession; Duke, on the other hand, scored 0.91 points per shooting possession.
Duke's lone senior registered an effective field goal rate of 72.5 percent. The rest of the team posted an effective field goal rate of only 35.7 percent.
The Full Spectrum
One of the most impressive things about Grayson Allen's performance: The variety of ways he attacked the Spartans. According to Synergy Sports, here's a look at how 24 of Allen's possessions broken down.
Pick-and-roll: 6
Handoff: 6
Spot-ups: 5
Transition: 5
Off-screen: 2
Pick-and-Roll
For the young season, Grayson Allen has an effective field goal rate of 68.8 percent as a ball hander in pick-and-roll (PNR) action. He's yet to record a turnover on this type of possession. It's a serious challenge to mark Allen in PNR; he's an outstanding shooter and can put the ball on the deck, too. You pick one and hope he doesn't make the shot.
In the first half, Allen runs a side PNR with Marvin Bagley. Joshua Langford does a nice job fighting over the screen, but Allen goes left, gets into the paint, creates space and scores.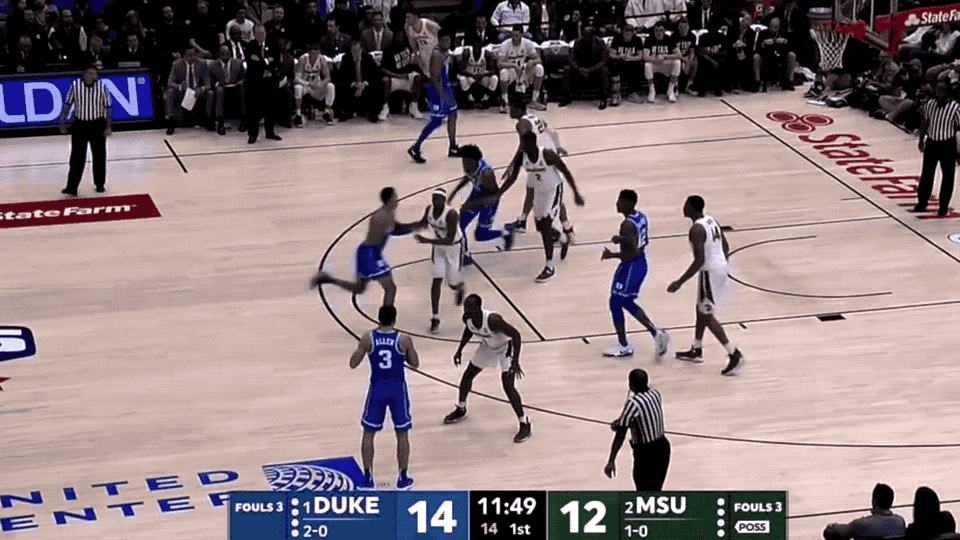 Later in the game, Allen iced things with a PNR with Wendell Carter. Nick Ward sinks back a little too far, and it takes Matt McQuaid a little too long to get over the top. This is enough room for Allen to drop the kids off.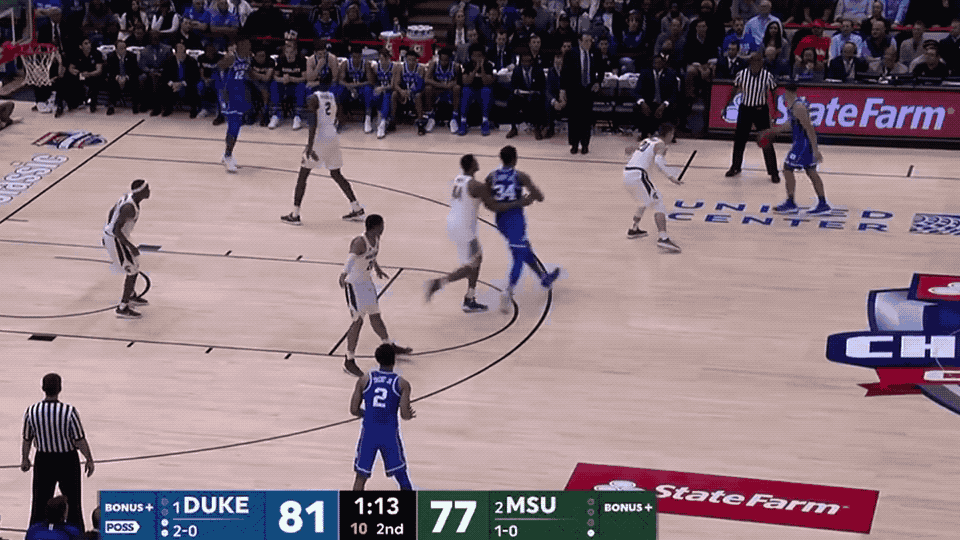 Off-screen
As we've discussed in this space before, Duke loves to administer offense on baseline out-of-bounds plays — The BLOB!
This play takes a little longer to develop; it's not a normal quick-hitter. However, it targets Duke's preferred area on BLOB plays: the near corner. Javin DeLaurier waits for Allen to rocket off Marques Bolden's pindown screen. Langford tries to work over the top of the screen, but Allen makes a nice read — flairing slightly to the corner.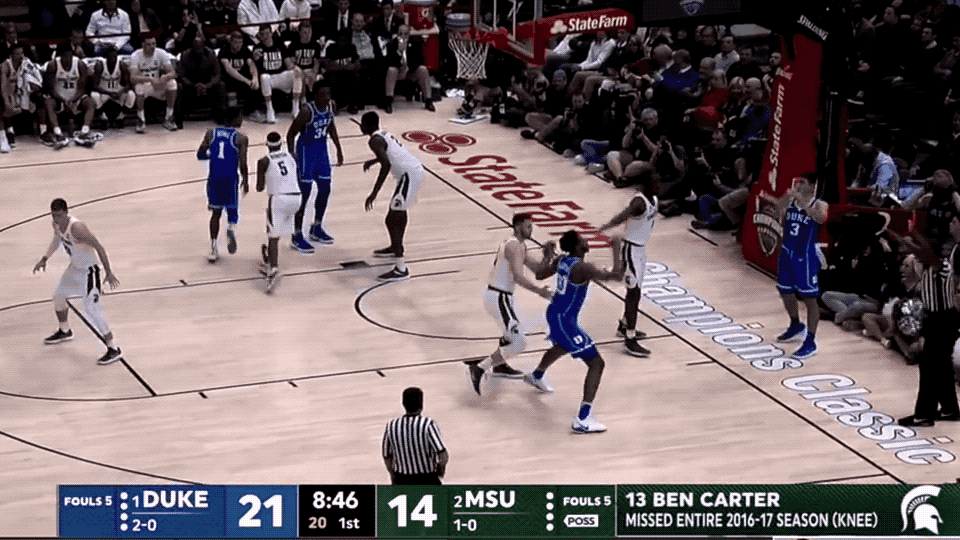 Handoff
One more. Duke should try to run as much handoff action for Grayson Allen as humanly possible. Midway through the second half, Allen inbounds from the sideline and goes directly into a handoff with Antonio Vrankovic. This is well defended, but once again, McQuaid gets victimized.
According to Synergy Sports, Allen is shooting 85.7 percent on handoffs — scoring 2.29 points per possession.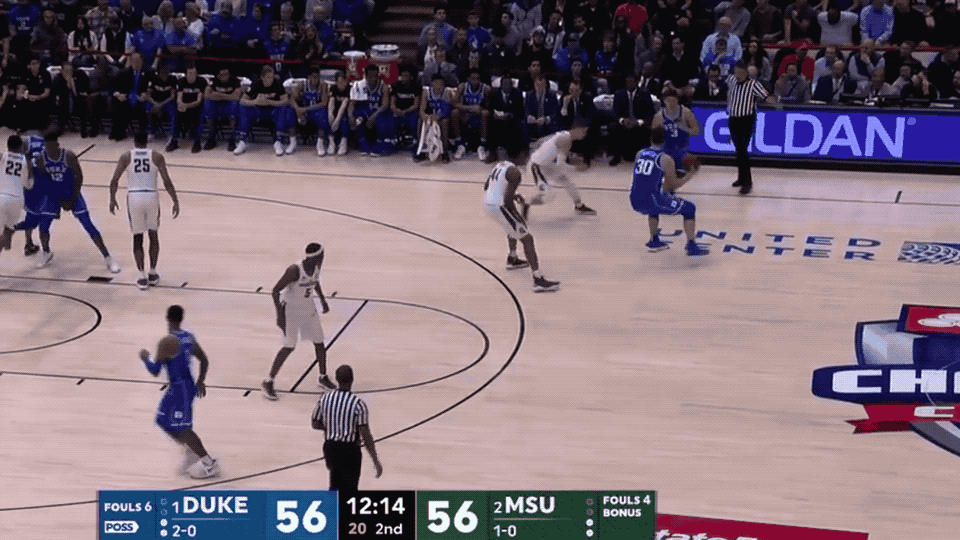 Read More
3 ways freshman Marvin Bagley dominated in his opening weekend at Duke