In case you were wondering if Duke's stud freshman Marvin Bagley III is as good as advertised, well, the early returns are promising.
Bagley flashed a full spectrum of skills in Duke basketball's annual back-to-back season opening weekend in Durham. Let's take a look at where the 6-foot-11 unicorn stood out most.
The Money Area
The Blue Devils didn't open the season against the most stringent of competition; however, the numbers for Marvin Bagley pop. Bagley played 61 minutes across the first two games — scoring 49 points and grabbing 20 rebounds. The ball was frequently in his hands — Bagley collected 24 percent of the defensive rebounds, and used nearly 31 percent of Duke's possessions, when on the floor.
He was most effective in the paint, of course. According to Synergy Sports, Bagley connected of 12-of-15 non-post-up attempts at the basket — 1.67 points per possession. It's super early, but that ranks No. 6 in the nation in offensive efficiency at the basket.
This season, Duke will use a variety of ways to get Bagley going to the hoop. In the win over Utah Valley, Bagley ran a side pick-and-roll with Gary Trent, who didn't look to hit Bagley on the roll. Instead, Trent rotated the ball to Wendell Carter above the top of the key.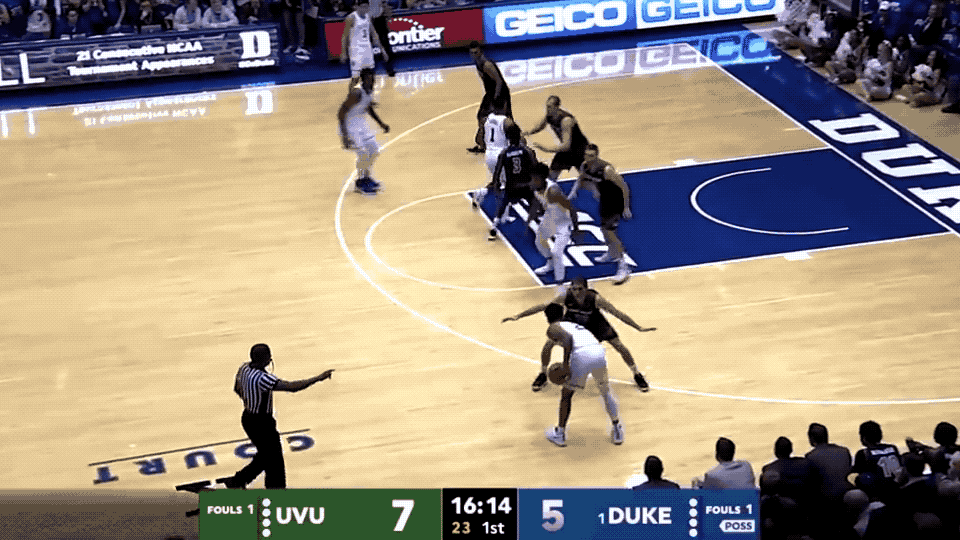 As Utah Valley tries to recover, it's too late. Bagley has already made himself available for high-low action with Carter. This is something Duke can run a lot this season; with a little more pace, this is an alley-oop from Carter to Bagley.
Go, Go, Go
In 2016-17, Duke scored 1.13 points per possession in transition, per Synergy, which ranked 42nd in the nation and No. 6 in the ACC. Now, that's good production, but with Bagley running the floor this season, expect a jump. Through the first two games, Duke's scored 67 points on 43 transition possessions — 1.56 points per possession, No. 12 in the nation.
Bagley will be most dangerous when he runs the pipe and gets easy slams or early post position. However, one of the things that makes the rookie special is his ability to stretch out to the three-point line.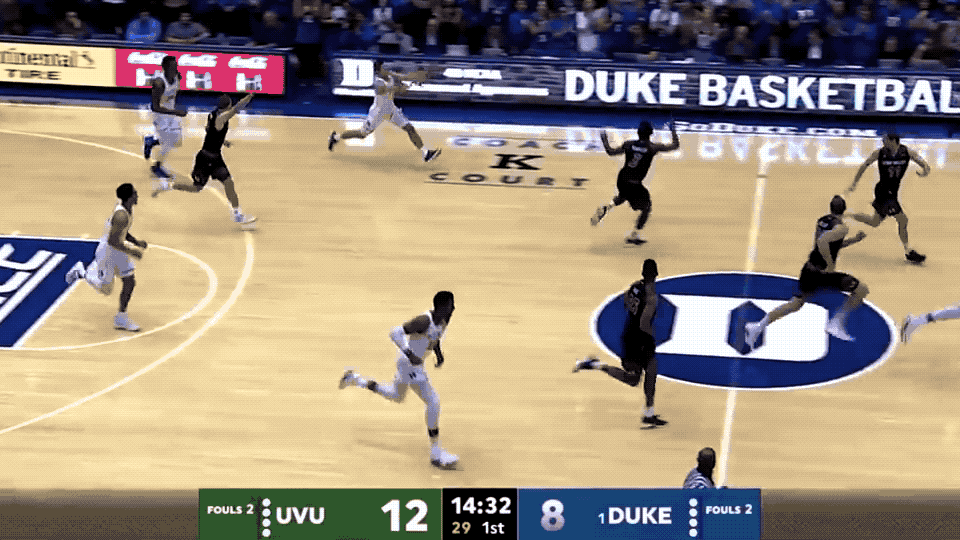 This will be especially useful when Carter is on the floor, too. That allows Carter to be the one basket-running while Bagley spaces out.
The most impressive highlight Bagley put together came in the first half against Utah Valley. Bagley gets a pick-six steals and takes it the other way for, as my friend Ben Swain would describe it, a Giannis Antetokounmpo-like slam.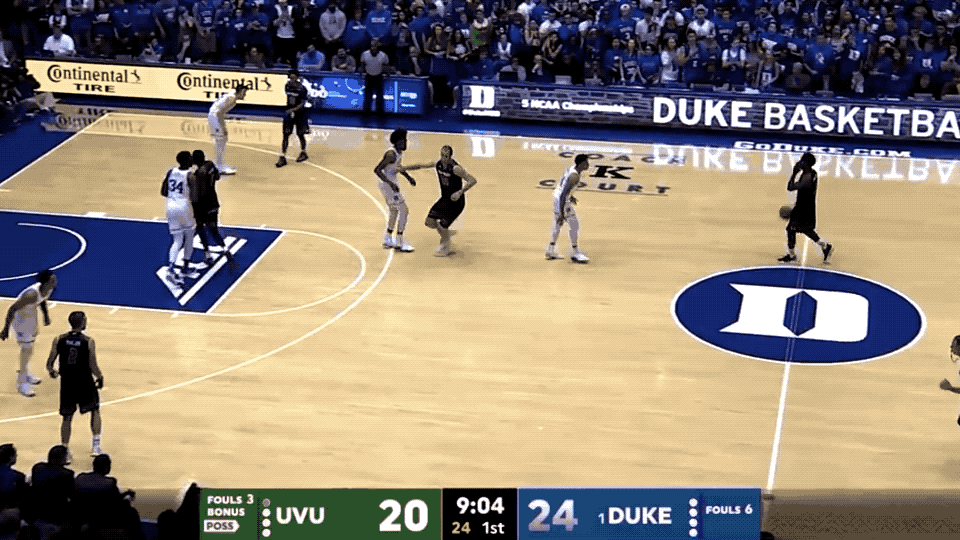 Marvin Bagley did more than just score in transition, though. Watch this dime for a catch-and-shoot bomb from Gary Trent, who is 7-of-13 on three-pointers so far this season.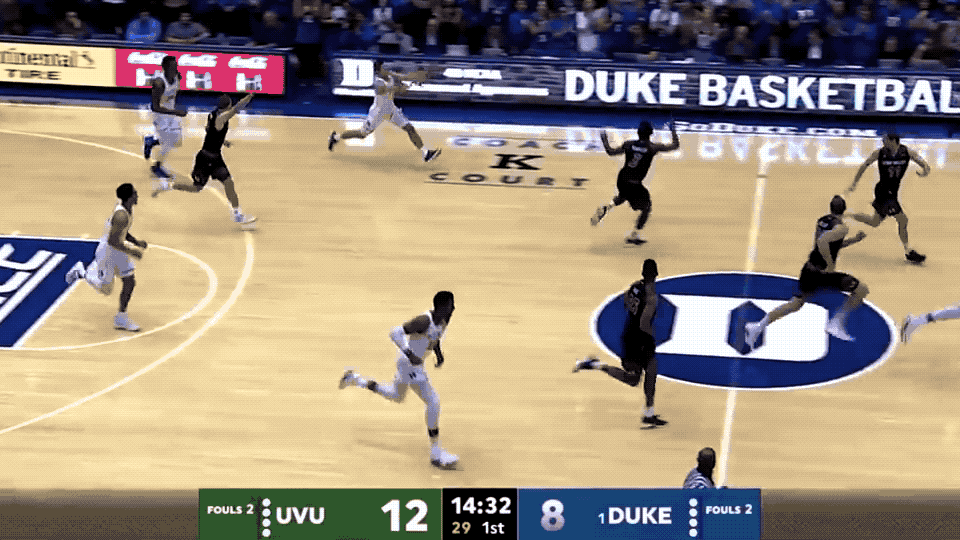 This is great inside-out action that comes from Bagley sprinting the floor.
Windex Man
A priority for opponents of Duke this season will be to locate Bagley when a shot goes up. He has the ability to dominate the offensive glass.
Within the ACC, Bagley will be the most intriguing combination of height, length and athleticism. This is an incredibly explosive second jump here on his own miss — a sign of a skilled paint scorer. Bagley gets above his defender on both leaps.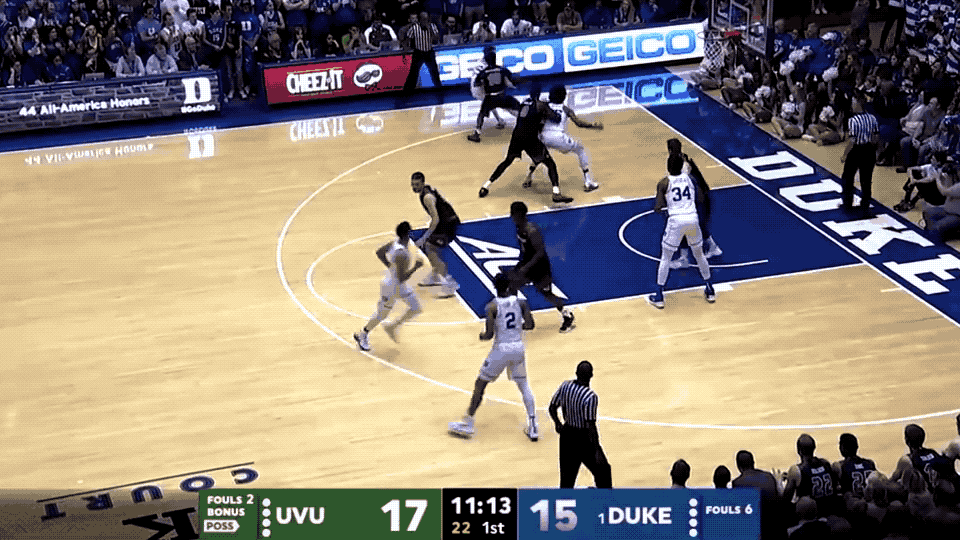 Bagley snagged 8.6 percent of the available offensive rebounds while on the floor, per KenPom; once Bagley has the rebound, he's looking to score. According to Synergy, Bagley is 4-of-5 on put-back after an offensive rebound this season — 1.6 points per possession.
Buckle up, Baby
Duke looked awesome against Elon and Utah Valley, and Marvin Bagley played like the consensus top-3 pick in next year's NBA Draft he's projected to be. The competition level will pick up quickly, though: on Tuesday, Duke will be in Chicago to take on Michigan State. No. 1 vs. No. 2.
The Spartans feature three other powerful frontcourt athletes: Miles Bridges — a likely 2018 lottery pick, Nick Ward and freshman Jaren Jackson. This will be fun.
Read More
Duke basketball lands No. 1 player in the nation, RJ Barrett