On Wednesday this week (Oct. 3), Mike Krzyzewski addressed who he projects to be his fifth starter. Krzyzewski made that declartion while speaking at Croasdaile Country Club for a Durham Sports Club's meeting. Along with his star-studded freshman quartet, Coach K has junior forward Javin DeLaurier in his first five, too.
PG: Tyus Jones
SG: R.J. Barrett
SF: Cameron Reddish
PF: Zion Williamson
C: Javin DeLaurier
DeLaurier started five games in the 2017-18 season; he's a long athlete and an explosive offensive rebounder (15 percent offensive rebound rate). In this look, DeLaurier functions as Duke's de facto center. (This is a lineup I proposed back in January.)
This is also about as position-less a bunch as you will find in college hoops. Jones looks the part of the archetypal point guard; however, outside of the young Jones bro, everyone else is between 6-foot-6 and 6-foot-10.
DeLaurier makes a lot of sense with these guys, too, because he doesn't really need the basketball. He's a low-usage player (career usage rate of 12.5 percent) who can look for loose-change offensive rebounds on the weak side of the floor. By just being around the rim, DeLaurier should see some easy opportunties to finish, which we saw up in Canada back in August.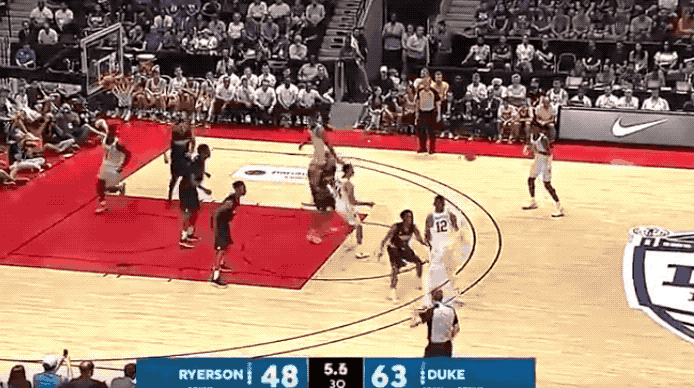 Now, the bad news
As Coach K announced DeLaurier's likely starting role, he also mentioned that the junior is dealing with a stress reaction in his foot. According to Krzyzewski, DeLaurier is being held out for 10; he also didn't play in a scrimmage back on Tuesday night.
Read More
The role nine yards: Why Javin DeLaurier is so critical for Duke Basketball